Dividing up your time as a social media manager can sometimes be challenging.
A typical day can include curating content, scheduling content, developing reports, building campaigns or dealing with any PR issues.
With so much to do it's imperative to have a plan of attack.
Abraham Lincoln once famously said, "give me six hours to chop down a tree and I will spend the first four sharpening the axe."
Once we can visualise our tasks it's much easier to allocate the appropriate amount of time and stay on top of all our duties as a social media manager.
What exactly is a social media manager?
This role is always evolving. Perhaps you're a social media manager and don't even know it!
We've broken down a list of tasks that a social media manager may have to do during the day:
customer service
PR
write social media posts
write blogs
take and edit photos
source UGC
design banners and memes
follow news and trends
influencer outreach
interpret results
create presentations
weekly reports
content marketing
build campaigns
promote content
account management
As you can see, there is a long list of tasks we must keep a firm handle on. Too shed some insight on how I go about some of these tasks, I've broken down a typical day in my life as a social media manager and included some handy programs that help me complete these tasks.
Can you use this template for your own tasks?
6:30 am: Wake up
6:30 am – 7:00 am: Check social media channels, whats going on in the world. What do I need to know?
7:00 am – 7:20 am: Breakfast. This is a must. Without food I am useless.
7:30 am– 8:30 am: Gym. This really anchors the day. You need to let your body it's time to go!
8:30 – 9:00 am: Shower and get ready.
9:00 – 9:30 am: Grab a cup of coffee (strong possibility this is my third cup!) Check my Emails. Prioritise important Emails and work your way down the list.
9:30 am – 10:00 am: Check on the previous days' social media posts for all platforms. How are they performing? Any comments or messages that need addressing?
10:00 am – 10:15 am: Standing meeting. If you work in a small team it's great to do a standing meeting at the start of the week to touch base and get a feel for what everyone is working on. The team should be on the same page and be aware of any important issues that need addressing.
Microsoft Teams is a great program that lets you work together with cool features like chat, video calling and file sharing. Great to plan meetings and share related content to one another.
10:15 am – 11:30 am: Blog writing. I find I do my best writing early in the morning. I will get a first draft finished and come back to it later with a fresh pair of eyes.
If you are going to be writing, make sure you use Grammarly. You will never make a mistake again!
11:30 am – 11:40 am: Grab a much-needed cup of coffee and stretch my legs
11:40 am – 12:00 pm: Check emails, respond to any phone calls. I find people are easier to reach right before lunch.
12:00 pm – 12:30 pm: Lunch. Try to get a 15-minute walk in and some fresh air.
12:30 pm– 2:00 pm: Schedule content across all platforms. Allocate time depending on the number of channels you manage.
There are some great programs to help you schedule your content.
2:00 pm – 2:15 pm: Respond to emails. EMAILS NEVER STOP!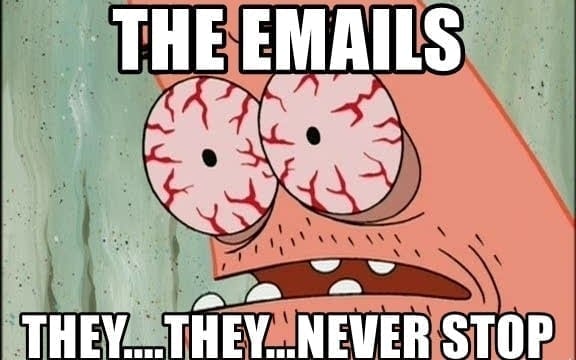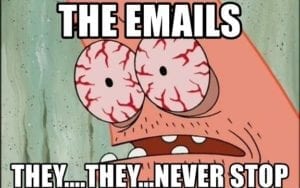 2:15 pm – 3:00 pm: Campaign meeting. How are your social media campaigns progressing? On track to reach your goals, discuss reports. How is google analytics looking?
3:00 pm– 3:30 pm: What are other successful brands doing on their social channels? Get an idea of what your competitors are getting up to. Spot what isn't working for them, so you don't make the same mistakes.
3:30 pm – 4:30 pm: It would be nice if everything always went to plan, but usually life doesn't. This hour is used to play catch up. If I am up to date with everything I will revisit any blog posts and edit.
4:30 pm – 5:00 pm: I like to finish the day sourcing images that I can use for future content. I'll browse high-quality photo websites and save them for later use. Building your own image library will save you loads of time in the future when it comes to scheduling content.
Finally, I check in on social media channels and respond to any comments and messages before going home.
5:30 pm – 6:00 pm: Time to unwind. I like to let my cats outside and just chill for half an hour before I do anything else!
6:00 pm – 7:30 pm: I'll head to the shops and prepare something for dinner.
7:30 pm – 9:00 pm: Relax and watch t.v or read a book.
9:30 pm: Sleep.
See how Lucky Magazine's Virginia Nam prepares for her day as a social media manager.
What do you find helps you prepare for your daily tasks? We would love to hear from you in the comments.
Want to read more? Check out our ADILTO from 2020.