Following industry experts on Twitter is a great way to stay informed about platform updates, news and other issues related to your field.
You probably have a long list of people that you follow on Facebook and Instagram, but seeing as Australia only has 4.3 million active monthly Twitter users, you may desperately be needing some Twitter inspiration.
To help your Twitter game, we've made a list of 10 people we love right now.
We've covered a wide range of topics including social media, SEO, photography, podcasts, influencers, and much more!
Matthew Inman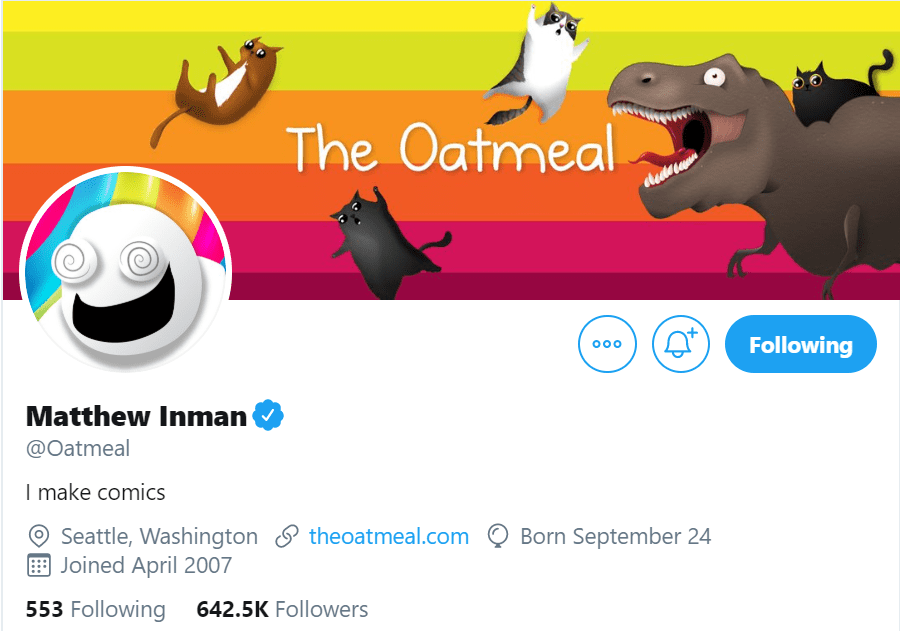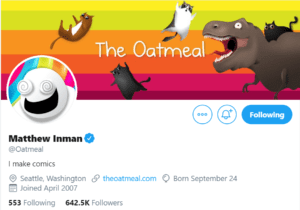 Matthew Inman, known on Twitter as @Oatmeal, is an artist who publishes funny comics on his website. Because let's be honest, we all need a good laugh from time to time! The Oatmeal is a great example of an illustrator who has turned his work into a huge business. He has a revenue of $500,00 and three quarters of that is made from merchandise, and the rest is from advertising.
---
Martha Collier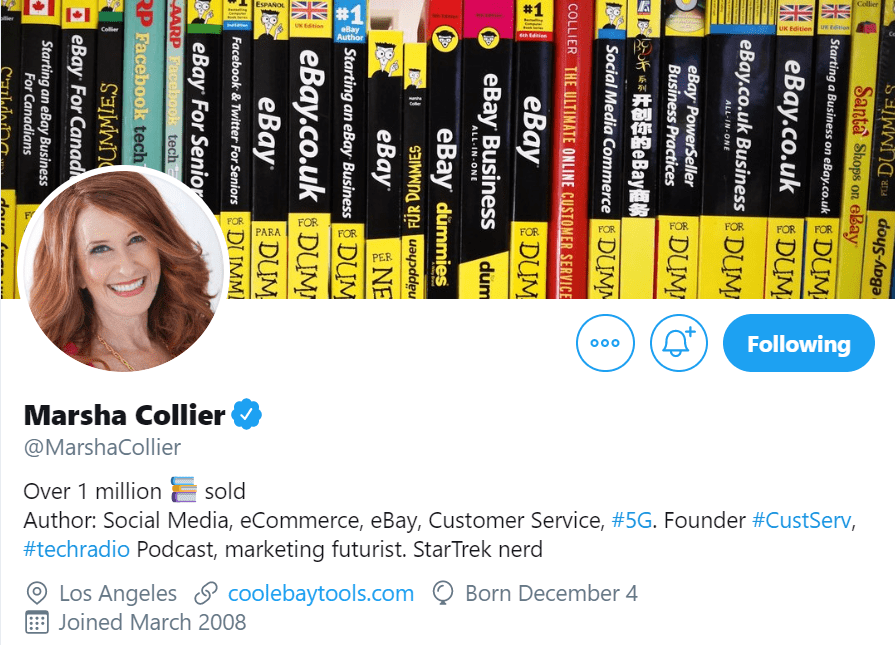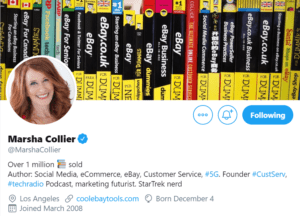 Martha is the author of the "Ultimate Customer Service Guide" and over 40 books in the "for Dummies" series on best practices for eBay, Twitter, Facebook and Social Media. She is an expert in her field and has sold more than 1 million books worldwide. Give her a follow if you want to better understand what customer service channels you should be improving and investing in with your brand.
---
Diana Adams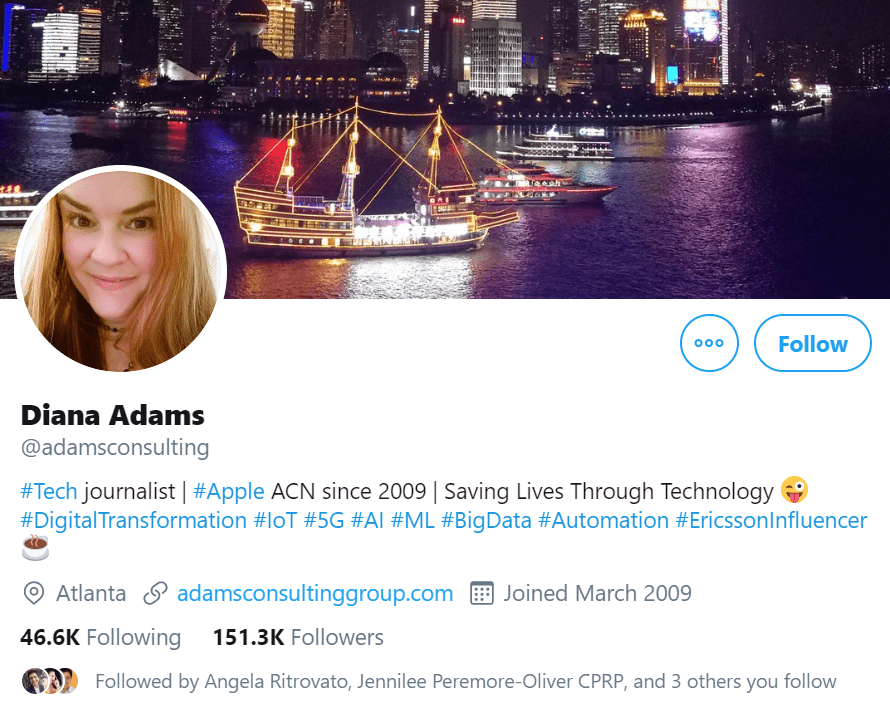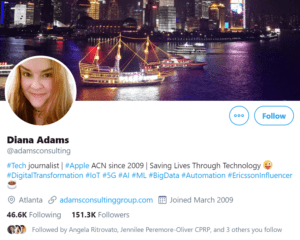 Diana is a tech journalist, an avid technology blogger (more than 5000 blogs), the co-founder of Adams Consulting Group, Inc. and a social media influencer for Ericsson Digital and Ericsson Networks. Follow her if you're wanting to learn more about automation, AI, VR and other emerging technology.
---
Beth Kanter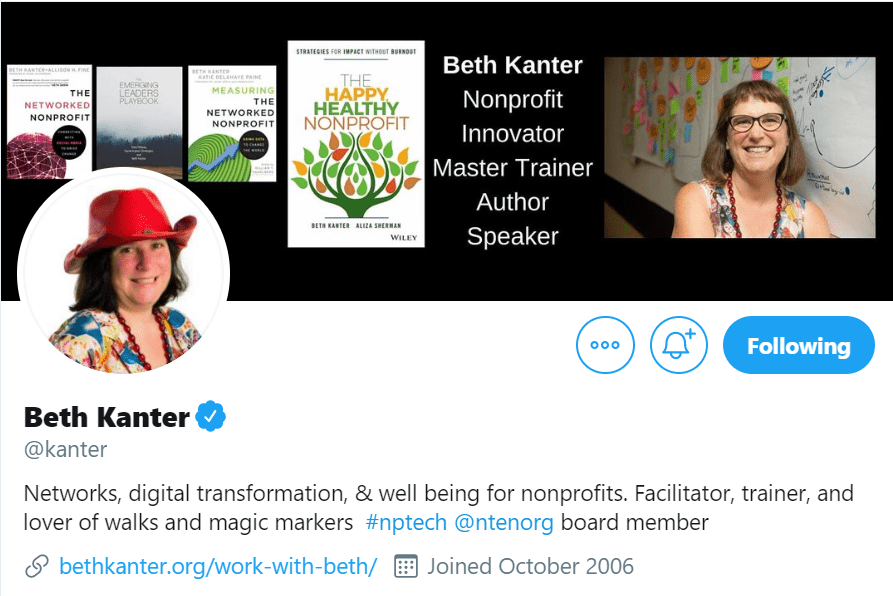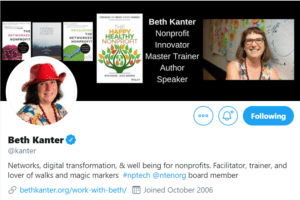 Beth Kanter helps nonprofits with the best practices in social media, network building, relationship marketing, leadership development and self-care. She has more than 350k followers. She also writes "Beth's Blog", which specializes in digital transformation, networks, data, learning, training, facilitation techniques, resilience, nonprofit organizational culture and self-care for nonprofit professionals. Non-for-profits can be a tricky field to navigate sometimes, make sure you follow her if you need some inspiration.
---
Darren Rowse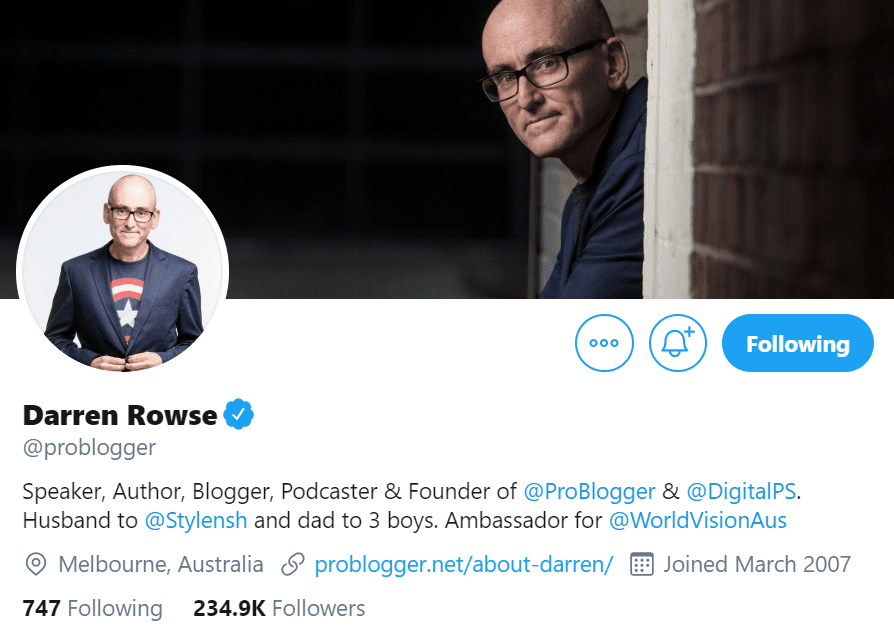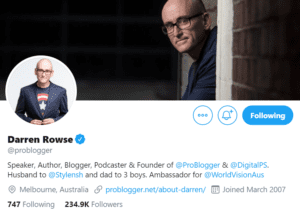 Darren is a Speaker, Author, Blogger, Podcaster & Founder of @ProBlogger and @DigitalPS. He regularly tweets about tips for writing blogs. More importantly, he's ALWAYS posting about freelance blogging jobs available. If you're trying to pick up some extra work, give him a follow. 
---
Mark Schaefer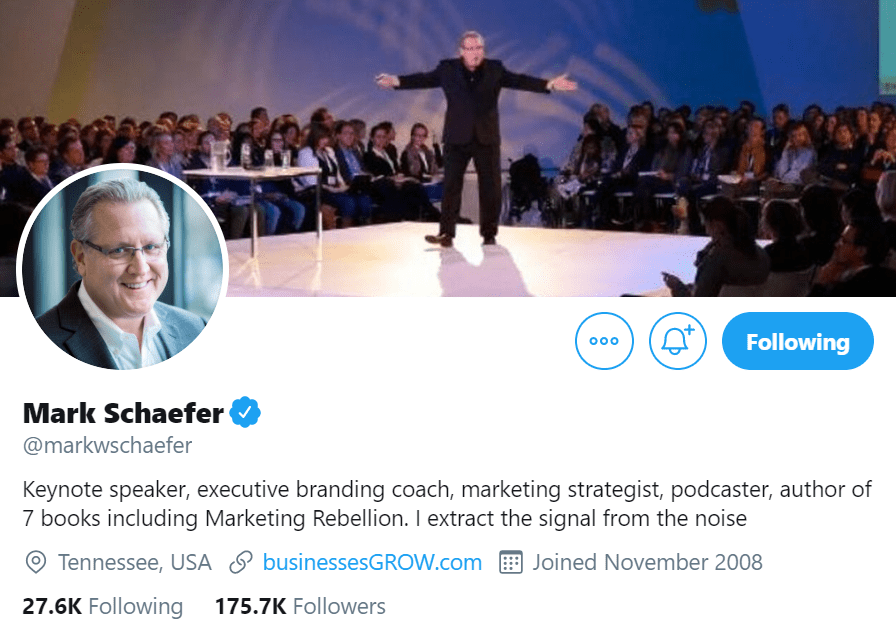 Mark Schaefer is an executive branding coach, marketing strategist, podcaster, and author of 7 books including "Marketing Rebellion". He's certainly worth a follow if you are a digital marketer, he's presented keynote programs and workshops to some of the biggest brands in the world including The Wall Street Journal, Wired, BBC and Time. 
---
Jeff Bullas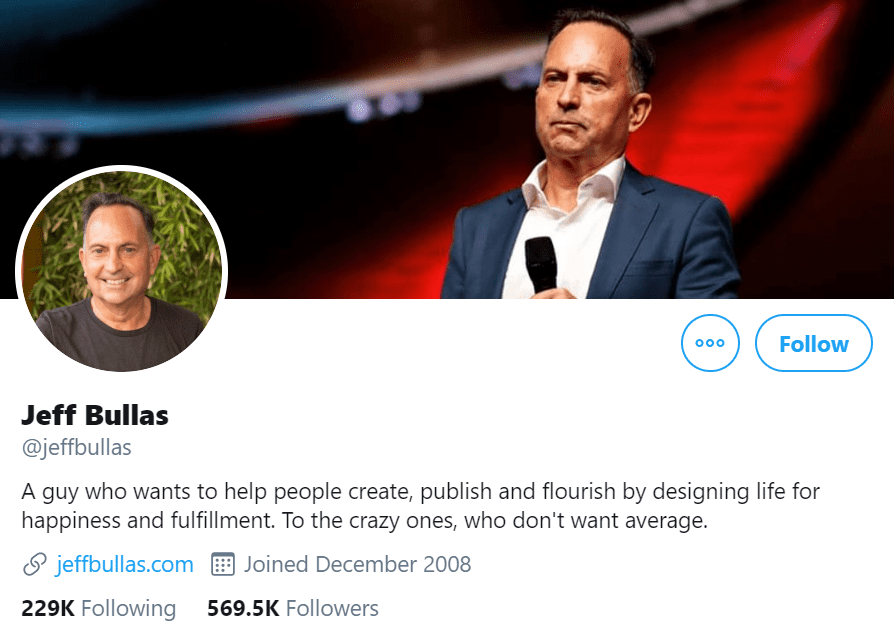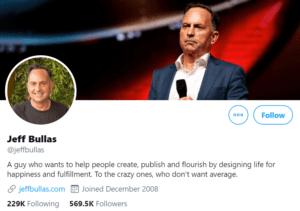 Forbes called this man a top influencer of Chief Marketing Officers and the world's top social marketing talent! Not bad praise at all. He describes himself as "a guy who wants to help people create, publish and flourish by designing life for happiness and fulfillment. To the crazy ones, who don't want average." If you're a digital marketer or blogger who wants to take your game to the next level, Jeff Bullas knows a thing or two! His Twitter feed is an excellent list of credible resources related to social media practices.
---
Ann Tran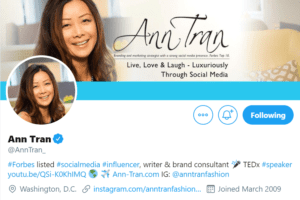 Ann Tran is a Forbes listed social media influencer and a brand consultant. Her feed is an excellent example of how someone can grow their own brand while simultaneously building a strong community and loyalty among her followers.
She has also done a TedX talk called The Future of Social Media. You can check it out below. We would love to hear your thoughts on this talk in the comments below!
---
Lee Odden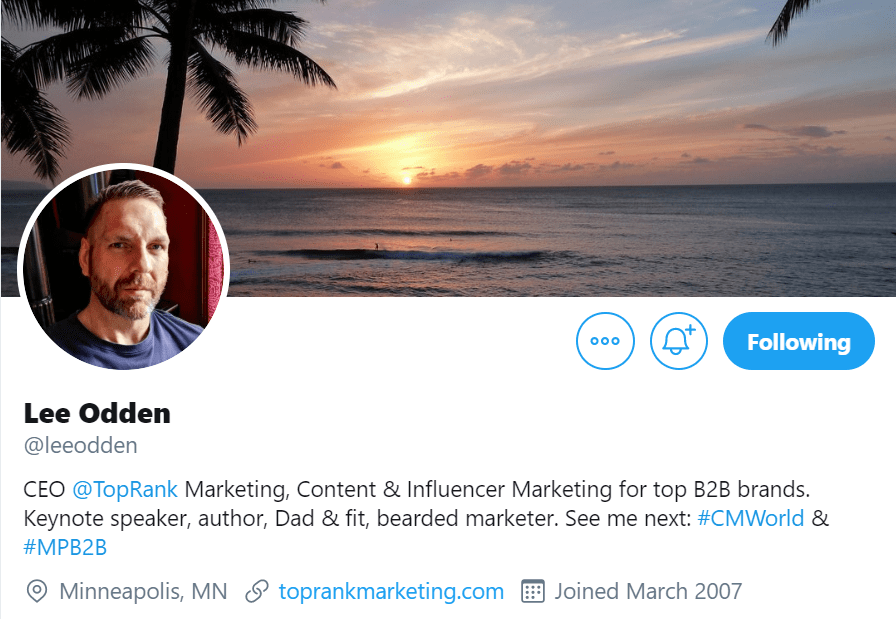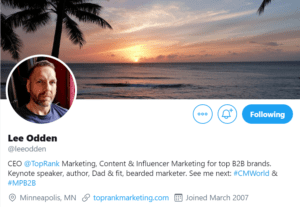 Lee Odden regularly posts useful info-graphics and articles related to digital marketing, influencers and social media. If you feel like your B2B marketing has gone a little stale, give Lee Odden a follow for some added inspiration.
---
Mari Smith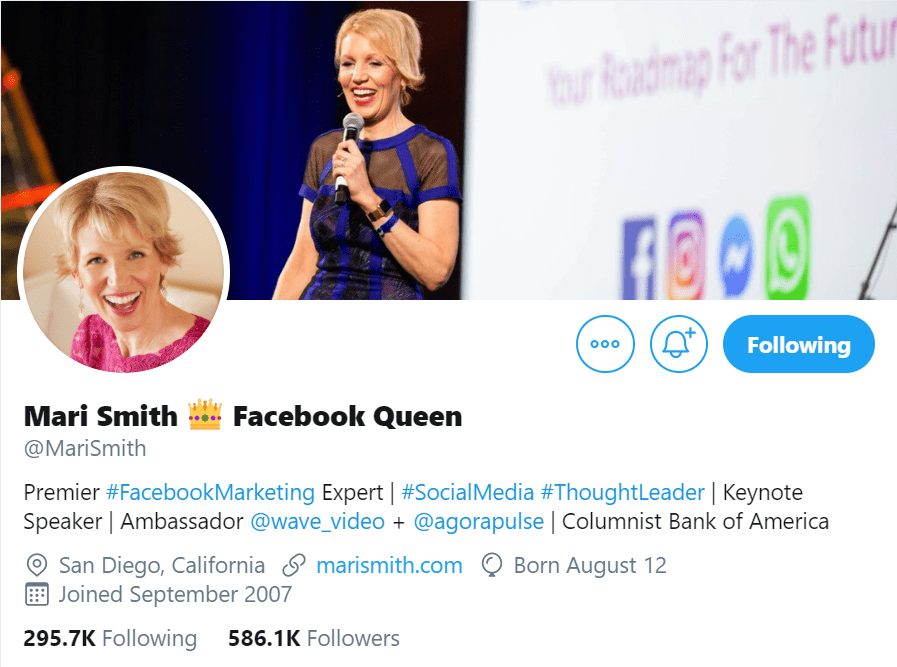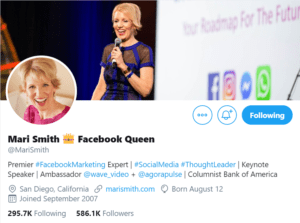 Smith is a Facebook marketing expert! Her Twitter account has a generous amount of resources related to Facebook marketing, social media updates and much more. She provides expert advice to more than 500 thousand followers on Twitter!
---
Have we missed anyone? Who do you think we need to be following? We would love to hear from you in the comments!