How one American teen has managed to be more popular on social media than Ellen De Generes.
Carter Wilkerson is just your average American teenager, well at least he was up until about a month ago when he broke the record for most retweeted Tweet.
Consider it done
Previously, Ellen DeGeneres (@TheEllenShow) held the record for the most retweets with her selfie tweet at the Oscars in 2014. The photo included Hollywood celebs Brad Pritt and Meryl Streep amongst others and earned a lot of attention – 3.4 million retweets to be precise.
Unfortunately, Carter's got more. Currently, it is sitting at 3.6 million retweets.
Sixteen-year-old Carter (@carterjwm) sent a tweet to fast food chain Wendy's (@wendys) asking how many retweets it would take for him to get a year's supply of nuggets. When they challenged him with 18 million he replied 'consider it done'.
Carter's success
Wilkerson was savvy in his campaigning. He approached influencers to support him, he sent tweets to top brands and celebrities asking them to help a man out.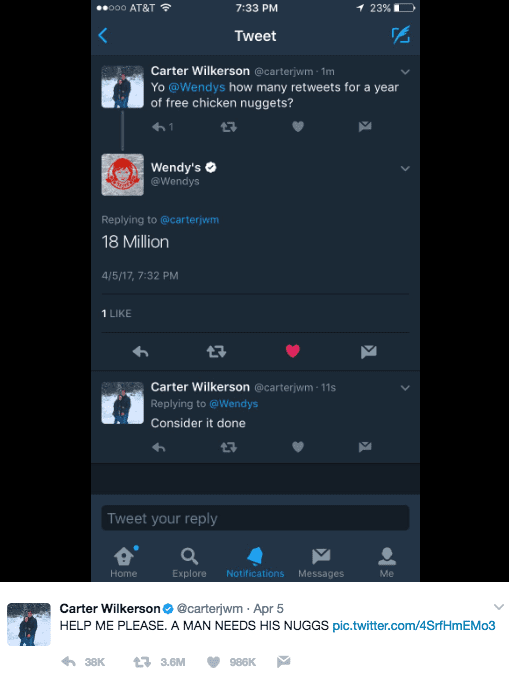 His hashtag #nuggsforcarter helped propel the campaign and soon it became a trending topic. Soon global brands such as @Google and @Amazon brands were jumping at the opportunity to join the conversation.
While he hasn't reached the target set by Wendy's (yet!) the company was so impressed with his record-breaking tweet that they have honoured his efforts regardless.
Social amplification
But it wasn't just about the nuggets. There was also a motive behind #nuggsforcarter, and that was to have a voice and an opportunity to use it to make a difference.
"I want to give back. I am so blessed to have an opportunity to use my voice to support something I believe in. And really grateful to everyone who Retweeted my post. They made this happen."
He has not only received vouchers that will get him more than a lifetime of nuggets from the company but also a $100k donation in his name to @DTFA a foundation that homes foster children. He continues to raise money for different causes on his website, yep you guessed it nuggsforcarter.com.
Carter has gained celebrity status. His Twitter account is verified, he's gone from 100 followers to over 100k in weeks, and he has conversations with celebrities and top brands on Twitter. He's living the teen dream and his recent tweet sums it up perfectly:
"It's so weird to think that I'm a living, breathing meme. My dreams have come true."