I don't normally get attached to things. Especially virtual, non tangible things. But when you've accumulated things over the course of a few years, it's kinda sad to have those intangibles being taken away from you…
Back in 2009 I've joined Foursquare. I didn't really know what it was, or what to do with it, but I was very excited to check into places, and get acknowledged for amassing "check-ins" by getting those silly badges. It was the "surprise and delight" effect that worked wonders on me. Don't know why, but it was getting addictive, and helped me persevered for as long as I have…
Today I've checked in for the 5,001st time. It's sort of a mile stone, even though I didn't really aim at anything in particular when I first joined. I never tried to "game the system", gain as many checkins as I can, checkin in multiple places at once, just because I was "in the area". For me, I used the app to keep track of places I've been, things I've done, in my city (Sydney) and around the world. It was, and still is fun for me.
Ok, so maybe I was a bit competitive in quest for certain Mayorships, when I worked with KINSHIP digital, and had almost daily battles with @michae1green. That was a bit of fun, competing on the mayorship of the office with the company's CEO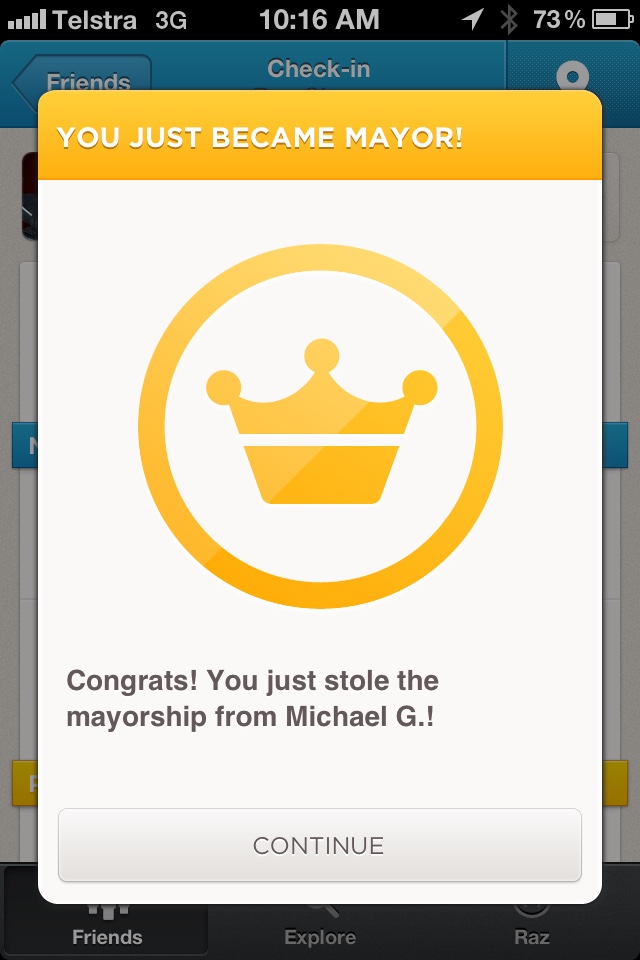 I've used Foursquare to get special discounts, from branches who didn't even know head office had held a competition, until they saw the "Special" on my phone in my recent check in… That was fun too!!
At the time, I had a good understanding of what value the app provided – fun, useful information about local businesses and activities, some game elements, and some perks. It was all good!
But about a year ago, Foursquare introduced Swarm, and I got confused… As a digital and social media consultant, I embrace change! I like when things get better, and I don't really mind when they occasionally break, because I know that something better is about to come. However, that Swarm app really puzzled me, and still does today:
I don't understand why I have to use 2 apps instead of one, for the same functionality.
I don't understand the added value of the additional app.
I don't like the fact my 51 accumulated badges, some with multiples, are now gone (well, they are not gone yet, just can't be easily found).
I also don't understand why the old stickers have been replaced with new ones…
I just hope one day those two apps (Foursquare and Swarm) will merge together, and provide a better experience to the user. I believe many of the 45 Million users worldwide who would wish for the same…
Many startups and technology companies will start off on a certain route, and then will go to a different direction. Some more noticeably then others. Pivoting is perfectly acceptable, and change is obviously welcome.
HOWEVER:
If you give something to your customers or users – thing very long and hard before you take it away.
When you gamify your app or offering – keep it going!
If you change the system, do it subtly and slowly. Major changes or pivoting are very confusing.
If at all possible, just show incremental improvements.
I'm sure one day soon I'll be losing those silly badges I've collected over the years. So here – I've added them for safekeeping…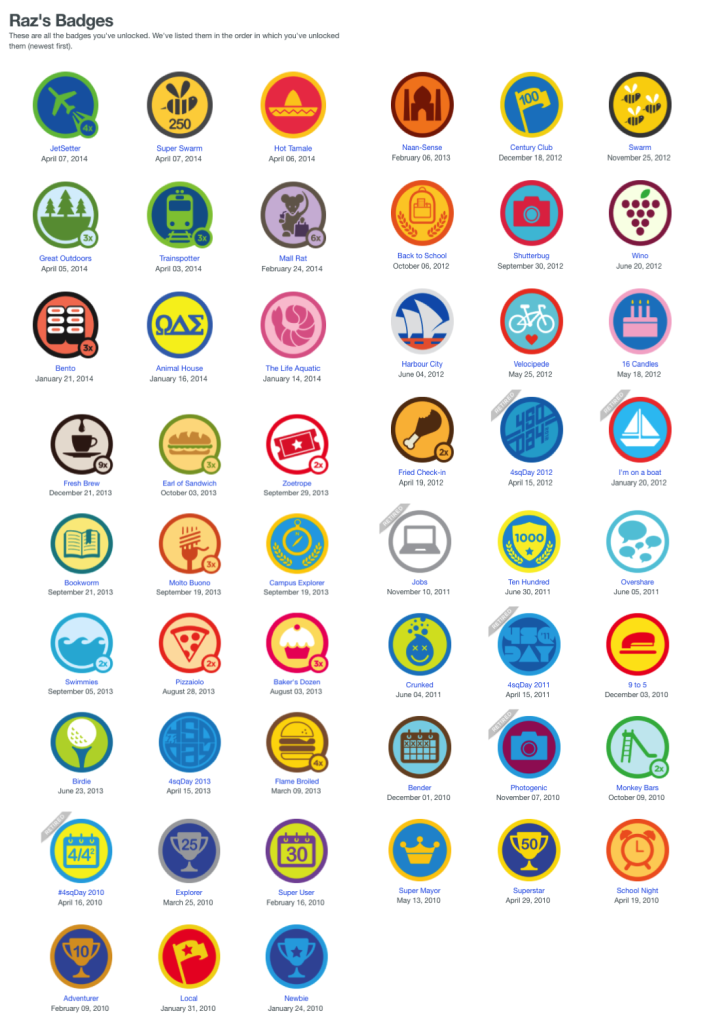 [symple_testimonial by="razchorev"]
Raz Chorev
, Socially Acceptable
Experienced Global Marketing Director, Social business advocate, Dad, Nerd, Biker and a co-founder of @riding4acause. Not necessarily in that order… [/symple_testimonial]