To outsource, or not to outsource …
Social media outsourcing is an avenue that many businesses choose to go down, but is it a good idea for you?
** This post may contain affiliate links. While we do only recommend products that we believe in, let's be honest here – we're in marketing too and everyone loves an affiliate link!
It's not easy when you run a small business. Sometimes, there simply aren't enough hours in the day, and social is often seen as a distraction. However, on the other hand, it can be confusing to see your competitors crushing it online.
How are they doing this? Where do they find the time? While it's not always the answer, outsourcing can help many businesses online.
Let's learn a little more about social media outsourcing and whether or not it's a good idea for your business.
Things to think about before outsourcing your social media
Before you make any business decisions, you should spend some time weighing up the pros and cons. Outsourcing your social media is no exception to the rule.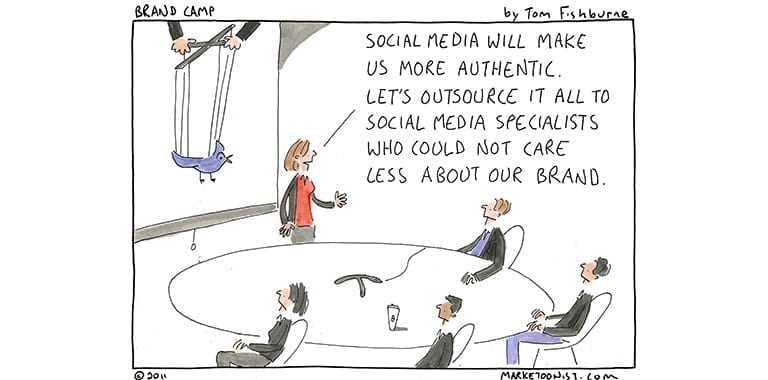 Every business is different, has different needs, and has different goals from their social media presence. While outsourcing might seem like a simple decision for the time-poor businesses among us, there are a few things you should consider before taking the leap.
1. Do you have the time for in-house social media?
Many businesses owners underestimate just how time-consuming in-house social media can be, especially for small teams that might not have the budget for a dedicated social media manager.
Here are just a few things that go into effective social media daily:
Creating assets
Scheduling content
Community management
Paid advertising and budgeting
Campaign analysis
Outsourcing social media to an agency can be a real time-saver. Still, it's up to you to set boundaries, make your expectations clear, and ensure the work is done to an agreeable standard.
2. What do you want to achieve from social media?
Everything you do on social media should be done with a purpose and a set of clear goals in mind.
Whether you're searching for more followers, increased brand awareness, higher engagement rates, or more conversions, you should know what you want to achieve before outsourcing.
What you want to achieve on social media will significantly impact your budget and which agency you decide to trust with your online presence.
3. Are your values clearly defined?
When outsourcing your social media, the last thing you want is to hand your brand and reputation over to a team that doesn't understand what you stand for. You already understand your business, what you stand for, and why those values are important to your audience. Make sure whichever agency you choose does too!
4. Will outsourcing add value to your social media?
There are several reasons a business might want to outsource its social media to an agency. Whether it's time, money, technical expertise, knowledge, or even online stagnation – outsourcing does have the potential to help those in need online.
Before outsourcing your social media, ask yourself a simple question: will this add value to your business? Think of it lie renting a physical space for your day-to-day operations. Yes, having a physical space is appealing and can add some level of legitimacy to your business, but it's also expensive.
If outsourcing is worth the money, go for it. If it's not, here are a few ways to educate yourself about social media best practices:
Upskill with an online webinar
Watch some tips on YouTube
Study what other brands are doing online and learn from them
If you run a small business, you probably don't have much money to burn, so it is perhaps better to keep your social media management in house. In-house management is challenging, but you will be far better off in the long run.
Educate yourself and get the confidence to upload your content. Set aside a small chunk of time each week dedicated to your social media. Even if it's just a couple of hours each week, use this time to find exciting things to post and then schedule them to be published later in the week. It may feel like cheating, but when you're time-poor, it's sometimes the way to go.
If you're looking for a great scheduling tool, we're big fans of Sked.
Once you have everything scheduled, you must monitor the posts and reply to any comments.
Be strategic
Lastly, be sure to get advice from the experts. You don't need to get someone to manage your accounts, but you should approach them to help you to manage them more effectively.
They can help to build a strategy for your social media. Strategy is key to being successful on social, and it gives purpose to your posting. Having a strategy with clear goals will allow you to see your return on investment.
Trust your agency and set boundaries
When an agency starts working for you, they will set boundaries about hours, contact, payment, and much more. You should do the same.
How do you like to work? Do you want to do all correspondence via email, or would you rather have face-to-face meetings? Take the time to establish clear boundaries from the beginning, and make sure you stick to them.
We know it's challenging to let go, but you're hiring an agency for a reason. Trusting them to do their job and look after your brand will free you to focus on what you do best.
Not sure where to start with social media? It sounds like you need to figure out which platforms you should be using.