Western Australia trumps all Australian states for the highest social media presence among small to medium businesses.
WA takes the cake for the highest social media presence among SMBs in Australia! WA sits at 56% (up 9 points since 2017) followed by Queensland and New South Wales at 53%.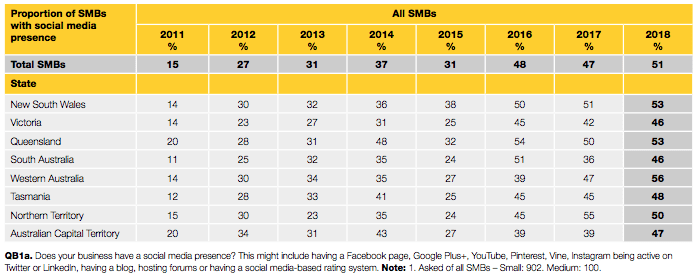 Today we look at part two of the Yellow Social Media Report for 2018 (formerly the Sensis Social Media Report).
The focus of the report is on how Australian small-large businesses are using social media. This annual report helps businesses stay abreast of the constantly evolving world of social media.
But first, the housekeeping:
1,100 Australian businesses were surveyed
1,000 were SMBs and 100 large businesses
The term 'social media' refers to the following networks: Facebook, Google+, LinkedIn, Twitter and Instagram. It also includes 'online blogs and online rating and review mechanisms' as stated in the executive summary
Unlike the Consumer Yellow Social Media Report (view our key takeaways here), this year's businesses survey continues to be done via telephone
Now let's dive into this year's stats.
Social media usage for businesses is at an all-time high
Australia has officially hit a record, with the most amount of businesses active on social media. This equates to 51% of small, 58% of medium, and a staggering 85% of large businesses having a social media presence.
Like 2017, the key driver behind Australian businesses using social media is for sales and marketing purposes.
This is followed by an avenue for contact/interaction with their audience.
Those not engaging in social media, 12% of small and 5% of medium businesses plan to get social media savvy.
Businesses who have no plan for social media, don't see the perceived benefit of it.
Facebook keeps the popularity vote
It's with no surprise to find Facebook, like with consumers, is the most popular choice. 9 in 10 small businesses (90%), 88% of medium businesses and 92% of large businesses have a Facebook page.
In 2018 LinkedIn falls in popularity for small businesses. While Instagram takes over the second most popular spot after Facebook.
However, LinkedIn remains the second most popular channel for both medium and large businesses.
Get your social icons on your website
If you don't have your social icons on your business website. Now might be the time to get in touch with your web developer.
Hot Tip: Add social media buttons to either the header or footer of your website so they are across all pages. Plus include social sharing buttons to your blog posts to encourage visitors to share and like your content.
This year's report states that social media links on a company's website continue to be the most popular method for generating social media traffic for all size businesses.
Small businesses say links on their websites are a key driver (37%) however 30% also state they don't have a strategy to drive traffic to their social media presence.
Medium businesses (60%) and large businesses (86%) also attribute social media traffic to links on their websites followed by like (Facebook), follow (Twitter) and subscribe (YouTube) to others on social media sites.
Competitions tend to be around the 6th means of driving traffic to a social media presence with 5% for small business, 6% for medium business and 7% for large businesses.
Social media advertising is not slowing down
Around 9 in 10 businesses surveyed have advertised on Facebook and businesses are advertising to a greater degree. Very few of those expect to reduce their expenditure in the next 12 months.
1 in 3 small businesses are advertising, while among medium and large businesses it is about 50%
In saying that, only 21% of small, 32% of medium and 35% of large businesses measure their return-on-investment (ROI) for social advertising. The most popular ways of measuring ROI for SMBs is by monitoring the number of responses on social media, asking customers and new sales.
While for large businesses, following social media responses, they are using analytical tools such as HootSuite, Mention and Keyhole to help analyse ROI.
Facebook, like in 2017, continues to be the social advertising platform of choice for all size businesses. This is followed by Instagram and LinkedIn.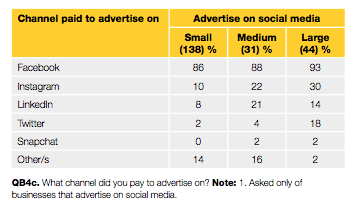 Investment in social media
With the sub-sample size of respondents and the 'don't know responses' for this year's investment report, conclusions need to be taken with a grain of salt.
Overall 1 in 5 SMBs said they have no budget for social media expenditure. Of the sample who could comment, the most popular annual spend is:
Small businesses tend to spend $1,001 – $5,000
Medium businesses tend to spend $10,001 to $50,000
Large businesses tend to spend $10,001 to $50,000
The average budget, compared to 2017, has increased for all business sizes. The majority of this budget is going towards advertising for all business sizes followed by content services and then strategic management services.

Visual content and discounts reign
The most popular type of content for SMBs are photos or images followed by written content. Large businesses have an equal share of written and video content.
However, the most frustrating thing for SMBs is coming up with fresh content and keeping up with the constant changes with the social media platforms.
Most businesses of all sizes are 'unlikely' to offer incentives. However, of those businesses who are, discounts are the most popular for small businesses (75%) and large businesses (73%). Yet, for medium businesses, giveaways are the most popular incentive (70%).
Posting frequency to social media is less frequent for some
Compared to 2017, small and large businesses aren't updating their social media profiles as regularly in 2018. Yet, medium-sized businesses are posting on a daily basis more regularly.
Small businesses have dropped from 36% posting daily in 2017 to 19% in 2018. Posting once or a few times a week has increased from 17% in 2017 to 28% in 2018.
Posting once a day or a few times a day is the most popular social media strategy for medium and large businesses.
However, the rate at which large businesses are posting daily has dropped from 88% in 2017 to 68% in 2018 and posting a few times a week has risen from 7% in 2017 to 24% in 2018.
This can most likely be attributed to the frustrations of fresh new content and keeping up with algorithm changes.
Use by industry type
Previously the hospitality industry dominated with their social presence, however, in 2018 we see Cultural, Recreational and Personal Services, followed by Retail Trade and then hospitality (accommodation, cafes and restaurants).
At the bottom end of the spectrum, building and construction, finance and insurance and transport and storage businesses have the least amount of social media presence in Australia.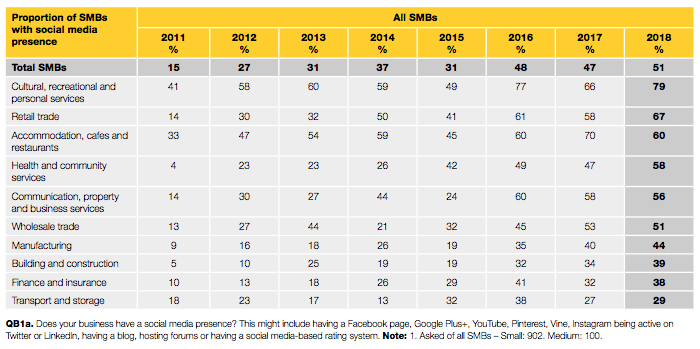 To conclude
More and more businesses are jumping on the social media bandwagon. But not only that, they are using these channels as part of their organic and paid advertising strategies. Western Australia is showing the highest growth in businesses on social media ever and is leading the way for the other states.
Don't let your business fall behind the pack, start thinking about what social media could do for your business and what it could be doing for your customers and customers-to-be.
Check out the video version!
You can find the full Yellow Social Media Report 2018: Part Two here.