Looking to improve your marketing game?
The answer should always be – yes! Marketing blogs are a great way to learn from industry-leading professionals and improve your social media game.
We've compiled a list of our 10 top marketing blogs you don't want to miss.
We cover a wide range of topics including SEO, Instagram, Facebook, Copywriting and much more.
The Ahrefs blog
The ahrefs blog aims to help improve your SEO and marketing game. Their blogs consist of data-driven analysis, detailed tutorials, case studies and opinion pieces from marketing practitioners and industry experts alike.
You should read: How to Rank Highter on Google (6 easy steps)
---
BuzzSumo Blog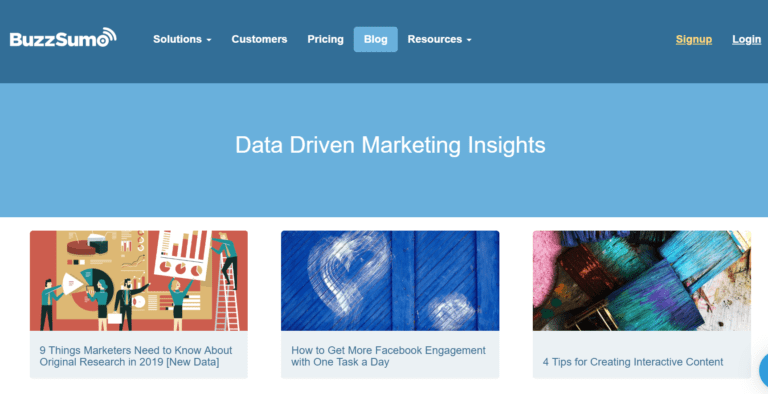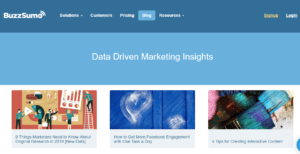 The BuzzSumo blog delivers data-driven comprehensive insights, particularly around Facebook. Their website is also a great tool for content marketing and SEO campaigns. We love using BuzzSumo as a tool to find content that is most shared in our industry.
You should read: How to Create an Evergreen Content Strategy
---
Animalz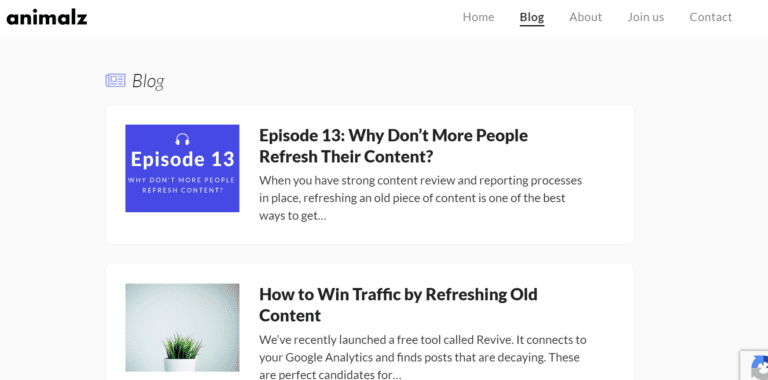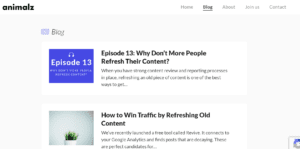 The Animalz blog focuses heavily on SEO and post high quality content on a regular basis. Their blog section also has links to their podcast, if that's how you to prefer to learn. We love their passion for content marketing, and their aesthetically pleasing website is a pleasure to browse.
You should read: How to Win Traffic by Refreshing Old Content
---
Moz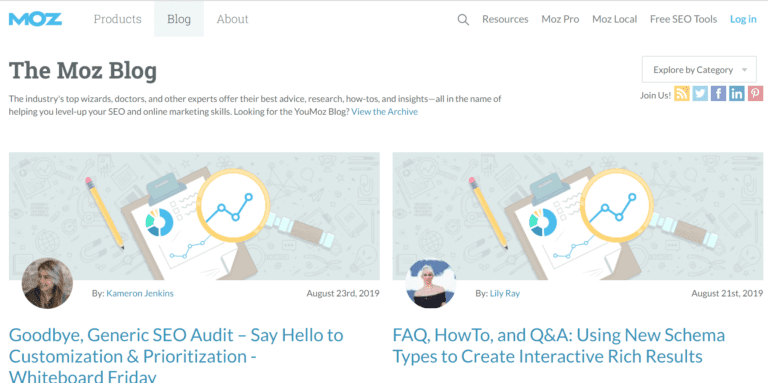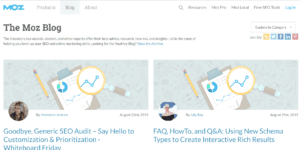 "The Moz inbound marketing and SEO blog provides tips, tricks, and advice for improving websites and doing better search, social, content, and brand marketing." SEO is still something many brands get stuck on. If you can relate, this is the blog you need to be following.
You should read: How Often Does Google Update Its Algorithm
---
Agora Pulse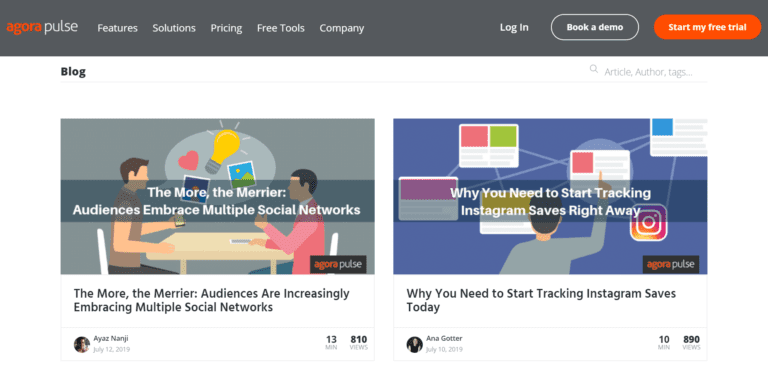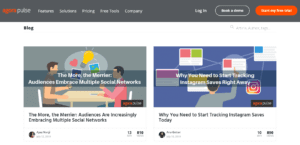 Agora Pulse provide great content catered around Facebook, Instagram and LinkedIn. They are one of the best sources for social media marketing ideas. Their blogs are informative and easy to read, they're one of the few blog websites on this list that shows the reading time duration.
You should read: Never, Ever Post These Things on Social Media
---
Razor Social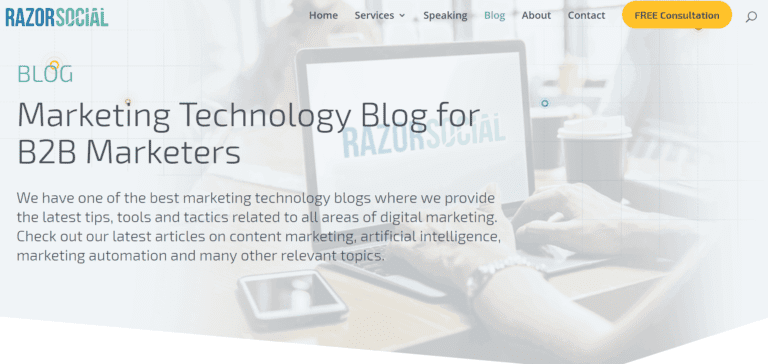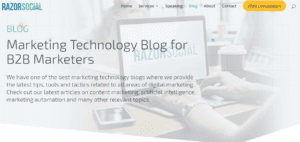 The Razor Social blog covers a wide range of digital media marketing topics, including: content marketing, artificial intelligence, marketing automation and many other relevant topics. Their blog is a great resource if you're looking to improve your B2B marketing. They cover a variety of topics that many new businesses get stuck on – sales funnels, influencers and outbound marketing tactics.
You should read: How to Build a Google Analytics Funnel to Track Your Success
---
Social Media Examiner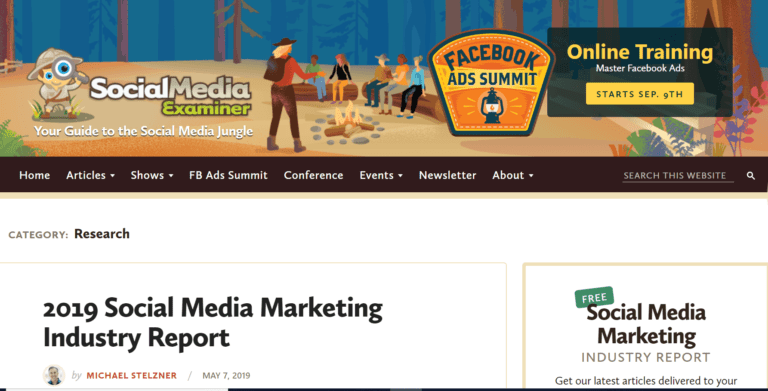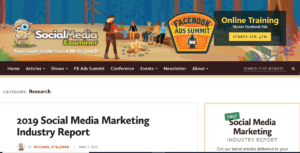 Social Media Examiner have been one of the leaders in marketing articles for years now. They have a comprehensive list of "how to articles", "expert interviews", "tools", "viewpoints", "research blogs" and "weekly news blogs". They are one of the best in the business and we encourage all our readers to check out their blog.
You should read: How to Use Memes: A Guide for Marketers
---
Copyhackers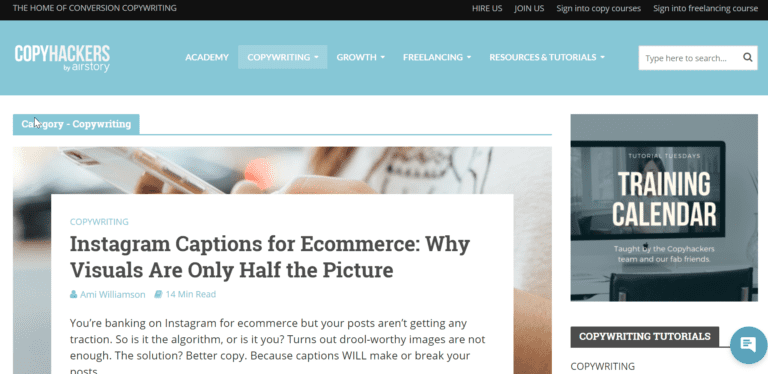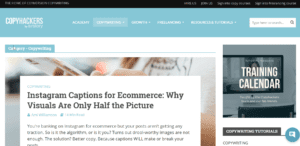 Copyhackers is a blog for copywriters. If you are responsible for coming up with ad copy, captions or blog posts for your brand – you should subscribe to Copyhackers. They have in-depth articles on copywriting, ad copywriting, email copywriting, freelance advice and optimization.
You should read: How to Engage Instagram Followers With Copy so They Engage With Your Product
---
Sumo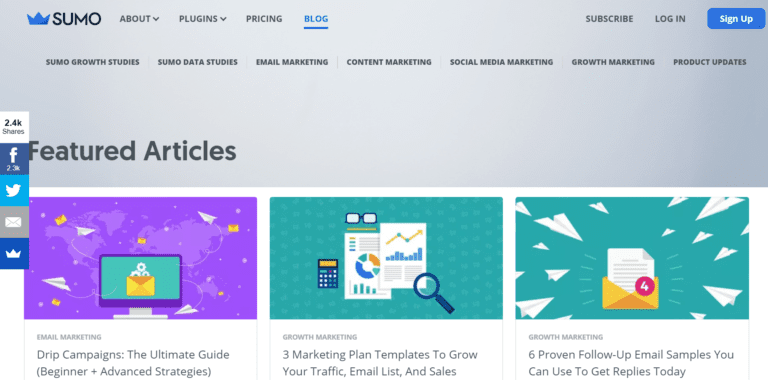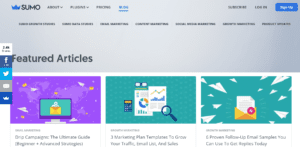 Sumo focus solely on email marketing. The blog provides great resources about growing your email list and how to develop an email strategy. A must for all digital marketers!
You should read: 13 Insanely Clickable eMail Subject Line Examples
---
Jenn's Trends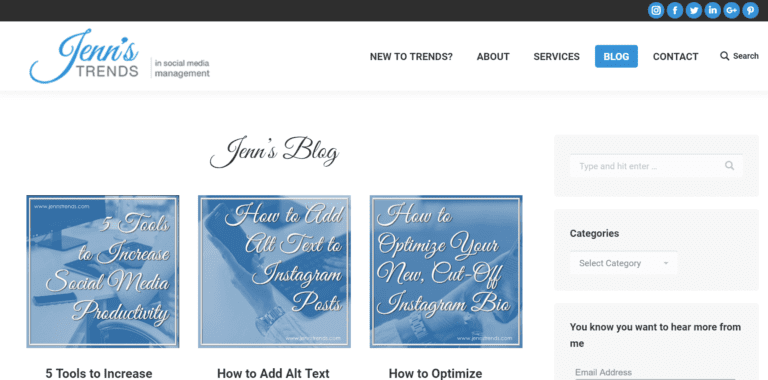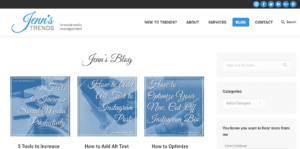 Jenn's Trends is an expert in Instagram marketing and the forefront blogger on Instagram marketing. You might already be familiar with her as we had the privilege of hearing her speak at State of Social! Although she doesn't post as regularly as some of the other blogs on this list, her content is always insightful and helpful for digital marketers. Quality over quantity!
You should read: 5 Tools to Increase Your Social Media Productivity
---
What have we missed? We would love to hear your favourite blogs in the comments below!