Ready, set … sell!
Facebook Shops is a great starting point for businesses that sell physical products to dip their toes into the world of e-commerce and begin selling products online.
If you're a business that sells physical products, chances are you're already active on Facebook and Instagram. Facebook Shops allows you to display and sell your products on both platforms.
Facebook Shops offer a fantastic option for people visiting your shop to browse the products you offer, buy products, and find out more about your business.
Facebook's Commerce Manager makes managing your inventory and sales on both Facebook and Instagram an absolute breeze.
Ready to get started? Great! We'll walk you through everything you need to know to set up and start selling your products through Facebook Shops.
What are Facebook Shops?
Try and think about Facebook Shops as a digital storefront. It's a relatively new feature that has only recently started to roll out. As such, outside of the US, not all features are available.
The biggest benefit of a Facebook Shop is that it gives you the flexibility to make your storefront look, well, more like a store. It offers a better user experience and helps you keep a clear distinction between your Facebook Page and shop.
Are you ready to set up your Facebook Shop?
Before you can even consider setting up your Facebook Shop, you need to tick a few things off first. To get started, you must:
Have a Facebook business Page or catalogue (if you don't have either of these already, you can set them up when creating your shop.
Have manage permissions for your Page. If you're the manager of a Page or catalogue through Business Manager, you must have admin access.
Note: If you want your Shop to be visible on Instagram, you need to have an Instagram business account.
How to set up your shop
Now that you're all ready to set up your Facebook Shop, everything else is pretty straightforward. In Facebook's own words, here are the steps you need to follow to create your shop through commerce manager:
Go to the Create Your Shop page and click Next.
Choose one of the three checkout methods. Click Next.
Select the Facebook business Page you want to sell from, or create a new Page if you don't have one yet. If you also want to sell on Instagram, select your Instagram business account. Click Next.
Select your Business Manager account or create a new one. Click Next.
Select the catalogue you want to use for your shop and click Next. You can't switch this catalogue later.

Note: If you don't have a catalogue already, you won't see this step. We'll create a catalogue for you automatically in Commerce Manager called "Items for (name and ID of your Page)". You can add your items later when you've finished setting up your shop.

Look over your shop details, review and agree to the Seller Agreement and click Finish Setup.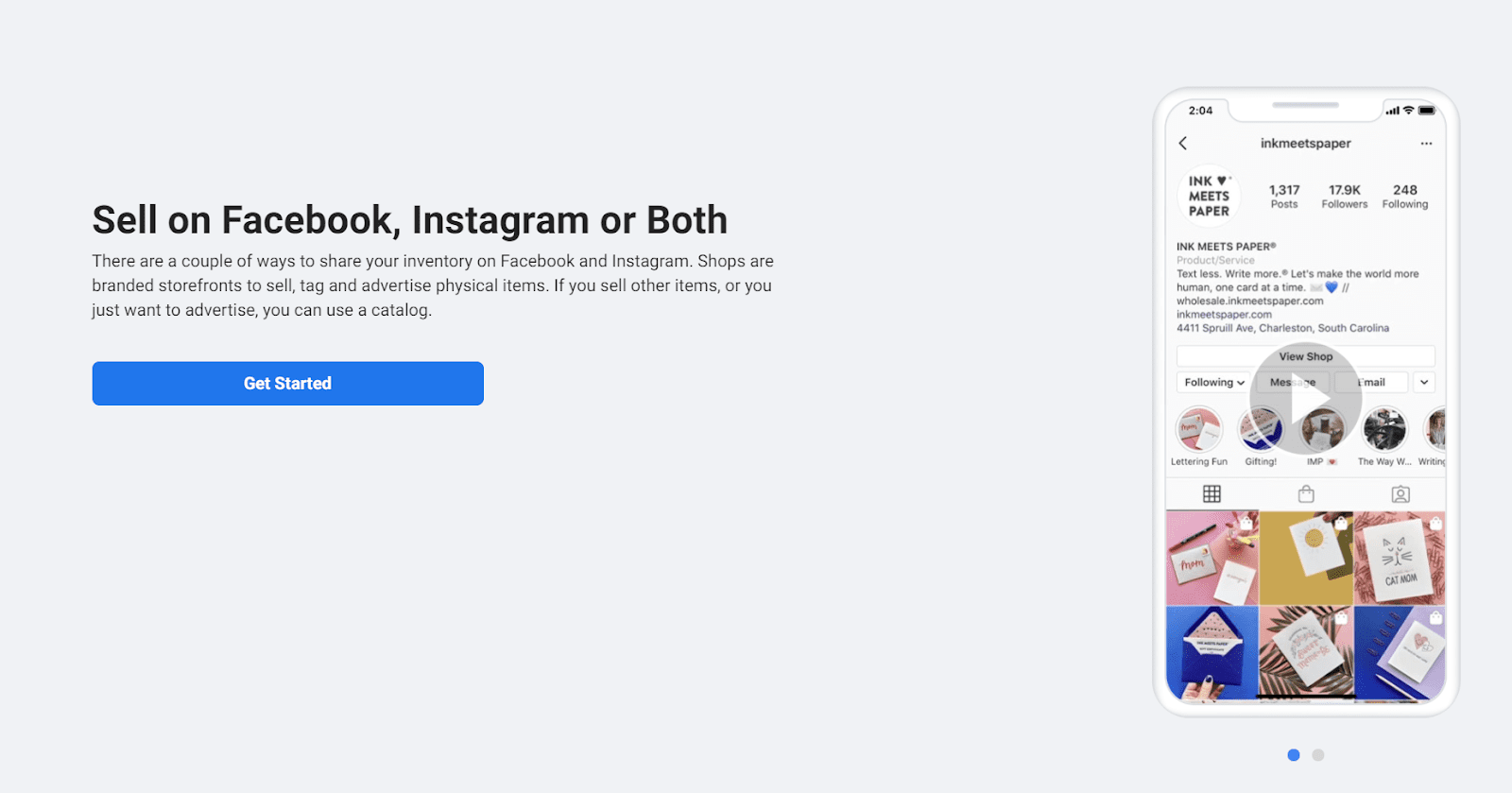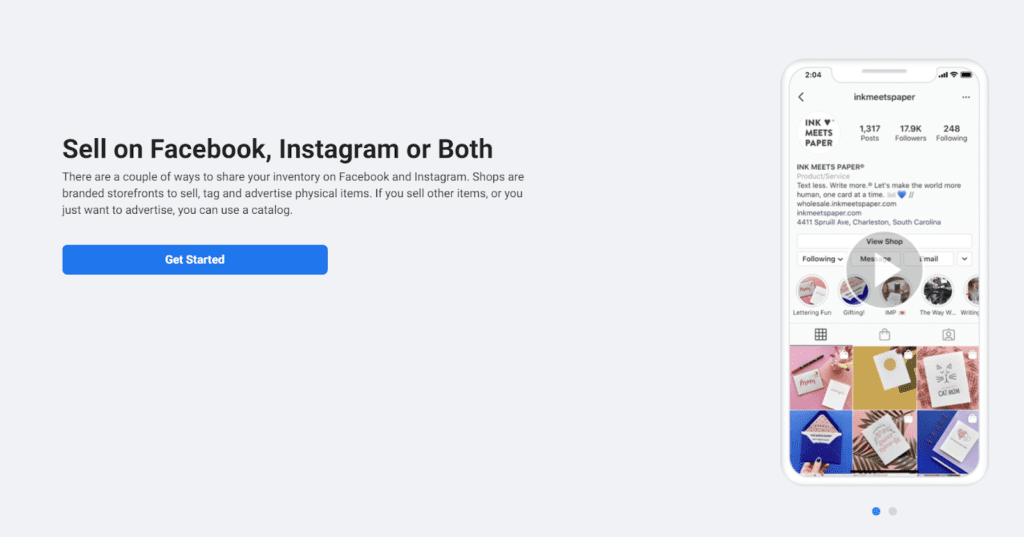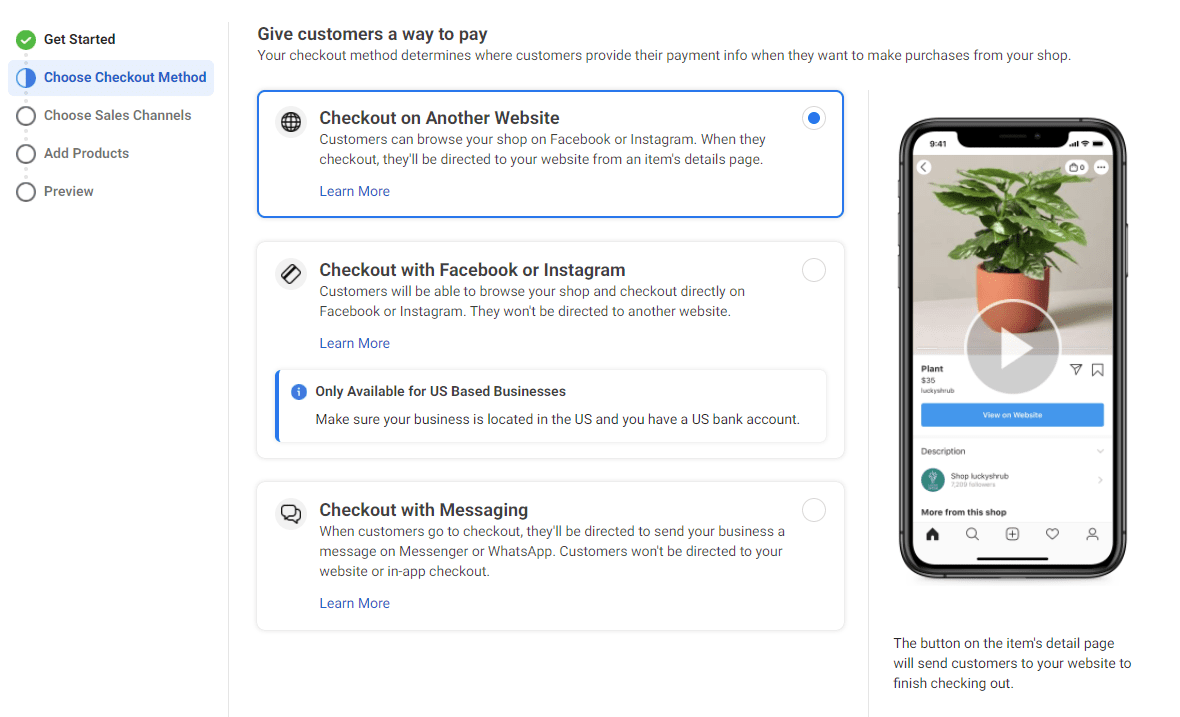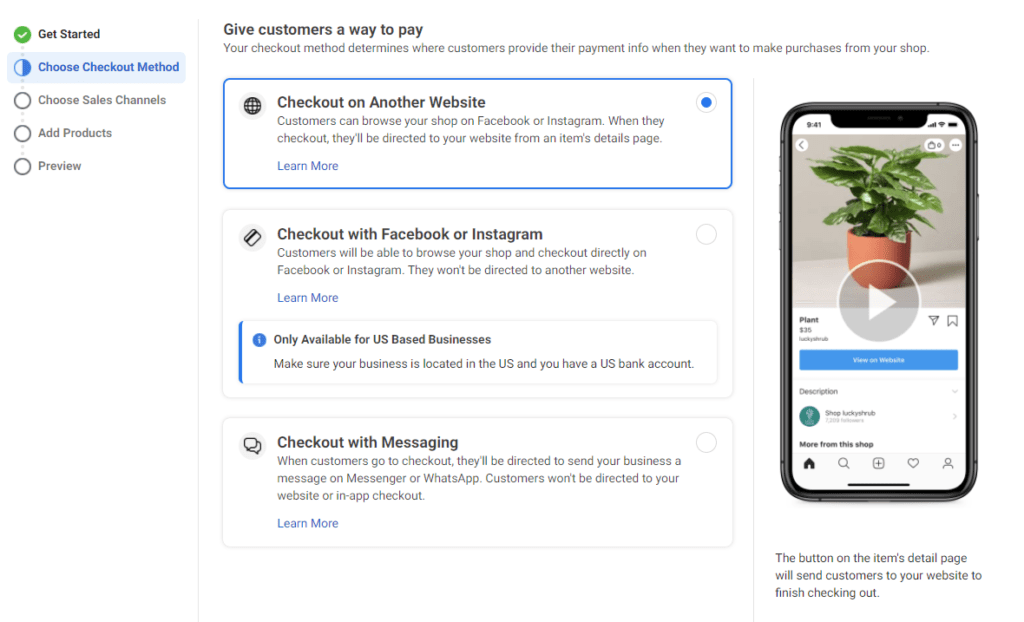 As you'll see below, the option to checkout directly through Facebook or Instagram is currently only available in the US. Keep an eye out for the feature to expand. In Australia, we recommend taking payment through either Paypal or Stripe.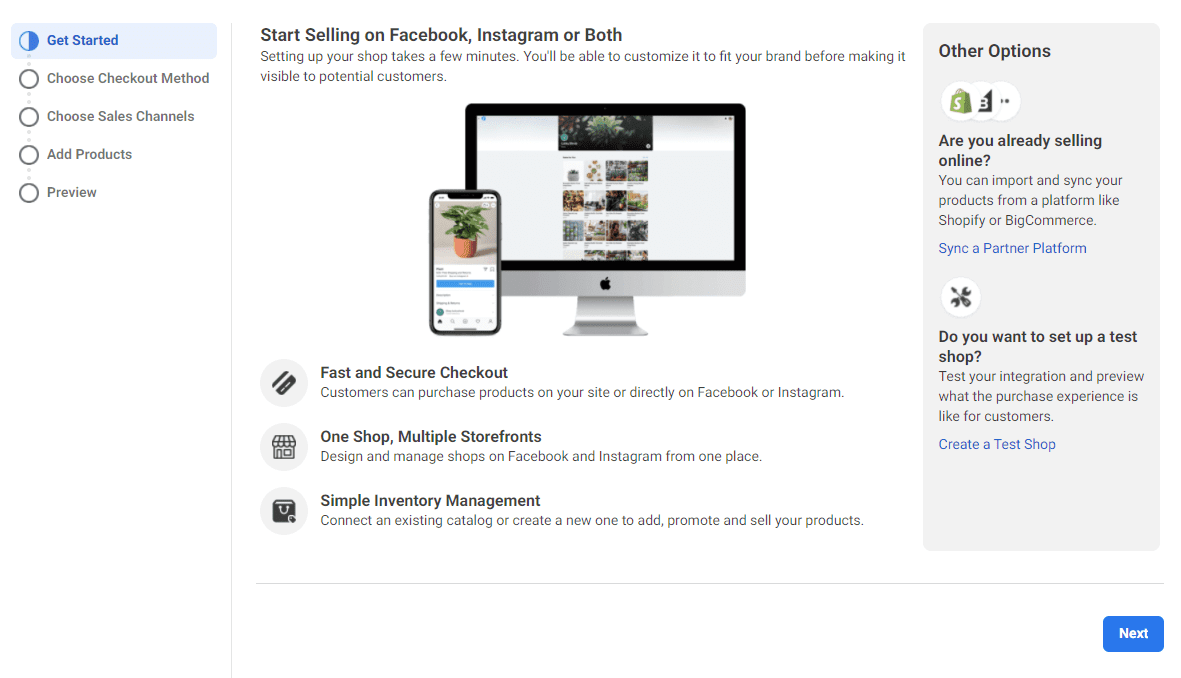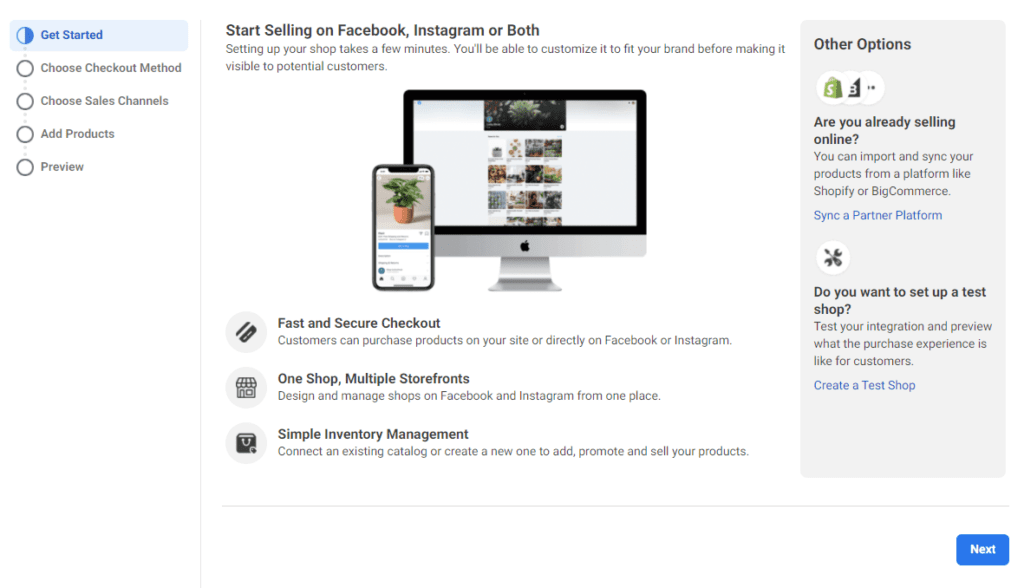 If you haven't already created a Page, you can create a new Page as you're setting up your shop.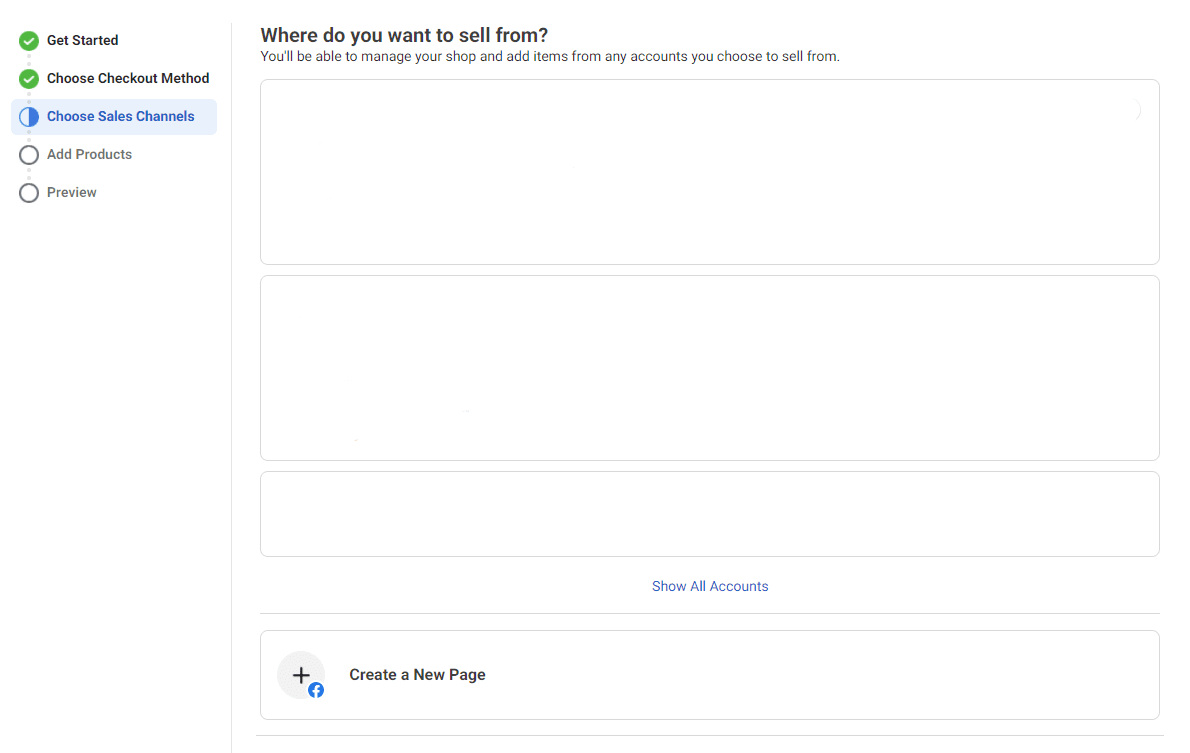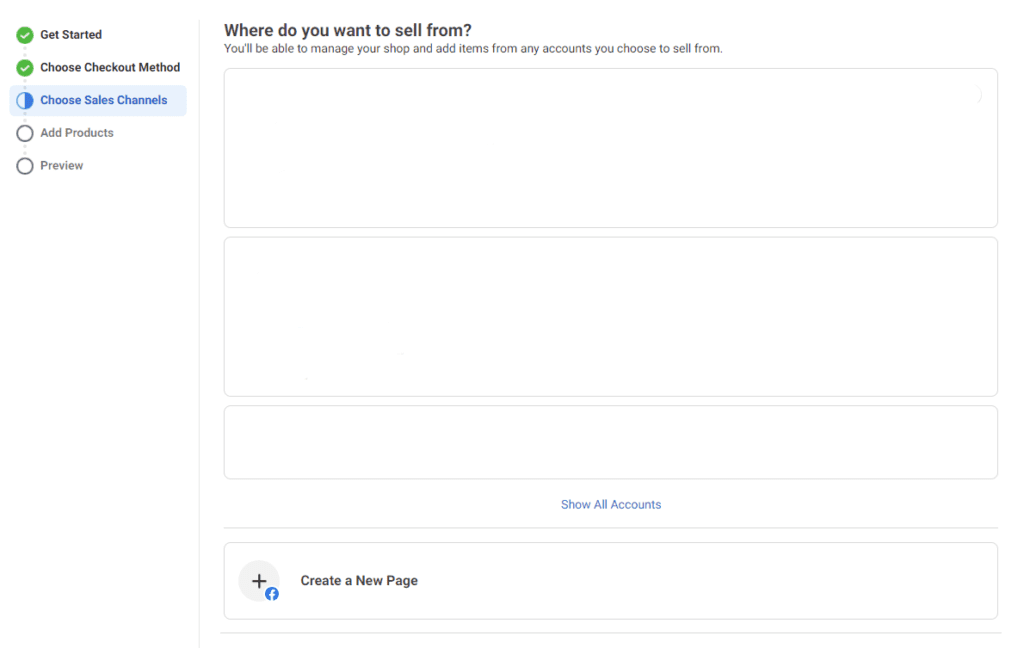 Connect your business account and provide a business email address. Now, it's time to add some products.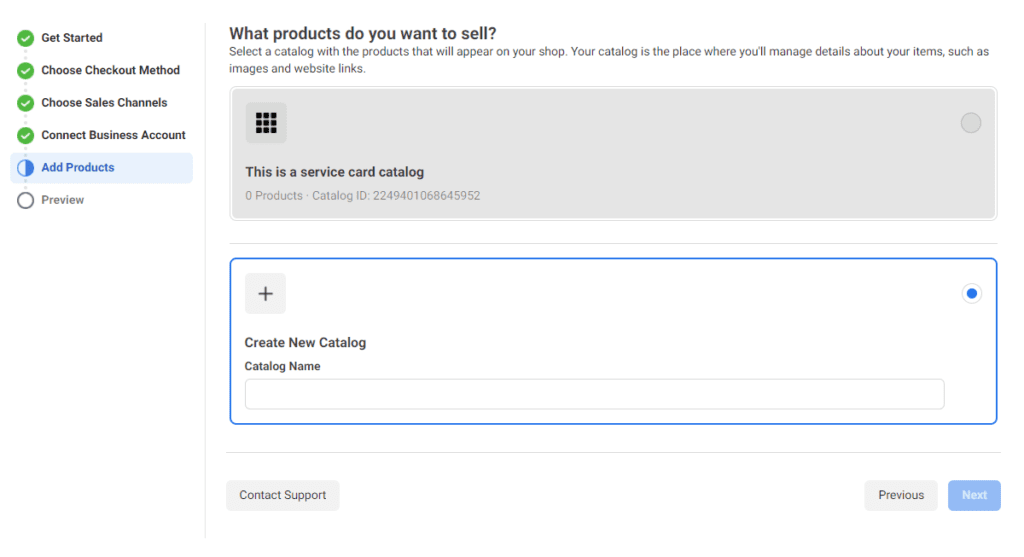 Taking payment through Facebook Shops
As we mentioned earlier, taking payment directly through Facebook and Instagram is currently only available in the US. If your business is based outside of the US, you have two options:
Message to Buy: there's a bit more work with this option, but it's a great choice if you don't have an e-commerce website. Message to buy is also great for customising orders.
Check out on another website: a pretty straightforward option here. After browsing products on your shop, customers will be redirected to your website to make payment.
Note: if you're based outside of the US, you don't need to worry about adding shipping information, options, or inventory to your Facebook Shop, as this should all be handled via your external website.
Before you can start selling on Facebook, you need to know how to sell. Check out our Facebook and Instagram webinar today!