So, you want to start marketing your business on Facebook? Awesome!
There are a few different channels you can choose on Facebook to get your name out there; a personal profile, a business page or a group. Each option can successfully develop your brand online, but it is important to establish which one is best suited for you.
In this post we will break down each option and help you better understand which channel to choose for your business.
1. Using a Personal profile to promote your business:
If you are signed up to Facebook, then you already have a Facebook personal profile. According to Facebooks terms and conditions each person is only allowed to have one personal profile, and such profile cannot be used solely for business purposes.
Why use a personal profile for your business?
Promoting your business on your profile is a great way to attract new followers. If you make your profile settings public, people who aren't friends with you or don't follow you could possibly see your posts.
Let's say you post a picture about a new service your business is offering, and a Facebook friend of yours comments on the post. Your friend's activity may appear in other people's news feed who aren't friends with you and curiosity may prompt them to view your profile.
It is important to note that your privacy settings should allow everyone to see your public posts so people who visit your profile can follow your future posts.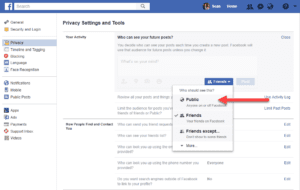 Using your personal profile to promote your business is a great way to tell the story of your brand and connect with your audience without violating the Facebook terms of service.
Additionally, you can fill out your about me section to allow new followers to reach you on other social media platforms or your website if you have one.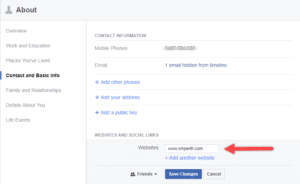 What to consider?
If you do choose your personal profile to promote your brand be cautious not to violate Facebook's Terms of Service. Facebook can close your account at any time if they believe terms have been breached.
It is also important to note that your friends on Facebook may have an interest in your life, but not necessarily your business. Posting about your business excessively to your friends could lead people to tune out from your profile.
There are also advertising limitations associated with using your personal profile for your business. You cannot post advertisements with links to other online order platforms or other pages from your website.
2. Using a Facebook Page to promote your business:
Creating a Facebook page allows you to post content and advertise your business separately from your personal profile. It is necessary to have a personal profile before you create a page because you use your personal login details to access pages.
To access Facebook pages, select the drop-down arrow in the upper right menu bar.

Why use a Facebook page for your business?
When it comes to marketing your brand online a Facebook Page will give you access to advertising tools that will help you reach your target audience.
Facebook makes it super easy to set up a marketing campaign. From the home screen of your pages select 'advertise your business'.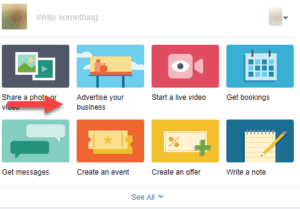 From here you can follow the steps to create the advertisement campaign best suited for your promotion.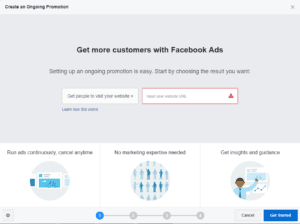 Through the power of Facebook advertising you can target people who like your page and people who have engaged with your content previously. You can also attract people who share similar interests to users who already like your Facebook page.
Facebook pages are a great way to keep your business separate from your personal life. Your page allows you to use your own profile pic and cover photo which is great for establishing your brand identity.
The best feature of a Facebook page is access to Insights. This allows you to see what content is performing well with your followers so you can increase the chance of delivering engaging content in the future.
For example, see how long people are watching your videos for. Are they watching your videos with sound on or off?
What to consider?
It's important to consider Facebook's Advertising Policies before you begin a campaign. All ads are reviewed with 24 hours to ensure they meet standards.
During the review process, Facebook checks your images, text, targeting, and the content on your ad's landing page. Your content must reflect the service being promoted.
If your ad isn't approved you can edit and resubmit for approval.
3. Using a Facebook Group to promote your business:
A Facebook group is another way you can raise awareness and promote your business online. You can also join existing groups that are related to your business to further promote your services. Just make sure you are complying with group rules (which are usually a pinned post).
When you join a group, you can only do so via your personal profile.
It is really easy to create a group. Just follow the steps from the drop-down menu.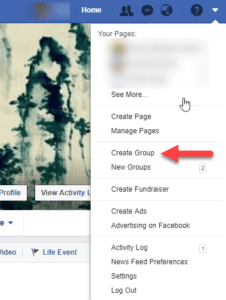 There are three types if groups that you need to be aware of. Public, Closed and Secret.
Public Group – Anyone can join and groups can be be easily found in the discover page. These groups are often hard to regulate as the member numbers are usually high.
Closed Group – All requests must be approved by an administrator. These groups typically expect people to adhere to group rules set out my administrators. It is important to read the pinned post as each group has different rules.
Secret Group – The owner of this group needs to invite specific people to join and the group will not be shown in search results.
Why use a Facebook Group for your business?
A group allows you to talk to people who are heavily interested in your business services or similar operations. People who are in groups are usually more engaged and willing to help other group members with similar interests.
Groups are a great way to form online relationships and become a trusted leader in your field by sharing content that other group members may find useful.
What to consider?
As previously mentioned, some groups are quite strict about acceptable posts and content. You run the risk of being kicked out if you do not follow group guidelines.
Groups are a great way to build relationships with like-minded people but may not necessarily be the best place to continuously promote your business.
It's important to think what would work best for your business. Maybe one, or a combination of all three?
What do you think would be best suited for your business? We would love to hear your thoughts in the comments.