Changing the way that you post is a good thing for your followers as they get to view content in different ways.
You would have probably noticed the different post type options, maybe you've tried out a few of them, but are you getting the most out of them?
Let's take a look at each of the business page post types, what effect they have on impressions and engagement and how to use them in your marketing.
Photo/Video
The Facebook standard post, and an all-rounder. Photos and videos of any type can be uploaded, but, to make the most out of this post type, it is best to use eye-catching visuals.
There is a limit of 1000 photos per album you can upload – but be aware of the automatic cropping Facebook applies to multiple photo posts. The post preview in Facebook's newsfeed displays the pictures in a grid with all photos being the same size/ratio, and this is determined by the first photo you add. Where possible try to use square images to avoid any weird cropping.
Videos cannot be longer than 2 hours. Though shorter is generally better for audience consumption, with the bonus that they take less time to upload. We thought they'd disappeared with the 80's, but GIF's have made a comeback. Use them with your post to add a bit of humour to it.
Unlike some other post types, you can create drafts and schedule these posts. Tagging of products and location is also possible so long as you have set up your shop and business location.

Photo album
Create an album of an event or group together around a theme to showcase one of your products. You can upload an unlimited number of photos, remove photos and add to the album at any time. Make sure add a name and description to give it relevance.
If you do not want to post multiple photos in one post, then you can post to an album. These are stored on your page for anyone to view at any time. Facebook limits the number of people and business pages you can tag on a photo to 50.
As albums need to be created and posted live, they can't be scheduled. So be aware of the best time to post on your page so you can gain maximum reach and engagement.
**TRICK – if you add photos to an album from your phone, it will upload as a new individual post and users can interact and comment on fresh content. When you upload from the desktop it puts them directly into the album's original post, and if people have already engaged, they can't engage again.
Carousel
Carousel posts encourage engagement from your audience by inviting them to swipe through a series of images. They have become very popular and can be a great way to showcase a number of products or tell the story of your brand.
Up to 10 cards can be added containing a combination of images or videos. The cards are click-through buttons, making these posts an excellent way to drive traffic to your website.
Each card can have a different URL assigned so you can set it up to take viewers to different pages on your website, depending on their interest.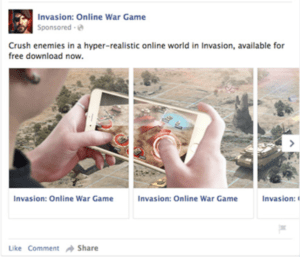 Slideshow
You can add 3-10 images to create a slideshow, and similar to the Carousel posts, they are very useful in showcasing your products. They are also a great alternative to video and way to reach customers with slow internet connections.
You can add music, transitions and set the duration images are shown. You can also post the Slideshow to your newsfeed or create an ad in Ads Manager or Power Editor.
The slideshow images are presented in landscape mode, so it is best to crop the photos, the recommended size is 1280 x 720, so before you upload them, make sure you avoid using portrait mode images.
You will need to manually post in for Slideshow as you can't draft or schedule these posts.
Canvas
When users click on the post it opens to the full-screen, capturing their attention and promoting engagement.
Canvas post ads are ideal for campaigns and promotions where the message is focused, and they are great for driving traffic to your website. You can combine carousel images, video and text. Experiment with the different layouts and get creative with your messaging.
Though you should be creating them on desktop computers for a better effect, canvas posts are mobile-only, meaning they will not be visible on the newsfeed to users on desktops. Therefore, before creating this kind of post, research your audience and ensure that your traffic is coming from mobile or you will miss out.
To create a Canvas, go to your business page and click on publishing tools. From there hit the create button and you will then be able to edit your magic.

Branded Content
Branded content is becoming a thriving part of the modern media landscape. On Facebook, this type of material is most often published by media companies, celebrities and influencers and features a third party product, brand, or sponsor.
Facebook defines branded content as a creator or publisher's content that features or is influenced by a business partner for an exchange of value.
Creators are celebrities, influencers or public figures. Publishers refer to media companies and entities. Business partners include brands, advertiser, marketers or sponsors.
All creators and publishers can share branded content on Facebook as long as they follow updated Branded Content Policies and our Advertising Policies and use the branded content tool to tag business partners in their posts.
Note: All blue verified pages and blue verified profiles already have access to the BC tool and do not need to request access.
How The Tool Works
Publishers are required to tag the marketer's Page in posts that mention a third party brand, product or sponsor. When tagged, the marketer is notified and can view performance insights such as reach and engagement for the post. Marketers can also share the post on their Page and add spend against it.
Which post type will you use?
Now that we've given you the rundown, which post type do you think will work best for your brand and target audience?
Be sure to look at how well your post performs. Learn what worked and what didn't, and make the adjustments for the next one.
Happy creating!
Need some more help getting started with Facebook? Check out our Facebook Marketing Essentials Course and get yourself up to speed in no time.