One of the main objectives of marketing is to encourage people to do something that has value to your brand or business.
This includes purchasing something, install an app or subscribe to one of your channels.
This is the goal of the Conversions ad objective – to allow you to develop ads to drive people to take actions that your business considers valuable.
A conversion doesn't always have to be a purchase. Although leading to a purchase is ultimately what you want to happen, a conversion can also be a link click, a product keyword search or driving someone to a product page.
Why Should you use the Conversion Objective?
Conversions can be one of the most powerful and successful ad objectives on Facebook. Ads created with this objective are shown to people who are more likely to click on your ad but also more likely to take your desired action after the click.
Save the Children tested conversion-optimized ads and traffic-optimized ads to find out the most effective way to drive people to donate to its cause.
They created 2 identical campaigns, optimizing one for conversions and the other for traffic. The ad created for conversions delivered 4x more donations than the ad that drove people to the website.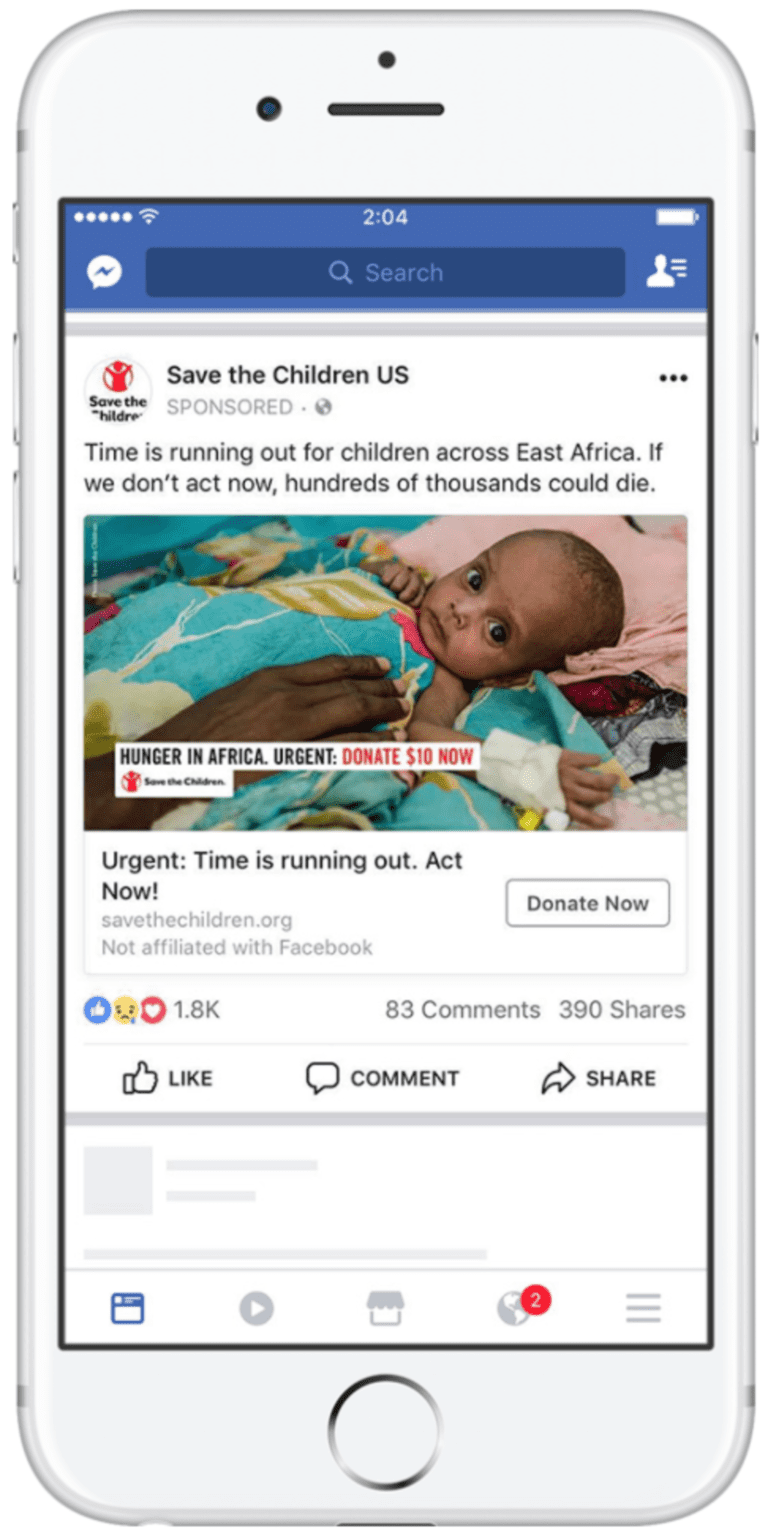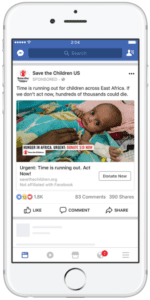 The Checklist for a Conversion Ad
Before you create a conversion ad, you're going to need a few things:
Ad destination / Event source
This is where you want your conversion to occur.
Your event source / destination options for Facebook conversion ads are:
Website
Mobile app
Messenger
Once people click on your ad, you can direct them to a destination that will encourage them to take an action. For example, you can direct people to your app to make a purchase.
You can also drive conversions in Messenger.
Conversion Event
This is what you want people to do after viewing or clicking on your ad.
This doesn't always have to be a direct purchase but can also be an early phase of their purchase journey with you. For example, view content, add to wish list, begin checkout.
These conversions can often help your customers become more familiar with your brand that can lead to a purchase conversion at a later date.
Install the Facebook Pixel
To really benefit from the Conversions ad objective, make sure you have the Facebook Pixel installed. You can view our post that explains how to install it.Â
The Facebook pixel is a piece of code that is added to your website so you can see the conversion events that take place on your website.
By adding the Pixel, Facebook begins to analyse the website conversion info that is tracked by the pixel.
For example, if you set up the pixel to follow a particular "product page"event, you can tell Facebook to find more people who have viewed similar products.
App Events via Facebook SDK
If you want to drive conversion events to your mobile app, you have to active app events.
This requires you to integrate your mobile app with Facebook SDK. Facebook explains how to do that here.
The conversion information captured by app events can also be used to create custom audiences for your ads. For instance, you can create ads directed at people who have completed an action in your app, such as app registration.
Implementing your Conversion Ads
Once your Facebook Pixel or app events setup is done, you;re now ready to create your Conversions ad.
Facebook will try to reach the people more likely to complete your conversion event as soon as your ad is live.
In the early stages of the ad, Facebook has zero or very limited information to work with. This is considered the "learning phase" as it shows your ad to different people to best determine who is likely to convert.
After the "learning phase", your ad will deliver more stable and reliable results.
Analyse the Complete Conversion Path
It's recommended that you follow all the events leading up to the final conversion goal. If your conversion goal is to complete a purchase, you should monitor the steps leading up to the purchase.
You'll want to focus on your conversion goal, but we recommend you also study the events before it. So if your conversion goal is "Purchase," as shown in the image below, we recommend you also measure the three events that happen on your site that lead up to the purchase.


Facebook Conversion Tools
There are several tools available to you for your Conversions campaigns.
Below is a breakdown: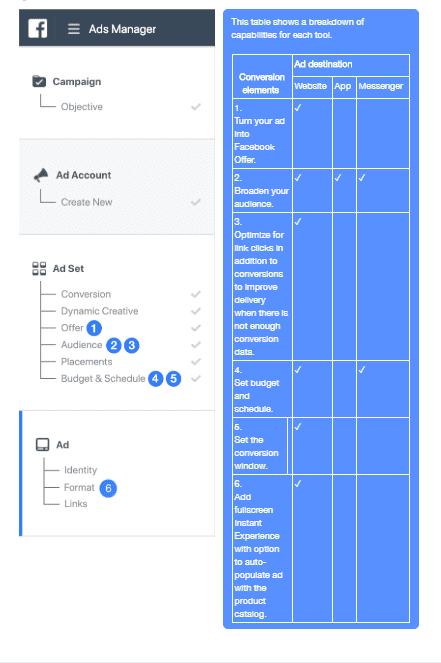 Facebook Conversion Window
This is the time between when someone clicks on or view you ad to when they complete an action that you have defined as a conversion event.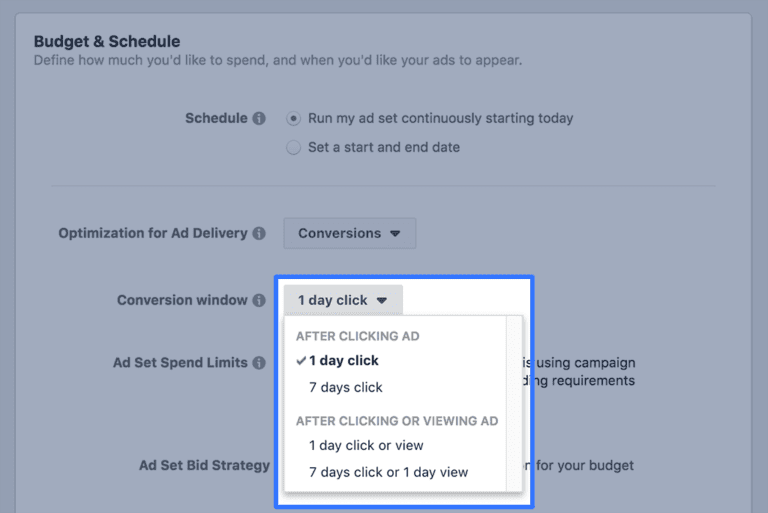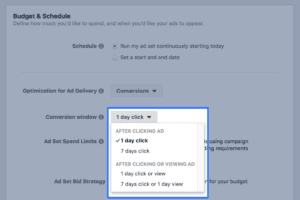 When you specify your conversion window, you are letting Facebook know to only pay attention to particular conversion information when it decides who should see your ad, which include:
Which action(s) lead to your conversion event. Do most people who convert click or view your ad or both?
How long it typically takes for people to convert after they see or click your ad. Within a day or within seven days?
How successful are you with your Conversion Ads? Any tips and tricks you wish to share? We would love to hear from you in the comments below!