Facebook Messenger is a powerful marketing tool that can be used to target your audience. According to recent statistics, approximately 20 million people use Messenger to communicate with their customers.
Using Facebook Messenger as a marketing strategy has many benefits. After all, Facebook is the second most popular site in the world behind Google. With Facebook Messenger you can achieve:
Higher open rates than emails

Increased visibility

Two-way communication that can be automated
To help improve engagement with your customers we have compiled a list of 5 Facebook Messenger marketing strategies you can try today.
Response Assistant
You can't always respond to messages straight away, but you can set up an automatic response for your customers. Response Assistant is a great way to let people know that you'll respond to them soon.
To setup Response Assistant you need to go to your Facebook page and follow the steps below:
Click on Settings
Select the Messages option
Scroll down and toggle Response Assistant to 'On'

Enter your desired response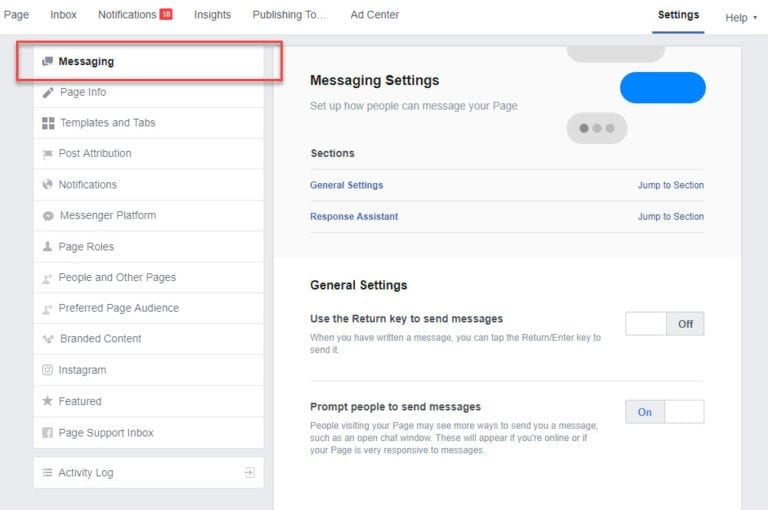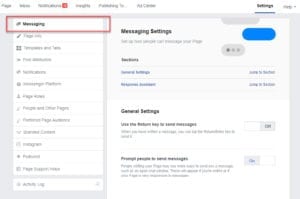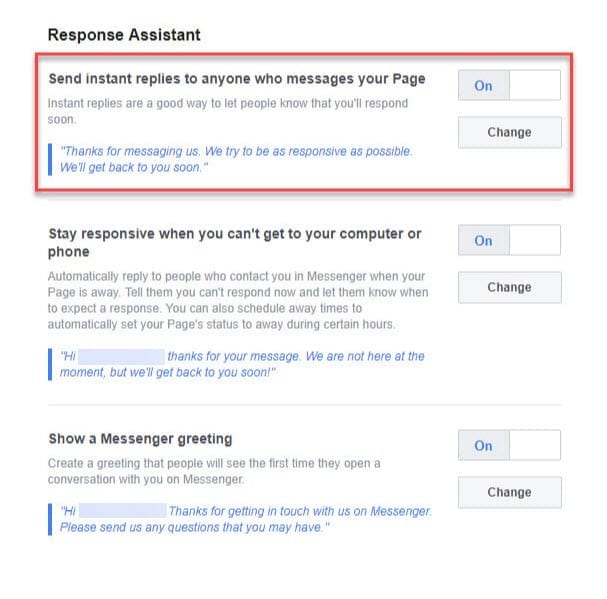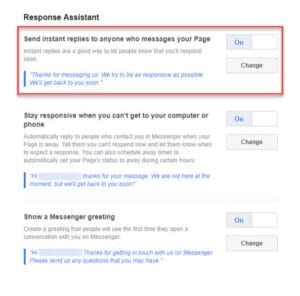 Use Messenger Chatbots to Deliver Your Content
Statistics show that audience engagement is 619% higher with Messenger than email – crazy! A chatbot operates on rules and some artificial intelligence that talks to your customers on your behalf.
Chatfuel is a free program that lets you create Messenger bots with no coding required, just drag and drop.
Some benefits to using chatbots include:
Increased engagement – once someone engages with your chatbot you can send them push notifications

Just like email, you can set up automation workflows

You can run ads directly to Messenger – anyone that engages with your ad can be targeted within Messenger
Use Ads in Facebook Messenger
The best way to capitalise on the 1.3 billion using Facebook Messenger is to target them directly and run ads in Messenger.
Messenger Ads work just like the ads you see across other Facebook Platforms – they automatically deliver ads to the placement that's most likely to improve campaign results at the lowest possible cost. Once people click on the ad shown they will be sent to the destination that you choose during ad creation.
Click here to see Facebook's step-by-step guide to set up ads in the messenger inbox.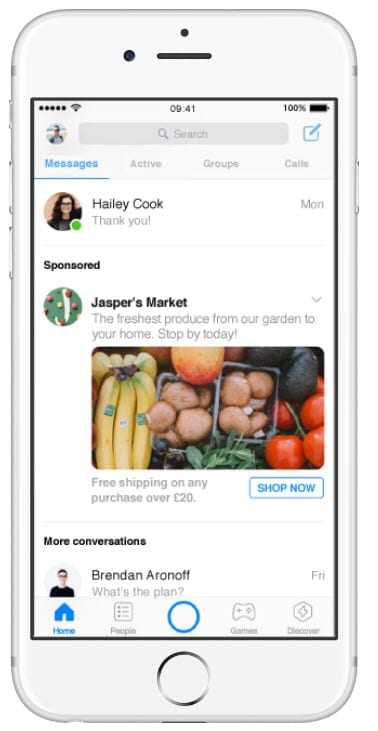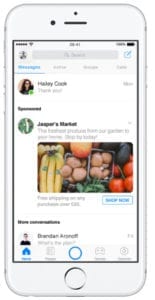 Talk to Your Target Audience One-On-One
The Facebook News Feed is flooded with ads, but with Messenger, you can communicate to your customers without all that excessive noise.
Below is an example of how a customer would engage with a Messenger Ad. This option also allows your ad to be free of troll comments or negative attention that can sometimes hinder your advertising efforts.
Use Messenger to Improve Your Customer Service
Facebook Messenger lets you handle customer issues in a timely manner. The last thing you want is a customer posting about issues on your page or leaving negative reviews. With Facebook Messenger, you can form stronger relationships with your customers and provide fast solutions to their problems – something you will both be thankful for!
If you are not onboard Facebook Messenger that you are missing out on a large part of your marketing campaign. Facebook Messenger can help your brand generate more leads and gain greater insights about your audience's needs and wants.