Reviews are a powerful source of customer feedback and provide the opportunity to interact with customers.
Online reviews will teach you about what you are doing well, and more importantly, what areas you may need to improve on.
Whether that be technical issues on your website, customer service quality, or product issues, reviews are a goldfield waiting to be mined.
So grab your pick-axe and let's dig into how you should respond to Google and Facebook reviews to create the best results for your business.
Google Reviews
Why Respond to Google Reviews?
Google reviews serve two main functions: instill confidence in potential customers and boost your local SEO.
A recent survey found that 63.6% of consumers check reviews on Google before visiting or buying from a business. Since Google reviews are public, it is critical that your business is replying to reviews in order to be seen as providing great customer service.
By replying to both positive and negative Google reviews you are instilling confidence in other potential customers and encouraging a purchase or booking.
As they read through reviews, they can see that you take responsibility when something is not satisfactory and try to resolve the issues for previous customers. For positive reviews, by publicly thanking your customer for taking the time to leave a review, it shows that you value and appreciate your customers.
Not only does this demonstrate that you are committed and helpful towards your customers, it also helps improve your websites performance in your local area. Reviews take place in the Google My Business section of a Google Search Result. Google recognises a response to a review as a signal that the page is actively managed. As a reward, your listing will gain better online exposure.
How to Respond to Google Reviews:
Positive Reviews:
Replying to positive reviews is always a fun task. Who doesn't love positive feedback? Remember to:
Use the reviewers name.

Thank them for taking the time to leave a review.

State that you are happy they enjoyed your service or product.

Sign off with your business name.
The example below is an excellent guide in how to structure your response.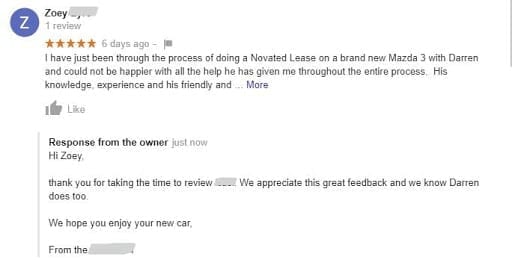 Negative Reviews:
Replying to negative reviews can be tricky. Your first reaction, especially if you are the business owner, may be to take offence and not see fault. But it's important to remember that while you may disagree because the review has been made public, its imperative to address it and do it properly.
Negative reviews can be a great source of constructive feedback for your business. It's a platform for you to clearly read user feedback. It's ultimately free customer research!
When creating your response for a negative review follow these simple steps:
Use the reviewers name. This will help to show you are considering their complaint on a individual basis, and care what they have had to say.

Acknowledge their complaint but don't take responsibility unless you are at fault. Admitting fault consistently can empower disgruntled customers to take it further. Further, since potential customers will also see this, it could erode confidence in your brand.

Offer the option to resolve the problem, but do not specify how. This discussion should be in private either over email or phone.

Ask them to provide their best contact details.

After resolving the issue, and if the customer is happy, you can ask them to alter their review.
The example below shows clearly how to incorporate the above principles.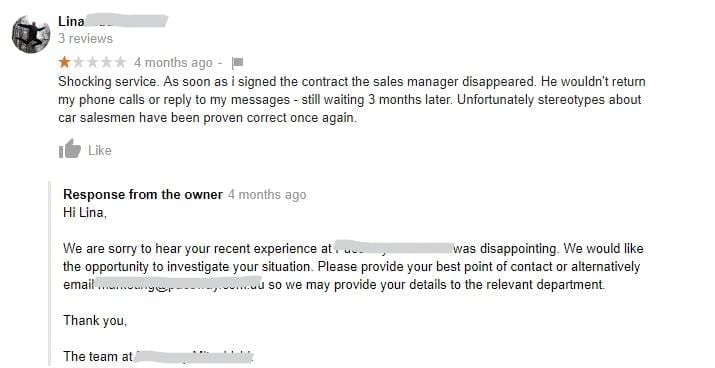 Facebook Reviews
Why Respond to Facebook Reviews?
Facebook reviews appear in the 'Reviews or Recommendations section' on your Facebook business page. Replying to reviews is just one way to establish your brand's voice. In comparison to Google, your business has the option to disable Facebook reviews. While you may have the option to turn it off, it's best practice not to.
A recent study by G/O digital found that Facebook was the top social channel (62%) when it came to users researching local businesses. With such a large audience relying on Facebook to educate them about a business, it's essential that you give your customers as much as information as possible – and that includes reviews.
Remember that if you are disabling reviews, you are stopping people who may want to provide a positive review. In fact, Facebook has the most positive reviews when compared to Google, TripAdvisor and Yelp.
How to Respond to Facebook Reviews:
Positive Reviews:
Responding to positive reviews on Facebook is much the same as responding on Google. Remember to include their name, be specific in what you are thanking them for, and that it is appreciated. In addition, you can do some of the following tricks that work well on a social platform like Facebook.
Thank the customer for their kind words and be specific.

Invite the customer to do something positive, such as spread the word to their friends.

If the opportunity is there, include information about new promotions that may be of benefit to them.
Below is a perfect example of a response to a review on Facebook. The brand is taking the opportunity to interact with the customer on a personal level, and promote their quality and new products.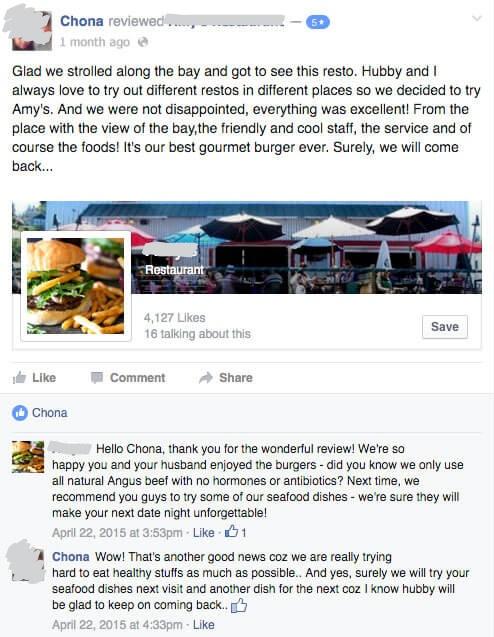 Negative Reviews:
When a customer leaves a negative review, see it as an opportunity to help that customer see you in a positive light again.
When replying to Facebook reviews its important to do the following:
Ensure you have selected your business account and not your personal profile.

Reassure them that their feedback is valued.

Let the customer know that you have read and understood their issue by using keywords from their review.

Indicate that you are committed to helping to resolve their issue, and ask them to provide you with their best contact details.
In the example below the business requests the opportunity to remedy the situation. This is a great way, to earn the trust of an old customer, and be seen as helpful by potential customers checking your business on Facebook.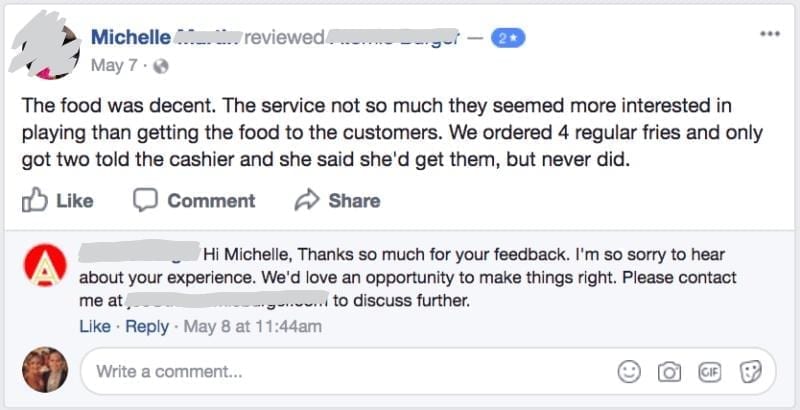 Responding to online reviews can be quite a task. But when done your right, your business will reap the rewards.
Be sure to check out the video version of this post here.