Not sure where to start with your TikTok Pro account?
For brands venturing into the world of TikTok, it's important to have a sound understanding of how analytics work on the platform.
There's no denying TikTok's meteoric rise to social media prominence. And that's why it's so crucial for brands and businesses to understand TikTok Pro analytics.
TikTok Pro analytics offer valuable insights into how your content is performing, how your followers are engaging with you, and even when and what you should be posting.
Let's take a look at TikTok Pro analytics, which metrics you should be paying attention to, where to find them, and how they can inform your content strategy going forward.
What is TikTok Pro?
Before we get started with TikTok Pro analytics, we need to first understand the difference between a normal TikTok account and a TikTok Pro account. If you're familiar with Instagram, you'll probably have an understanding of what the distinction is going to be here.
Essentially, the difference between a normal TikTok account and a TikTok Pro account is analytics. If you want analytic information on TikTok, you need to switch to a TikTok Pro account.
Once you've switched to a TikTok Pro account, you'll be able to access the TikTok analytics dashboard. Here, you can learn all about your followers, track your video views, monitor engagement rates, and a whole lot more.
Here's how to upgrade your account to a TikTik Pro account:
Head to your profile and tap the three dots in the top-right corner.
Tap Manage account.
Tap Switch to Pro account.
Select either Creator or Business.
Choose a category that best describes your account.
Select your gender (Female, Male, Non-binary, Prefer not to say)
You're all done! Tap Analytics and start exploring.
Familiarise yourself with TikTok analytics
Now it's time to get familiar with TikTok analytics. From your profile, tap the three dots in the top-right corner Under Account, tap Analytics.
To access analytics from a desktop: click your profile picture and click View Analytics. It's important to remember that you can only download data from a desktop.
There are three main types of analytics on TikTok:
Follower analytics
Profile analytics
Video analytics
Let's take a look at the different tabs inside TikTok's analytics dashboard.
Overview
For a quick glance at how you are performing on TikTok, the Overview tab is the go-to destination for some valuable metrics.
Overview is where you'll find important information about video views, follower counts, and profile views.
Followers
The Followers is where you should head to learn all about your audience. If you're stuck for inspiration for your next video, the Followers tab is a great place to get a better understanding of the type of content your audience is engaging with.
As soon as you hit 100 followers, you've have access to the following insights under the Followers tab:
Gender gives you a breakdown of your followers based on gender.
Top territories displays your followers the top-five most popular locations of your followers.
Follower activity is important for tracking the times and days that your followers are active on TikTok.
Videos your followers watched shows you the content that your followers are watching on TikTok. This is a great place to go for inspiration.
Sounds your followers listened to shows the top sounds your followers have listened to.
Content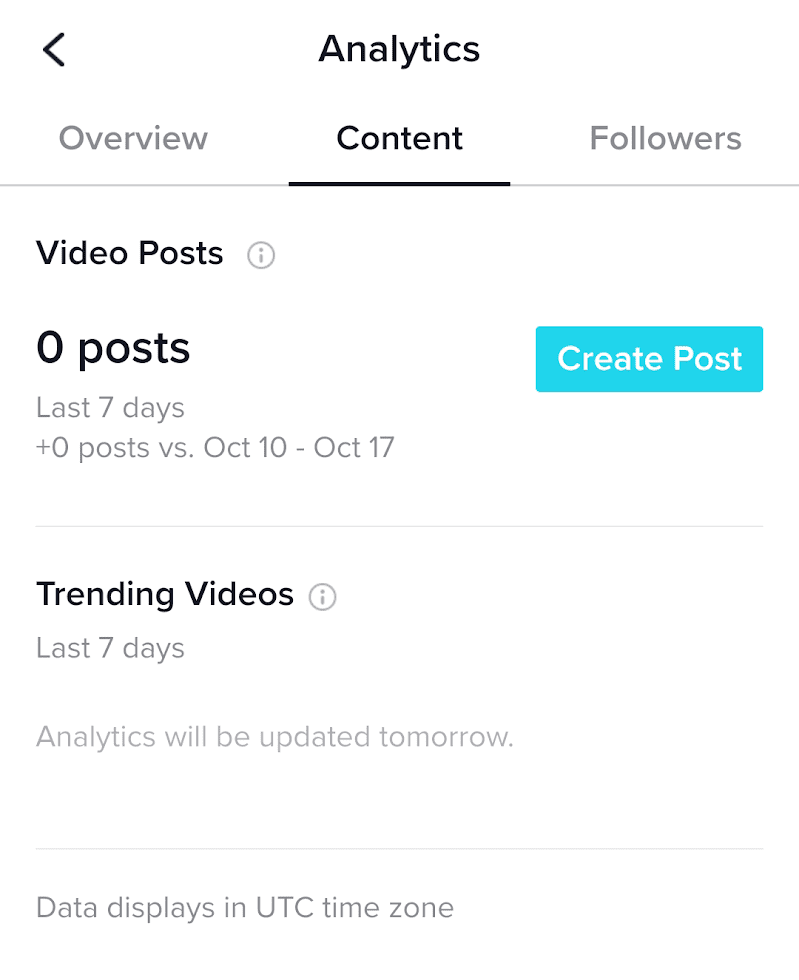 The Content tab is where you can measure your content's performance.
Once you have posted a decent amount of content, Trending videos will display your top-nine videos, based on views over the last seven days.
Stats for individual posts
In addition to the more big-picture analytics that TikTok offers, there are also a host of statistics available for individual posts, including: .
Number of likes on a post.
Number of comments on a post.
Total shares for a post.
Total time people have spent watching one of your videos.
How many times a video has been viewed.
Average watch time.
Traffic sources.
Audience territories.
Like most social media platforms nowadays, TikTok is a data-rich environment, with a TikTok Pro account offering valuable insights into your audience.
Ready to learn more about TikTok? Head to our TikTok resources page!