Did you know that YouTube has more than 2 billion logged in users each month?
This whopping number makes YouTube a marketers dream, especially if video is already apart of your marketing strategy.
To make the most of your YouTube content, we've made a list of 10 key metrics to track to improve your video performance.
These metrics will help further engage your followers and give you better insights into the videos you're posting.
Be sure to check out another YouTube post we've done that will help you better promote your YouTube channel!
Understanding watch time
It's clear that video views are an important metric that helps you determine the success of your video. But views alone won't give you enough insights to help improve your YouTube content.
It's best to analyse your views alongside Watch Time, which is a key metric for YouTube's algorithm.
YouTube's Analytics dashboard has an entire section allocated to this metric, so it's certainly something you want to monitor.
If your watch time is low, maybe you need to work on your creative and develop more engaging content for your audience.
Identify where your viewers are coming from
It helps to know where your viewers are finding your content from. To access this info, click on the YouTube Analytics panel and select Traffic Sources. This reveals how your viewers are finding your videos.

This allows you to better understand which source of traffic is most beneficial to you across your entire channel and for each individual video you create. This metric will help you determine with traffic sources are important for your marketing strategy and which sources need some extra work.
Understand your audience demographic
Demographic insights allow you to see who is consuming your videos based on age, gender, geography, device, and more.
Understanding your audience demographic is highly beneficial to you, especially if you have an e-commerce business. The location of your audience could be handy to know if you if you plan to reach them with targeted ads or content.
Playback locations
Understanding where your videos are being viewed can help you predict how your audience is discovering your content. Are they searching and finding it through YouTube or through other websites?
The Playback Locations page presents your total views based on where the video was played. Your views will be divided between YouTube Channel page, YouTube Watch Page, Embedded Video and Mobile Devices.

By seeing which location is yielding the best results, you can determine both your video's popularity on and off YouTube. This lets you see as to whether you need to spend more time on YouTube optimization, or whether the real opportunities is getting your videos embedded other websites.
Views by device

Devices reveals what percentage of your users watch your content on desktop, mobile, tablet, smart TV, or games console.
Devices can influence the content people consume on YouTube. Mobile users tend to watch on-the-go, so they typically watch videos less in duration. Desktop users are more likely to make a purchase online and watch videos of longer duration.
Think about the content you are publishing on YouTube and if it's being appropriately consumed on the right device.
Track your audience retention
Audience retention is a moment-by-moment graph that shows how often each moment of your video is being watched as a percentage of total views.
Basically, Audience retention shows you the exact moments that viewers begin to drop off from your video.
Audience retention can be used to inform your video strategy. Once you know where you're losing viewers, you can cut that content out from your next video.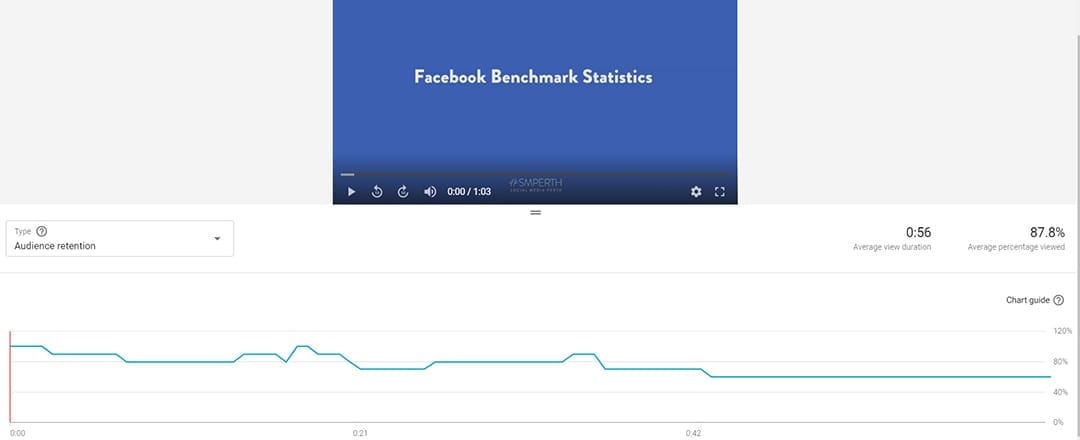 Track your subscriber rate
Under the Subscribers report you can view the amount of subscribers you have lost or gained on a video-by-video basis.
Subscribers are pretty important when it comes to YouTube. The more subscribers you have, the more people will see your content under the subscriptions section on YouTube.
It's good to know if one video in particular has made you lose a handful of subscribers, or if they've boosted your subscriber count. If you notice a video is collecting you a lot of subscribers, you can start thinking about making similar content to that video.
Know who's sharing your content
If you select the Sharing page in YouTube Analytics, you can see the number of shares you've received over time and on a variety of platforms. It's important to know what social platforms your content is being shared on so you can focus your marketing efforts on those platforms.
Keep up-to-date with comments
YouTube comments are a key part of audience engagement. Knowing what is being commented on your videos can help you to convert people watching your content into customers. It's also a great way to improve engagement and answer any questions your followers may have about your product or service.
By clicking on the Comments tab of the YouTube Analytics section, you'll see the frequency and dates of your comments, as well as a section dedicated to displaying your total amount of comments on each video.
Likes and dislikes
Likes and dislikes on YouTube is a great way to get user feedback. Ideally, we would love nothing but likes. Unfortunelty, this is't the case on social media and you're probaly going to get a few dislikes no matter what content you put out.
Some things to ask yourself if you're getting to many dislikes on your videos:
Did you deliver what the title of the video promised?
Is your video aimed at the wrong audience?
Does your video production need improving?
What have we missed? We would love to know what your favourite YouTube metrics to track? Please let us know in the comments below!