Social media is an excellent space for brands to push the limit with original messaging and content.
But if you're working in a highly regulated industry, such as alcohol, gambling or marijuana, digital marketers need to know of any specific rules for social media that apply to their campaign.
You don't want your marketing efforts going to waste because you made an error with your advertisement.
To help you become familiar with what is acceptable on social media, we have made a list of 5 industries that have specific rules to follow on social media.
Alcohol
Alcohol is a large part of our society. It's a cultural norm in Australia to drink while socializing. But things get a little trickier online.
The primary issue with marketing for Alcohol companies or other distributors is making sure the advertisements reach the appropriate age groups.
Before age-gating tools became more sophisticated, many brands were steering away from marketing alcohol on social media because of the issues they could face. But now platforms like Facebook, Instagram, Twitter and YouTube have really stepped up their game when it comes to age-gating.
Each platform works differently:
Twitter and YouTube restrict content depending on the birth date you provided when you created an account.
Instagram users can connect with their Facebook account which requires users to enter their birthdate when they first sign up. If an Instagram user isn't linked with Facebook, an age gate will appear.
Most alcohol brands will also provide a disclaimer to warn underage users against their content.
Gambling
Did you know that the gambling industry spent $252.2 million on advertising in Australia in 2017?
Gambling-related advertising is regarded as restricted content.
Ad policies show on Facebook, Twitter and Instagram claim to allow it on a case by case basis.
You must obtain advanced "written permission" or be "certified." Authorized ads can then only target audiences that locations legal gambling age.
Weapons
Although you cannot promote the sale of weapons or ammunition on social media platforms, there is some wiggle room with certain paraphernalia.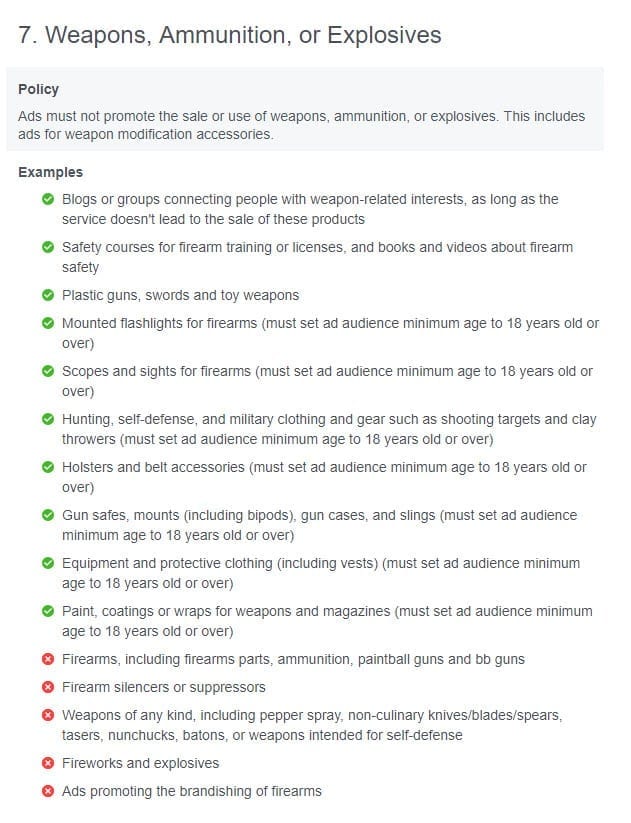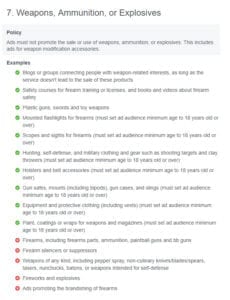 Marijuana
According to Facebook, ads must not promote the sale or use f illegal, prescription or recreational drugs. These include bongs, rolling papers and vaporized delivery devices.
But this could all change very quickly!
Facebook recently allowed some places in America to locate cannabis-related pages using the search feature.
Keith Strope founder of NORML had this to say about the policy change.
"Facebook's policy change is reflecting the reality that marijuana is already legal in nine states, Washington D.C. and will be legal in Canada next week. I realize its hard for some of these companies to adjust to the new reality. Facebook is experiencing what all institutions are going through —transitioning from when marijuana use was a crime to it being a legitimate enterprise."
Marijuana continues to be a tricky subject, and for now, it looks like it's off the cards for digital marketers in Australia.
Tobacco
Put simply – You can't sell tobacco products on Facebook.
According to Facebook, that includes:
Tobacco or tobacco-related products, including cigarettes, cigars, chewing tobacco, tobacco pipes, hookahs, hookah lounges, rolling papers, vaporized delivery devices and electronic cigarettes.
There are some exclusions to the rule:
First, Anti-smoking ad campaigns are allowed.
Second, blogs or websites that connect people with tobacco-related interests are allowed but they cannot sell directly to tobacco products.
Social media policies regarding these industries will continue to grow and evolve. Digital marketers should adapt their own policies to keep up!