It's a loaded question: why isn't social media solving all of our problems?
Social media has long been pegged as a marketing cure-all, but what happens when it doesn't deliver?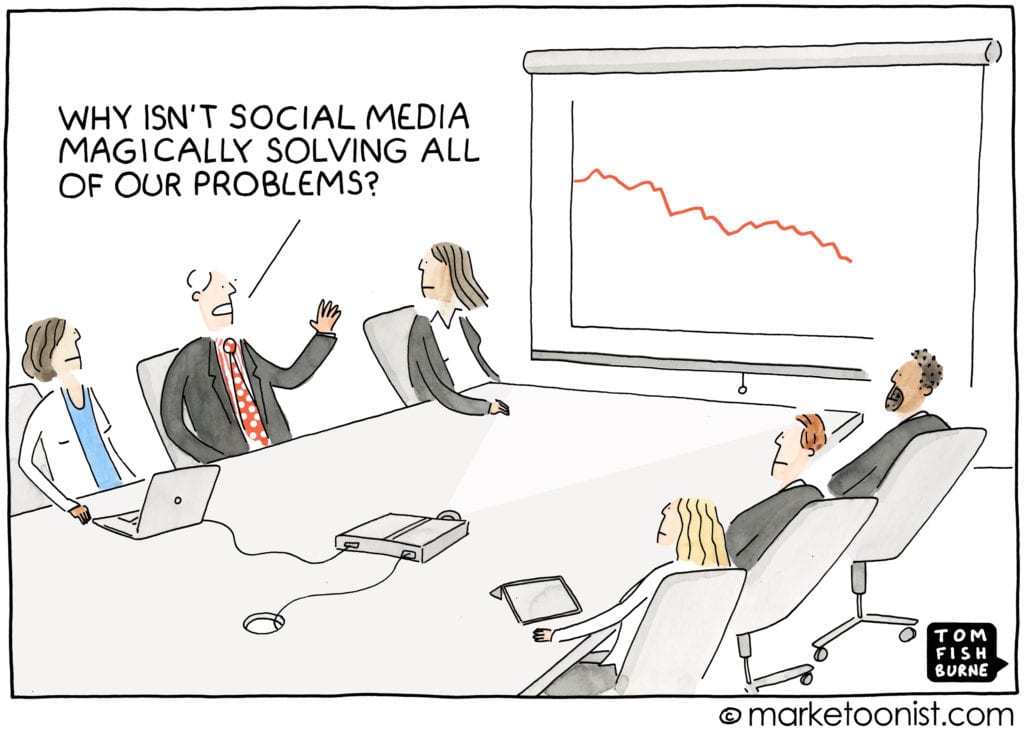 Before you lose faith or pack it all in, there are seven things you should problem solve in your social media offering.
(Of course, troubleshooting will differ according to the platform(s) you are using, however, for the most part, identifying the issue will go a long way to finding a ready solution that could well turn everything around.)
Are you talking to the "right" people?
In the early days, social media was all about big audiences, the more people you were talking to, the better (remember those days of buying Likes?). Now, not so much. Today it is all about finding "true" fans; in other words, it is about using platforms' inbuilt capacity to hone in on key demographics and deliver tailored messages direct to the "right" people.
So, your true social media audience could well be small, but they'll be highly receptive. Take a look at who you're targeting on social. How can this be improved?
The "C" word: Content
How has your social media audience(s) been responding to your content? Critically review your analytics on each platform to identify what has been working; what hasn't, and adjust your content strategy accordingly.
It might be as simple as changing your content approach (for example: add more photos, do more/fewer blogs etc) to give your social engagement a welcome boost.
Are you having conversations?
It is not uncommon for there to be a disconnect between how marketers use social media and how consumers use social media. It's becoming a bigger problem. Somewhere along the line marketers can forget social media is about influencing behaviours through meaningful conversations, and not about pushing/forcing/coercing consumer behaviors.
How do you have "real" conversations with your social media community? Ultimately it comes down to content (are you giving them something they want to engage with?) and management (are you engaging with your community around this content?). Take a look at your interactions, are you talking at your audience rather than with them? Can your content be improved? Can you improve how you engage with your audience?
Your strategy is broken.
Reset. Go back to the beginning: evaluate your strategy. Or, if you are like the majority of the business population who doesn't even have a social media marketing strategy: write one!
It isn't working; or is it?
Going back to strategy, perhaps you have unrealistic or unachievable expectations of what constitutes an effective social media offering? Reassess and reset your goals, and you might find you were in fact doing a great job all along!
You're on the wrong platform.
Simply put: not every platform works for every brand. Perhaps the problem is because the platform is not a good fit? Go back to basics and reassess. It is better to do less, well!
You're not being responsive.
Social media changes, but are you changing with it? It's not enough to "just have Facebook" and then bemoan a lack of results. Try to keep across all the latest and greatest in the space to ensure your brand stays ahead of the curve wherever possible. (Or just stay tuned to #SMPerth!)