If you want your business and website to be found by a local audience, then local SEO (search engine optimisation) is your best friend.
There's no way to request better local rankings on Google, however, by employing the below strategies you might be able to improve your chances of showing up for local searches and in the 'map pack'.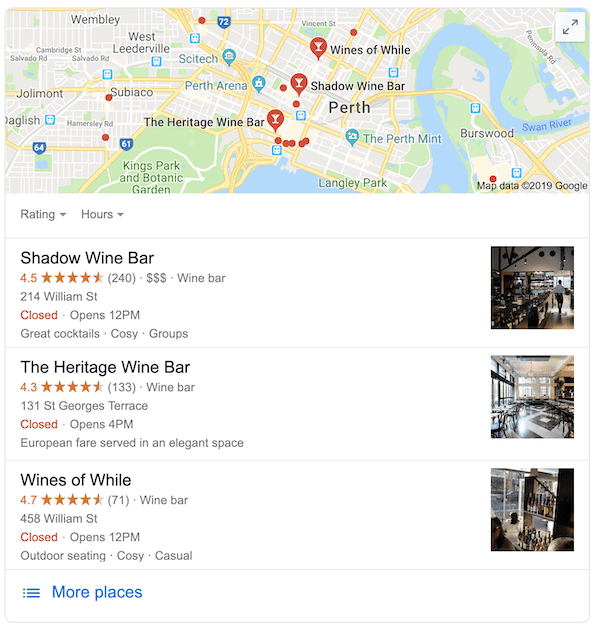 When Google ranks websites for local searches, it focuses on 3 key factors: relevance, distance, and prominence. Therefore it's essential your website delivers what people are searching for.
Before focusing on local SEO, you should have a website which works well (e.g. is mobile friendly and loads quickly), employs SEO best practices and is full of unique content that people are searching for. Once you have your website in tip-top shape, you can then begin to focus more on your local SEO strategy.
"Your position in web results is also a factor, so SEO best practices also apply to local search optimization." – Google
Here are our top tips to dominate at local SEO:
Google My Business Reviews
Google My Business (GMB), is one of, if not the most important local SEO tool you have at your disposal. If you don't have a listing set up yet, make sure to get your business listed on Google today.
Once you have your listing set up, one of the keys to local SEO success is having lots of reviews and a high rating. Therefore it's imperative you have a review acquisition strategy in place. But don't forget that reviews should be from real customers, it may harm your listing if you have fake reviews or employ dodgy tactics.
It's also important to remember that you should not offer incentives (e.g. leave us a review and get 10% off your next purchase with us) to acquire more reviews. For more information, check out Google's advice on getting reviews here.
It's not easy getting lots of authentic reviews, however, if you put the effort in, especially when competitors 'can't be bothered' then you're going to be 10 steps ahead of them.
To further make the most of your GMB listing, you should:
Make sure your business information is filled in and is accurate (especially your business hours)
Add photos and videos to your listing
Add regular posts to your listing
Consistency of NAP
Your NAP (business name, address and phone number) should be consistent across all mentions on the web. This includes on your website and on other websites too. By being consistent with this information, Google will be able to join the dots a lot easier.
Therefore we recommend mirroring how your NAP on your Google My Business listing shows across all mentions online.
It's a good idea to start a Google Sheet or excel spreadsheet to keep track of these mentions, so if you change your address or phone number down the track, you can easily update them all quickly.
Localised content onsite
Naturally, the more you talk about your local area on your website, the more relevant your website will be for local searches. You can add localised content through a blog section on your website, alongside making local mentions throughout your webpages.
To really stand out to people searching on Google, you can also mention your local area in your meta titles and meta descriptions which show on the search result pages.
Localised mentions offsite
Alongside having localised content on your website, you should also look for opportunities offsite. If other websites, especially locally focused websites, mention your business and link to your website, your SEO strength is going to increase greatly.
Two popular ways to gain offsite local mentions are:
Add your business to online business directories, especially local ones
Acquire mentions on websites which are focused on your local area – this can be through media mentions and guest posting for example
Local Business structured data
If you want to really boost your SEO, then you should be using structured data markup. Structured data markup is little bits of code on your website which tells the search engines exactly what elements on your webpage are.
For local SEO, the most important type of structured data you can use is LocalBusiness. Through this structured data, you can mark up all the information about your business from your NAP to opening hours and more.
In conclusion
Local SEO isn't a one-off task. It's something which you should continually be building up. The sooner you can start acquiring more Google My Business reviews, improving the consistency of your NAP, adding localised content to your website, gaining mentions and links from other websites and adding structured data, the better.
We have only brushed the tip of the SEO iceberg in this post if you're keen to learn more, make sure to sign up for our next Google & SEO Essentials Webinar.