Is Google My Business right for your business?
Is it more valuable to appear in the knowledge panel, answer box, organic results, map results or should you just pay for Google Ads and try to appear above them all?
With the ever-changing landscape of the search engine results page (SERP), it's not unusual for people to wonder which elements of the SERP they should be targeting.
If you have a physical location for your business that customers can visit during specific hours of the day or night, then a Google My Business page is essential for your business.
What is Google My Business?
To put it simply: Google My Business is the platform businesses use to manage their listing. From responding to reviews and adding posts to updating your contact information and opening hours, Google My Business is your go-to destination for managing your online presence.
It is important to keep in mind that your business appears in multiple places on Google — Google Maps, Google Local Pack, Google Knowledge Panel, and more.
What Kind Of Businesses Need A Google My Business Page?
The biggest benefit of having a Google My Business Page is that it helps to promote local businesses. Because of this. Google My Business is best suited to companies that operate in a physical location instead of purely online.
A Google My Business page will help you appear in Google Maps results, increasing visibility and assisting local customers in finding your services.
While map results used to be based on location-based search keywords, with the increased personalisation of search results based on location, IP address, and other signals, map results show for search terms that don't necessarily include a specific location.
If you have a Google My Business page, with your physical address noted and public, you are in with a chance to appear not only in the organic search results for your website but also in the maps results for your Google My Business page. Double the coverage in one easy step!
What are the benefits of Google My Business?
If you are a business owner, there are several benefits and features that Google My Business has to offer. From reaching new customers, increasing visibility, and providing customers with accurate information to reviews and more, it is a platform you simply need to be using.
Here are a few of the benefits that Google My Business has to offer in 2021.
Showcase Your Business
A major benefit of having a Google My Business page is that it allows you to showcase your business and its key information in a separate result that appears on the right-hand side of the SERP. This usually only works if someone is searching for your brand name.
An example shown here is for The Garden in Leederville. If you search for 'The Garden Leederville' on Google, the organic results appear and their page appears alongside them. Here, people can quickly find their address, website, phone number, directions, a description of what they are, and see snippets of reviews from their customers. There is also the option to send this information directly to your phone at the click of a button.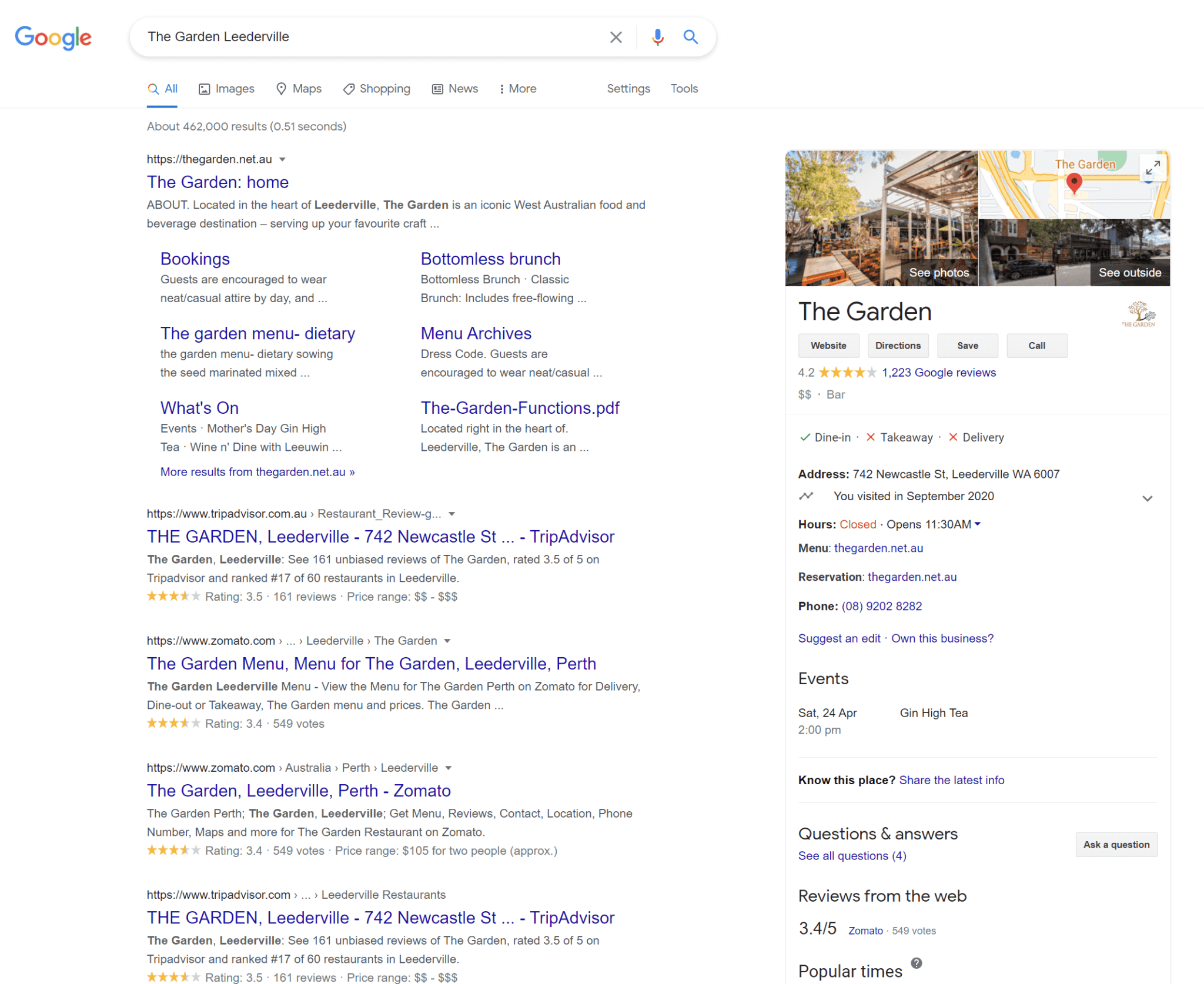 Allow People To Find Your Business Information Quickly
All of this makes the user's experience of finding information about a business super quick and straightforward. If this box didn't appear, a user would need to click into a search result and possibly visit a few different pages to find their phone number or directions.
Having a page makes it so much easier for your customers to find out key information they need to know about you.
Get Reviews
Google My Business allows anyone to hop online and review your business. As trust is not only an important metric for potential customers but also a ranking factor for Google, the more five-star reviews you can acquire, the more your business becomes credible and visible in seach results.
Setting up a Google My Business page and asking your customers to review you can help you be seen as a credible and trustworthy business, not only by customers but by Google as well.
It's also important to respond to both positive and negative reviews left on your listing. This shows that you genuinely care about what people are saying about your business. Plus, you'll find that many potential customers will read through your responses.
What's The Verdict?
If you have a bricks and mortar location, get a Google My Business page. They're easy to set up and manage yourself as well, so think twice before you hand over hundreds of dollars to someone to do it for you.
If you're still unsure, think about the real estate space that you could be taking up on that all-important SERP – if you want to have a chance at appearing not only in the organic listings but the maps results as well as your own box, why wouldn't you?