Have you ever wondered how to get that sought-after blue tick on your Instagram account?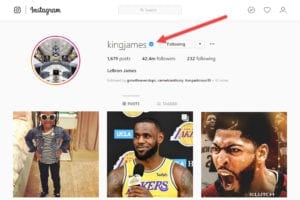 Until just recently, Instagram verification was somewhat of a mystery to the social media universe.
There were no steps to complete to get this blue tick, you were just selected. Kind of like a prestigious club, where you were tapped on the shoulder to receive your verification.
Basically, having a few hundred thousand followers appeared to be the only criteria.
Until now.
Now, you can request a verified badge – but, it still isn't a guarantee that you will get it!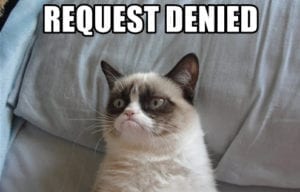 In this post we'll show you how to apply for Instagram verification and explain some things you can do to increase your chances.
How to get the blue tick!
It doesn't take long to apply, just follow the steps below.
Once Instagram is opened, go to Settings.
If you don't know how to get to Settings, it is shown in the image below.
Scroll down to find Request Verification.
Fill out the required information – account name, full name, photo ID, or a business ID if you have an Instagram for Business.
Click.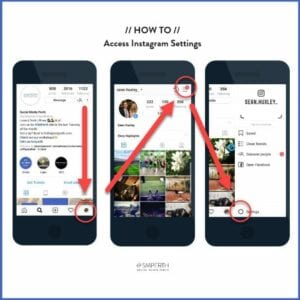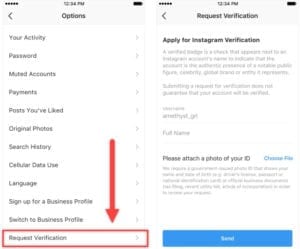 Your fate is now in the hands of the Instagram God's.
You will receive a notification when your request has either been approved or denied.
There is currently no estimated timeline for how long this can take, so be patient.
Verification brings authenticity to your account.
The blue tick is seen as quite a big deal on Instagram.
The fact that they don't verify each account is what makes it so appealing.
Now, you don't need to jump through hoops to get verification, but your account does need to meet some requirements.
First, it's important to check if you are sticking to some basic Instagram guidelines.
Make sure you only post photos to your account that you've taken or have the right to share.
Make sure the content you are creating is acceptable for a diverse audience.
Foster meaningful and genuine interactions by not artificially collecting likes, followers, or shares etc.
Make sure your profile is public.
Make sure you have a completed bio and profile photo.
If your account has followed those guidelines, Instagram looks at a number of other factors when evaluating accounts to determine if they're in the public interest and if they meet their verification criteria.
Authentic: Your account must represent a real person, registered business or entity.
Unique: Your account must be the unique presence of the person or business it represents. Only one account per person or business may be verified, with exceptions for language-specific accounts. Instagram don't verify general interest accounts (example: @puppymemes).
Complete: Your account must be public and have a bio, profile photo and at least one post. Your profile can't contain "add me" links to other social media services.
Notable: Your account must represent a well-known, highly searched for person, brand or entity. They review accounts that are featured in multiple news sources, and don't consider paid or promotional content as sources for review.
Keep in mind that if you provide false or misleading information during the verification process, Instagram will remove your verified badge and may take additional action to delete your account.
Some thing to help you get verified.
Promote your account across other social media channels.
Keep to your style guide.
Try to keep your username consistent across all social media channels.
Include a link to your website on your profile.
Write an awesome bio – check out our post explaining how to write a strong bio!
If you have a connection with a verified account, make sure you mention how you work with them in your bio.
Choose a photo that represents your brand.
The key to getting verified is to maintain a consistent style while building an authentic following.
Check out the video below on tips to develop a consistent Instagram style!
Stick to your strategy, and one day you could have that blue tick of verification right next to your name.