A featured snippet (aka position zero) is the type of search result SEO geeks crave.
These unique snippets are a free, organic search result that stands out from the rest of the results on the page.
** This post may contain affiliate links. While we do only recommend products that we believe in, let's be honest here – we're in marketing too and everyone loves an affiliate link!
They typically have high CTRs (click-through-rates) and can lead to more website traffic and conversions.
These attention-seeking search results are showing more and more, in fact Moz.com recently stated that 23% of all search result pages include a featured snippet now. This stat is up 165% compared to 2016!
According to SEO software company, Ahrefs, if you rank first for a search term and also have position zero you can gain 31% more traffic compared to just having the first position without a featured snippet. However please note recent news suggests Google might be testing out not showing your normal organic result if you have the featured snippet.
So how can you claim some of these illustrious search results for your website? Well firstly, let's take a look at exactly what featured snippets are:
What is a Google featured snippet?
A Google Featured Snippet is a search result which typically takes up more real estate at the top of the first page of the search results. It can include images, bullet points, how-to steps and more. Alongside a link to your website of course.
For example, let's Google 'social media courses perth' – now check out who has claimed that wondrous position zero. And without tooting our own horn, we also claim the first normal organic result after that 😉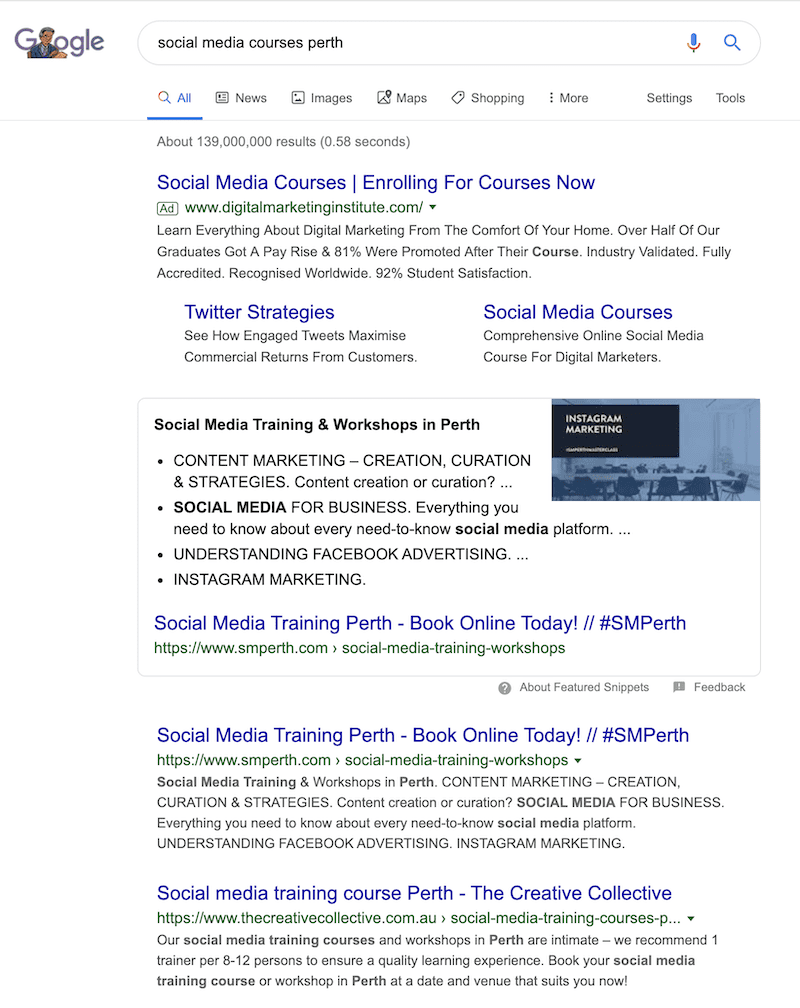 Featured snippets can show up on both desktop and mobile devices. However like all search results, just because you have the featured snippet on desktops for a particular search term, it doesn't necessarily mean you'll also have it on mobile. And if you do, well done!
What are the types of featured snippets?
There are various types of featured snippets you can obtain on the search results. The 4 main types include:
Google is always trying new things, so don't be surprised if you see a variation of one of the above or a completely new type showing in the future.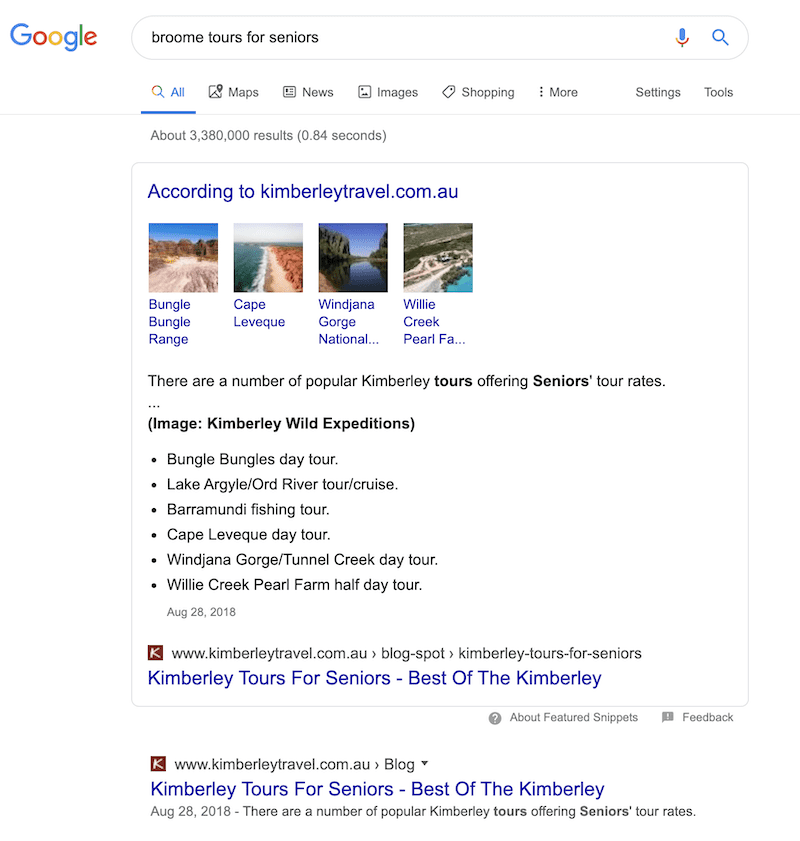 How do you find keywords which trigger featured snippets?
Now that we know what a featured snippet is, the question is how can we work out what searches these special search results are showing on?
The first way to do this is to simply use Google. If you do some searches for the keywords you are targeting, you'll be able to work out pretty quickly if featured snippets are showing or not.
However, do remember that nothing is static in the world of Google, therefore featured snippets can show for some searches one day, and not the next.
Therefore if you are a serious featured snippet chaser, it's best to use tools like SEMrush. These tools have special keyword tracking software which tells you if a featured snippet is showing for a particular search term.
By analysing what your competitors have acquired, you can start working your way towards claiming those featured results for yourself. But how exactly do you do that?
What are the most important featured snippet strategies?
At the end of the day, like all things, your chances of nabbing a featured snippet comes down to your competition on the search result pages. If your competition has rubbish websites and content, then you should be able to claim the featured snippet for yourself easily enough by employing the below 2 strategies:
Have great content
At the heart of all great SEO campaigns is great content. You simply can't beat it.
If your content in unique and answers what people are searching for on Google, then you are ahead of the pack.
As long as your content is the best out there, especially compared to those others who are ranking on the first page, then you have a really good shot at claiming that featured snippet.
Format your content properly
Secondly, that great content needs to be formatted nicely, for readers, but also so that Google can easily 'grab' information for the featured snippet from your page.
Google won't show all your content as a featured snippet, but probably around 40-60 words. Therefore think about the keyword you are targeting and ensure you have a block of text which would be ideal to show up as a featured search result snippet.
When we say formatting your content properly, we are talking about including:
Headings (use the h2, h3, h4, etc heading tags)
Bullet points (formatted correctly in the code)
Tables (html tables)
The text editor in most CMS's (content management systems) make adding the above formatting options easy. You don't even have to go into the code of the page to do it.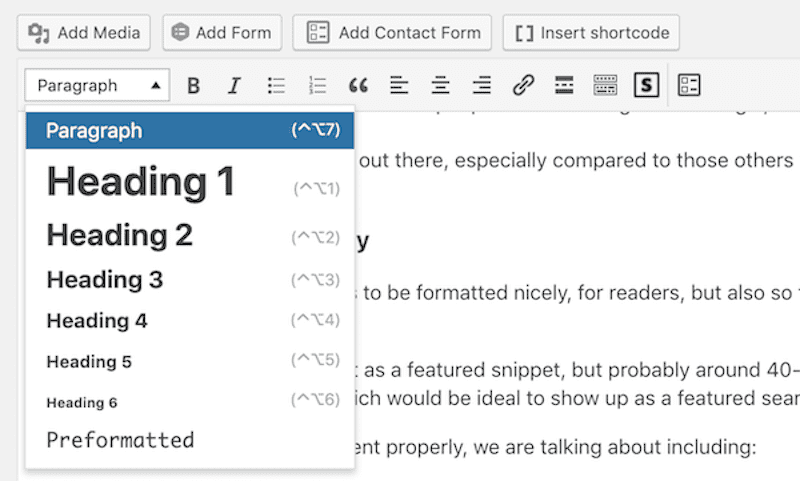 So what do you do once you have awesome content which is nicely formatted, yet you're still not obtaining the featured snippet you desire?
Well if competition is high, you may need to work a bit harder.
What are further ways you can increase your chances of gaining a featured snippet?
If you're in a competitive industry, then you're likely going to have to work extra hard to gain a featured snippet. And also to keep it.
Here are some tips on how you can take your feature snippet game to the next level:
Structured Data
Structured data is glorious little pieces of code which sit around elements on your website to tell Google exactly what something is. It's like your webpages are talking to Google, in Google's own language.
You can implement structured data around blog posts, video objects, how-to steps, FAQs, products, courses, events and more! Check out Google's structured data guidelines for more information.
There are various ways structured data can be implemented, from manually adding the code to pages, using a plugin or extension or even through Google Tag Manager. However please note, Google is not a huge fan of implementing structured data through GTM, funnily enough.
Have a chat with an SEO specialist or web developer for more information.
SEO best practices
Having a website with great SEO, means that your website ticks all the big and small boxes when it comes to SEO. Therefore to give your website the best chance of showing up for featured snippets, and for improving your SEO overall comes down to nailing the basics.
This includes things like:
Having a fast and mobile friendly website
A secure HTTPS website
A well structured website
Good internal linking structure
Optimised metadata and content
A great backlink profile (e.g. other websites linking to your web pages because your content is so awesome)
And the list goes on. SEO, unfortunately isn't doing a couple of small things once. It involves constantly monitoring, improving and ensuring your website provides the best user-experience all of the time.
Therefore by keeping up with your SEO maintenance tasks, you will not only improve your chances for claiming featured snippet results but also help improve your overall SEO strategy.
In conclusion
No matter who you are, search result positions can not be guaranteed. And neither can featured snippets. However if you have a user-friendly and SEO friendly website full of great content that people want to read, you have a higher chance of obtaining these stellar result snippets.
Featured snippets will bring you more brand awareness, more website traffic which will increase the likelihood of more sales/leads/goal conversions for your business.
Be sure to check out the video version of this post here.