If you have a business, you have probably set up a Facebook page for it.
Some businesses choose not to invest in a website and just set up a Facebook page in the early stages of their business journey.
If you are using Facebook Pages, it is absolutely essential to be keeping an eye on your Facebook stats using Facebook's native analytics – Facebook Insights.
Let's take a look at some of the key Facebook analytics you should be checking regularly to help you effectively plan your Facebook marketing strategy.
Page Summary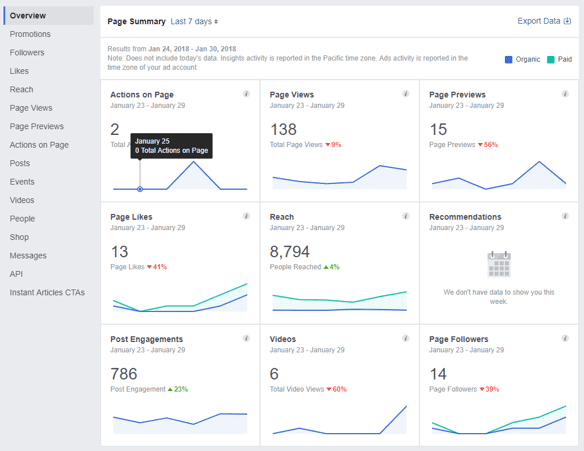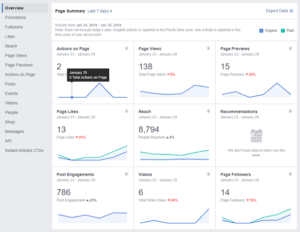 The first place to start is the Page Summary (called Overview in the Insights menu). This will give you a high level overview of what's been happening on your page. It includes a snapshot of page views, page likes, reach, post engagement and more. The date range is usually set to the last 7 days but you can expand this to the last 28 days, or if you want to see less you can set it to today or yesterday.
This allows you to quickly see if your reach, engagement and likes have been growing or slowing down and it is a good place to get a quick overview for your specified date range. Scroll further down and you can see your five most recent posts along with their individual reach and engagement. This is handy as you can quickly see which of your most recent posts have worked best.
Below this is the Pages To Watch section. You have to set this up by adding pages that are similar to yours or that are your direct competitors, and it will then compare your weekly performance to theirs. Do be careful choosing the right pages to watch though. There is no point adding a national online retailer if you are a local bricks and mortar business – you are not going to be comparing apples with apples in this scenario. Choose businesses similar to yours in size and offering to make sure your comparison is valuable.
Likes & Followers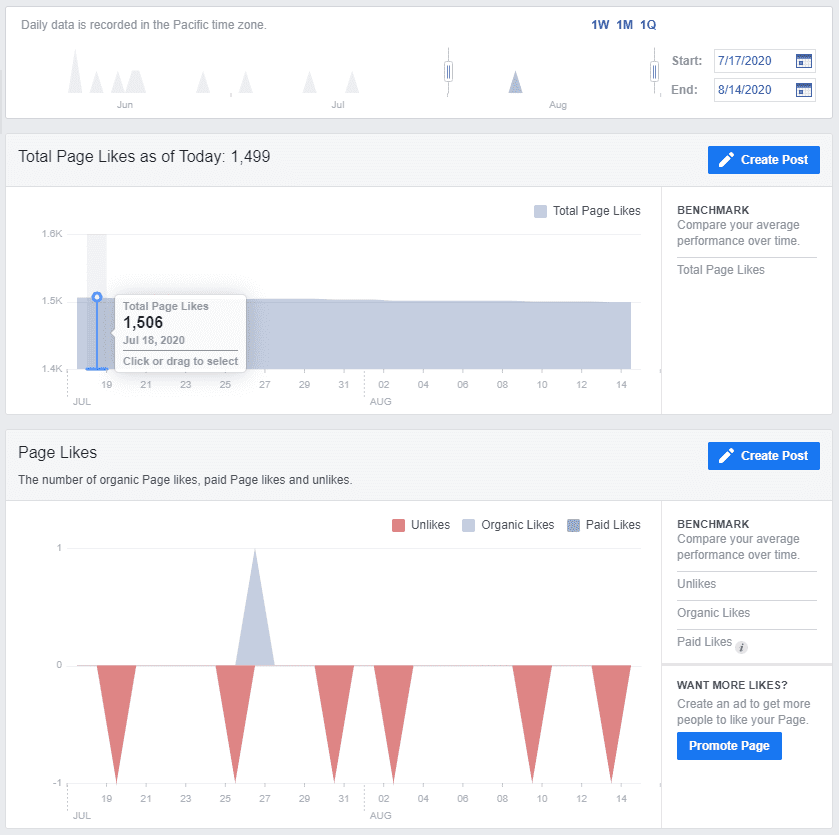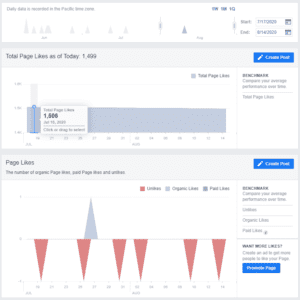 First things first – likes are not the be all and end all of your Facebook marketing strategy. While it's nice to have people like and follow your page, engagement is the real metric to focus on. It's better to have 100 likes and 50 truly engaged followers, then 10,000 likes and 10 engaged followers.
Having said that, checking your Facebook Analytics on likes and followers can give you valuable information to help you plan what you post.
Facebook gives you the option to either like or follow a page – they are essentially the same thing as posts from that page will start appearing in your newsfeed whether you choose to like or follow it. However, people can choose to like your page but unfollow it so it doesn't appear in their newsfeed anymore.
By looking at the net likes and net followers graph you can look for trends in new likes and follows. Are there any big spikes in new likers? Are there any days where you've had more than usual unlikes or unfollows? Look back at the content you posted on these days. For content that attracted lots of likes, brainstorm what other content can you create around this theme or in this style. For posts that resulted in a high rate of unlikes or unfollows, make a note of what it was and consider posting less content that is similar to it.
Reach


Reach is a great metric to help you determine what posts were well received and which had limited reach. Facebook will show your content to more people if it gets a good level of engagement, and the sooner it gets engagement the better. If people like and share your post, it will appear in their own newsfeed and their friends will see it too – this increases your reach from just page likers and followers, to their friends and possibly even friends of friends as well.
If people are sharing your posts in groups (or if you're doing this yourself), the amount of people that see the post in the group is included in your reach statistics as well. You can also find niche groups that would benefit from your content and share your posts in them – but just don't be a Spammy McSpammer!
The general rule of thumb, is the higher the reach, the more engaging the content. Look for spikes and what kind of content got the reach – was it a meme, a video, an article from another website or one of your own blogs? Use this to inform your social media planning going forward.
Posts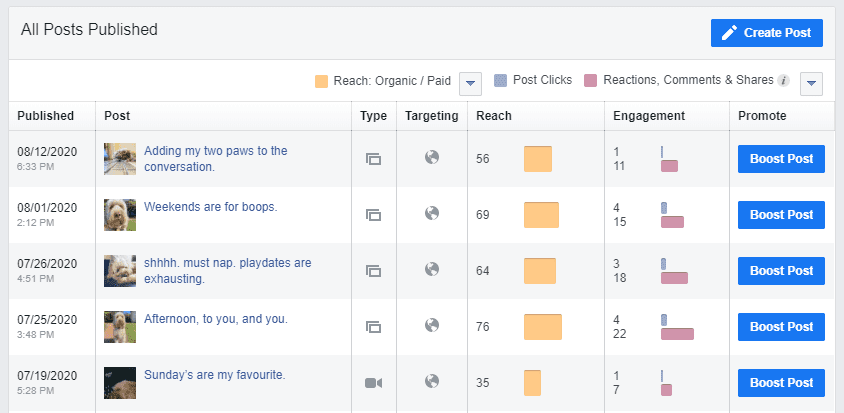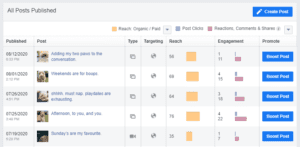 One of the best stats to check regularly on Facebook is the Posts section. This shows all your posts and breaks down each post's reach and engagement by post clicks, reactions and shares.
At a glance you'll be able to see how many people were reached with each post and how many engaged with it. You can also change the metric to see how many people hid your post, hid all your posts, reported your post or unliked your page. If you want to see your engagement rate as a percentage, this is an option too. It is really useful to be able to see it as a percentage as opposed to a number.
Find the posts with the highest engagement, and again, use this to inform your social media strategy for the upcoming months. There is no point continuing to share content that just doesn't work.
Videos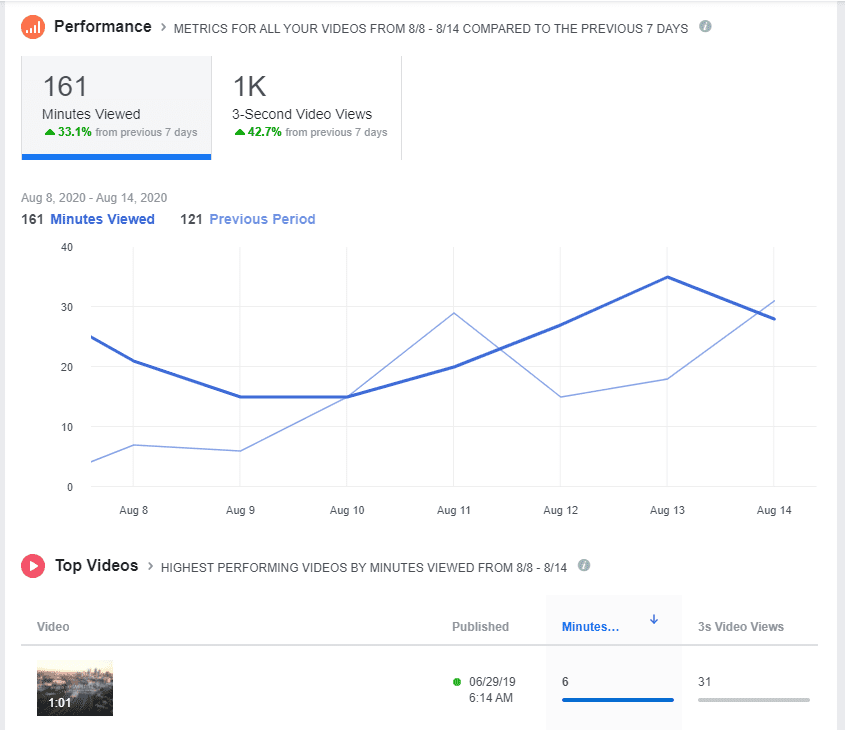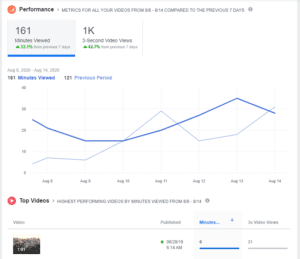 A new option on Facebook Insights is the Videos tab – you can see how people are engaging with videos on your page, viewership and overall performance. Choose the date range you want to look at and you'll get stats like how many minutes of video have been viewed and how many video views you have had. Remember that a view is counted if just the first 3 seconds of the video is played, so minutes viewed is probably the more important metric here.
Look at what videos had the most minutes watched (this will of course relate to how long the video is) and what the video was about. This will help you see what to create more of, and conversely what to create less of.
Want to learn more Facebook Analytics? Check out our Facebook Marketing webinar.