Facebook Live was introduced in 2016 and instantly allowed anyone to broadcast from their mobile phone directly to their Facebook news feed.
Chances are high that you have viewed a live stream before. And as time goes on Facebook Live video is becoming more sought after and shows no signs of slowing down.
Facebook is flexing their muscle with live video. The social media giant recently acquired exclusive rights to live steam 25 MLB games – the first time a US major sports league has given a social network the rights to broadcast games.
With more than 2 billion active monthly users, Facebook has a firm grip on live-streaming popularity – even beating out YouTube for live-stream views.
There are many benefits to using Live Video for your business. You can connect to your audience instantly, have engaging conversations with followers and tell your story – your way.
The time is now to harness this powerful tool and reach the largest audience in the world!
In this post, we'll show you everything there is to know about how to make Facebook live work for your business.
How to
Go to your News Feed, select the Camera icon or select What's on your mind? And scroll down to Go Live.
Make sure you have selected the Live option at the bottom of the screen.
Choose who you want to see your live video: Public, Friends, Friends except, or Groups.
Write an engaging description for your video.
Add lenses, masks or filters.
Go Live.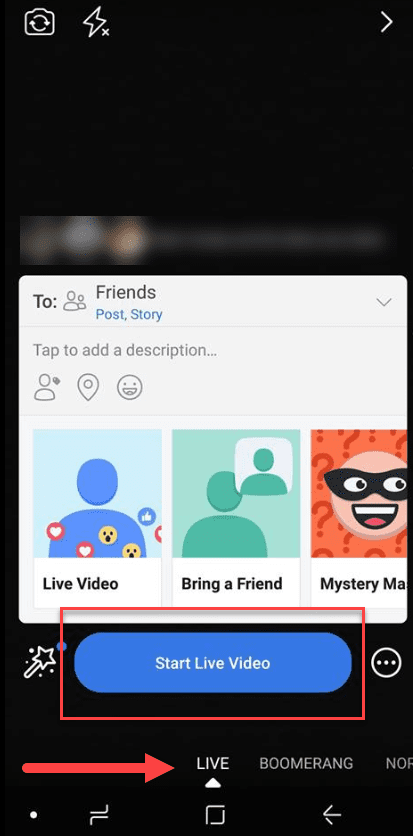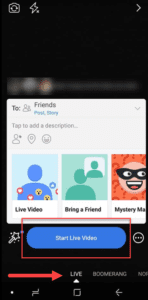 Tips before broadcasting
Build anticipation and let followers know in advance when you will be going live
Make sure that your internet connection is strong, you don't want to drop out
Make sure your video description will capture the attention of your audience
Ask your audience to follow you so they receive notifications when you go live
When someone comments on your live video, respond to them by using their name. A great way to build relationships
Increase your reach by broadcasting for long periods of time
Go live regularly
Great for organic reach
Facebook Live can deliver some staggering results. The title of most viewed live video of all time currently goes to Candace Payne for her hilarious Chewbacca mask video. To date, the video has amassed more than 170 million views.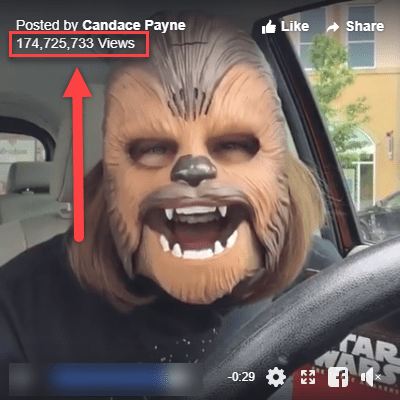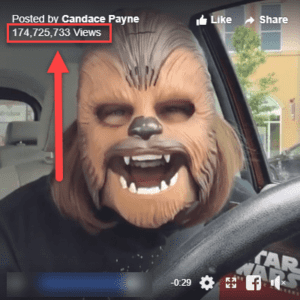 Below is a video of Ted Yoder performing a beautiful cover of "Everybody wants to rule the world" by Tears for Fears, which has more than 100 million views.
It's important to remember that the Facebook algorithm views live video different to native video. Facebook places a great importance on live video and it will appear in the News Feed more during a live stream.
Another great benefit is that the broadcast will still be available to watch once the live video has finished streaming.
Features
Live video themes
Facebook lets you use a bunch of different themes, filters and effects to spice up your video.
To do this, tap the magic wand icon and scroll to view the available options.
Instant connection
Going live lets you instantly connect with the people who care about your brand. Your followers can choose to be notified when you go live so they never miss any of your content.
If you are subscribed to someone, you will automatically be notified when they go live.
Facebook Live API
Facebook Live API lets users with advanced equipment broadcast from other devices instead of their mobile phone.
There is a selection of cool features with Facebook Live API including camera switching, instant replay, on-screen graphics and special effects.
For example, HYGO Gaming can use Live API to live-steam their gameplay directly to the Facebook feed from within the game.
Schedule your broadcasts
You can use the Facebook Live API to build up an audience before you go live. Once you schedule your video, your fans will see an announcement letting them know when the video will commence.
Fans can join the pre-broadcast lobby and talk to one another while they wait for the video to begin.
Here's how to schedule a live video:
Go to publishing tools
Copy your stream credentials (stream key, Server URL)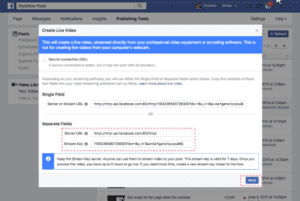 3. Write your announcement post for viewers to see
4. Finalise your post (custom thumbnail)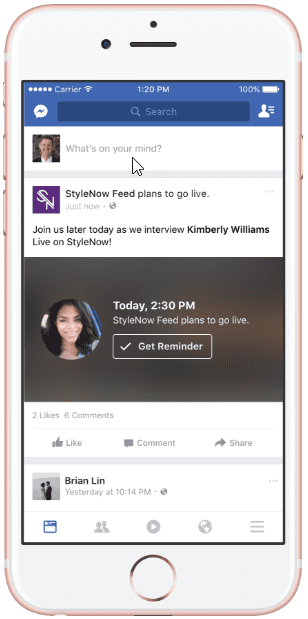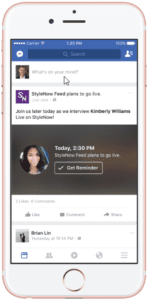 Check out Facebook's Quick Start Guide for a detailed breakdown on how to get started with Facebook Live API.
Looking to find new content?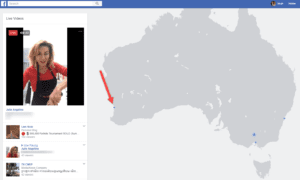 Facebook Live Map lets you discover new content by location.
This feature is only available on desktop. The map shows blue dots representing live feeds around the world. Facebook Live is available in more than 60 countries, so there is plenty of content to search for! You can zoom into the map and refine your search.