Are you looking for better conversions for your Facebook ads? Of course! Who isn't, right?
It all begins with your Facebook ad copy. The story you tell is what gets people to click on your ad in the first place.
Your ad copy needs to be on point! The average user only clicks on 10 Facebook ads each month, which means you're in some stiff competition with other businesses on Facebook.
In this post, we'll show you 6 secrets that can help you improve your Facebook conversions.
"Yes" Questions are Important
Asking "yes" questions is a great way to figure out who your perfect customer is.
The concept is simple – you ask a question in your Facebook ad copy. Users who answer "yes" are drawn into your ad, and users who answer "no" are sent away.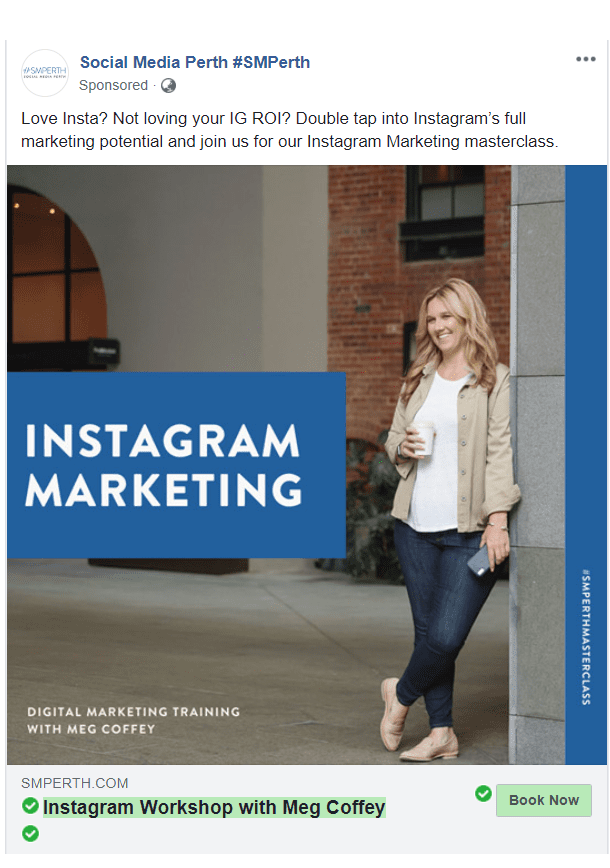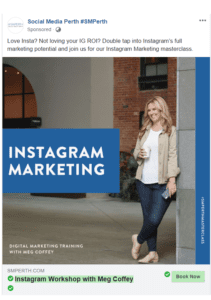 In this example (yes, shameless plug – proud of it), we ask the following questions:
Love Insta? Not Loving your IG ROI?
This ad is targeting those who love using Instagram for their business, but aren't satisfied with the return on investment with their Instagram advertisements.
Simple, yet effective. Those who aren't using Instagram, or brand's who are satisfied with their ROI can continue scrolling.
And just like that, you've already got people clicking on your ad who are already interested in your service or product!
Develop a Mutual Interest with Customers
The best way to make a connection with your customers, is to relate to them.
Have you ever been to a social event, started talking to someone and discovered you both grew up in the same neighborhood, support the same football team, or have a mutual friend?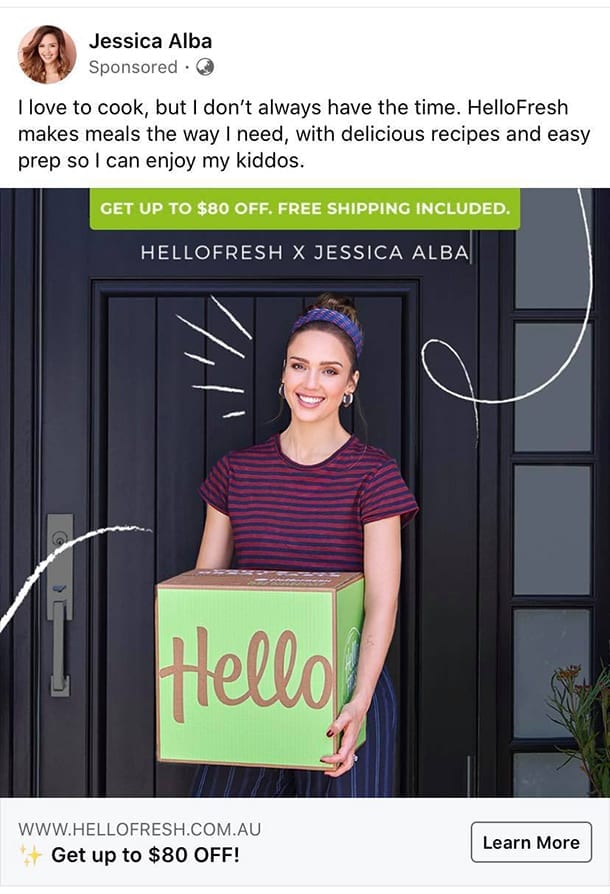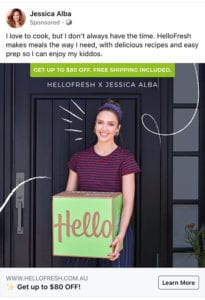 Or, something along those lines?
Boom! You are now friends. The same goes for social media – people love to relate to one another.
Start thinking about the similarities you can find with your customers and they will want to hear more about what you have to say.
In the following image, Hello Fresh is using Jessica Alba to relate to parents who struggle with time to do food shopping for their families.

Your CTA Should be Clear and Precise
Make sure you aren't confusing your potential customers with your CTA.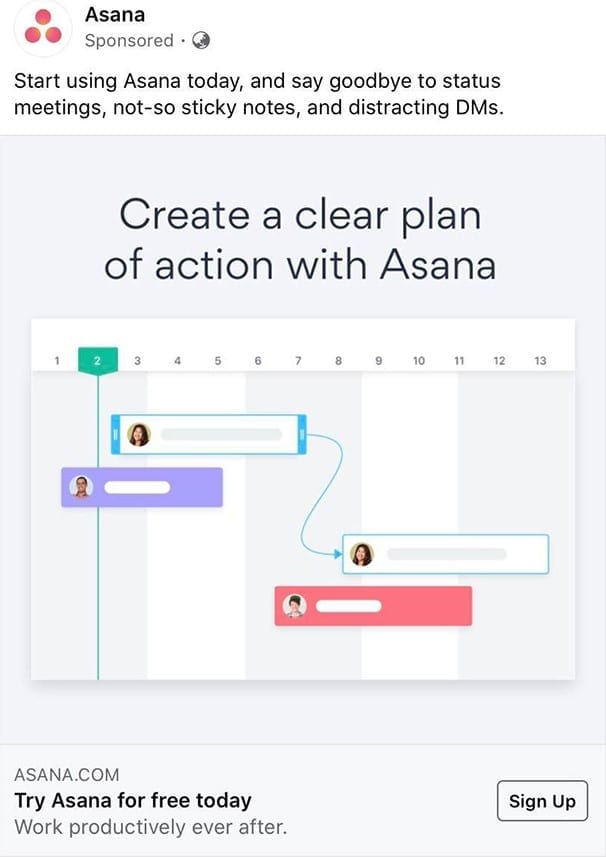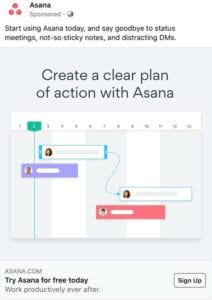 If your copy and CTA don't align, you're more likely to confuse people with too much information.
A clear and precise CTA should inform your customers what action they should take next on your advertisement.
See how Asana have clearly instructed users that they want them to Sign Up to receive a "Free Trial".
Expand Your Copy With "So that" Statements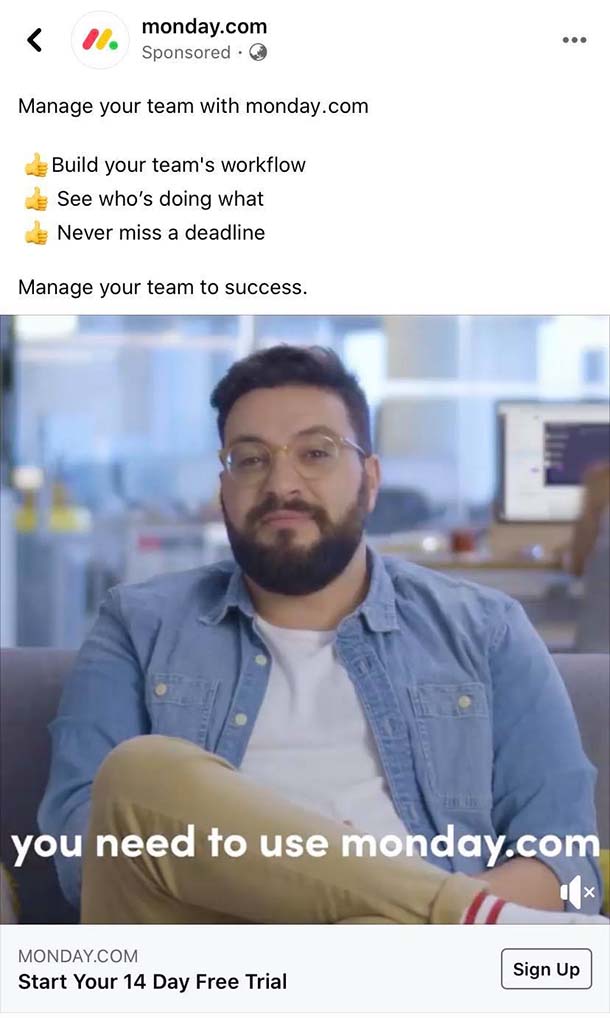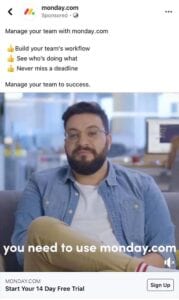 What is a "So that" statement? It's a way of describing to your customers what they can benefit from your product or service.

The best way to do this is to add "so that" after your Facebook copy.

See how Monday.com uses the "So that" method:
Manage your team with monday.com so that you can build your team's workflow.
Manage your team with monday.com so that you can see who's doing what.
Manage your team with monday.com so that you never miss a deadline.
Remember, don't just tell your customer's your products features, rather what benefits they will get from using your product or service.
Include a URL in Copy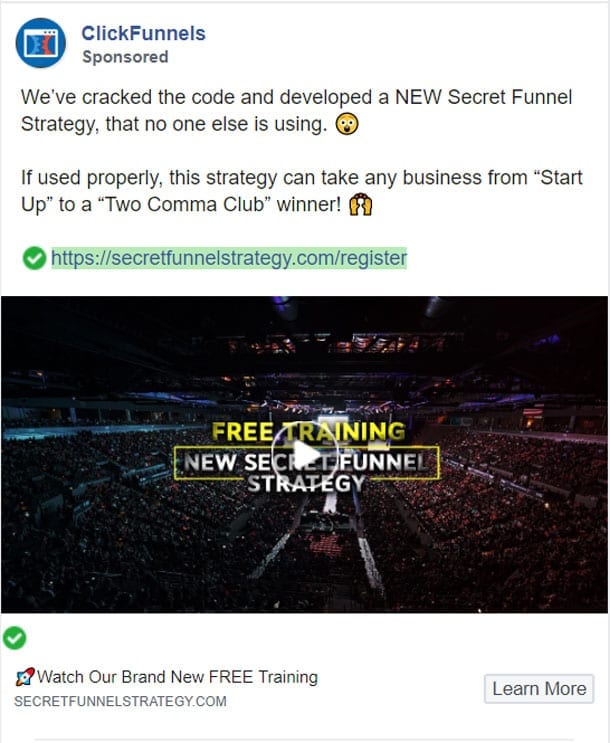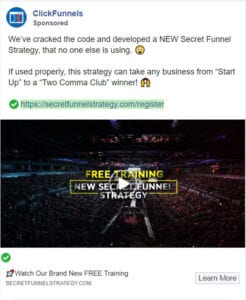 Facebook requires you to include a URL in the website URL box, but it's also a good idea to include the URL in your Facebook ad copy. By doing this, you give potential customers two places to click your CTA.

Including the URL with some perfectly-worded copy can help make your ad appear more organic and less like a paid promotion.

Including a second URL makes your CTA as clear as possible and creates more opportunity for customers to take you up on your special offer.
In this example, user's can click the link in the text, or click the Learn More button below. That's two chances to click on the CTA!
Numbers Never Lie
Including numbers in your ad copy is an effective way to grab people's attention.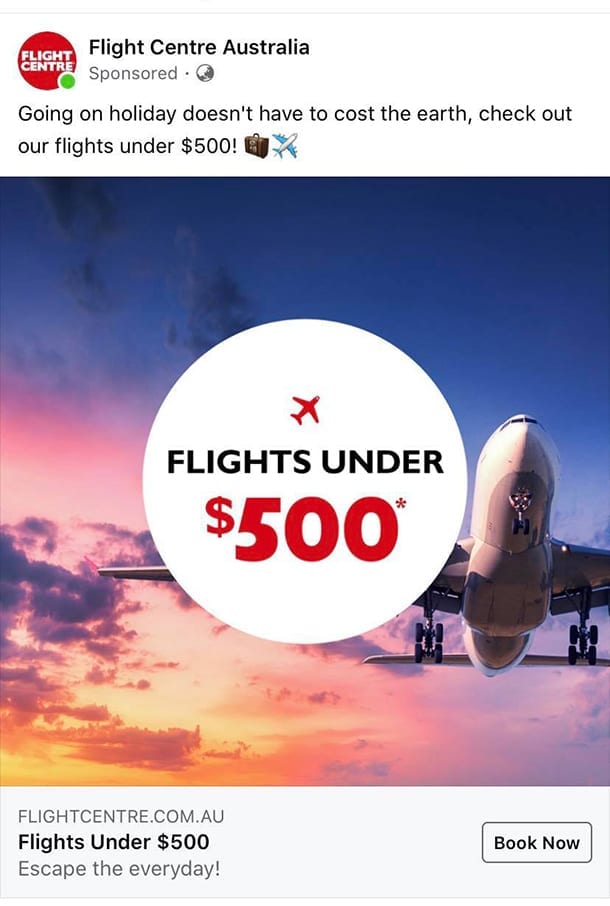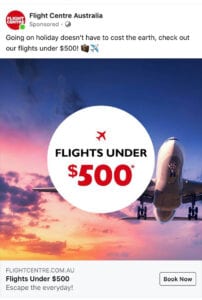 Numbers such as prices or statistics, can help provide the reader with trustworthy information.
There's a reason many businesses offer free quotes – because it gives potential customers more information about a product or service before committing to a purchase.
In the example opposite, Flight Centre Australia are advertising flights under $500. This instantly draws in people who can afford $500, and pushes away people who can't. It also let's the customer know exactly what they can expect to find by clicking on the CTA.
What are some Facebook ad copy tips and tricks that you use to increase conversions? We would love to hear from you in the comments below!