2019 is in the books, and what a wild ride it was!
As we begin 2020, let's take a stroll down memory lane and look at the Top 10 Social Media Fails of 2019.
So, grab the popcorn and enjoy!
If you're still hungry for more, check out our 2018 and 2017 top 10 social media fails too!
Trump fail…Again
Only Donald Trump would think it's a great idea to run Facebook Ads commending himself for the killing of Iranian General Qassem Soleimani.
Only three days after the US drone strike, Trump and his team began using the assassination as a way to build support for his reelection.
Poor taste? Yes.
Surprising from Trump? Sadly, not at all.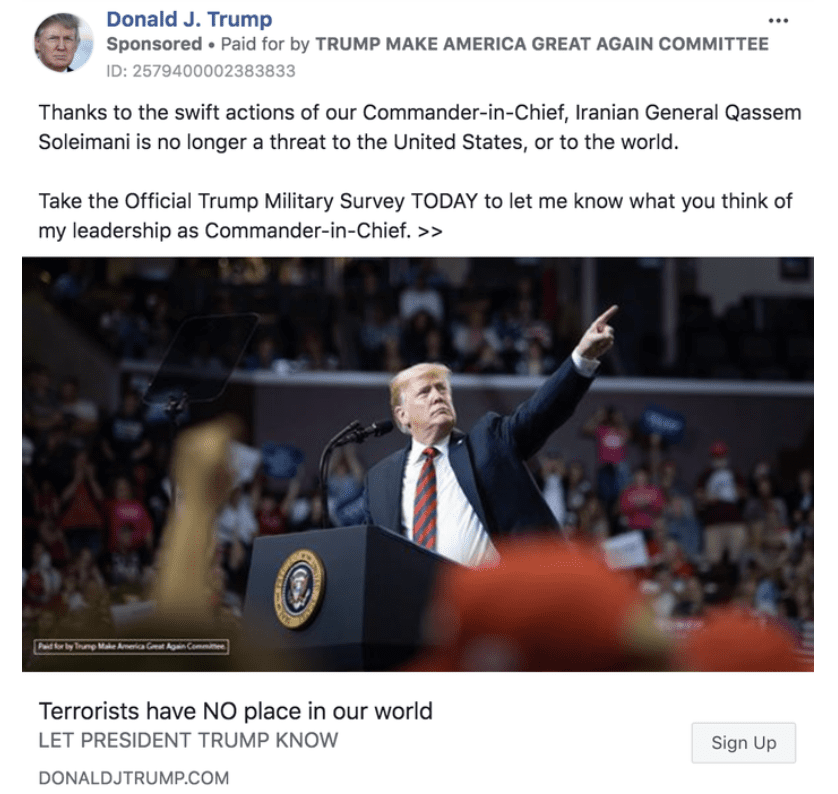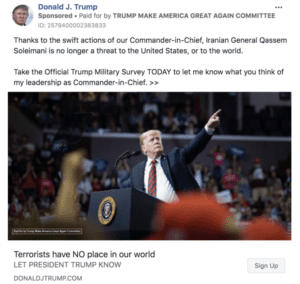 Chase Bank #MondayMotivation
Let's be honest. No one likes dealing with banks.
When the majority of customers are dealing with increasing interest rates, debt and other financial difficulties, the last thing a bank should do it fire off a condescending Tweet about their customer spending habits.
But alas, that's exactly what Chase Bank decided to do back in April 2019 as part of their #MondayMotivation brain-fade.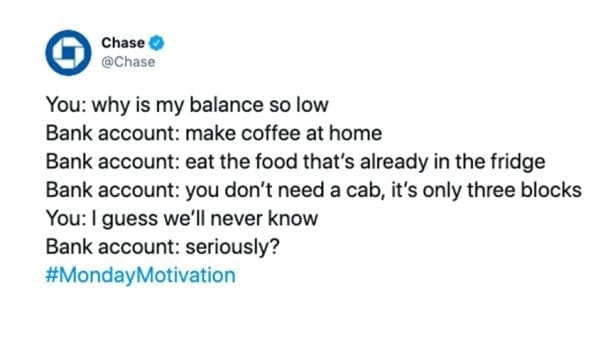 Let's just say this didn't sit too well in the Twitter-sphere!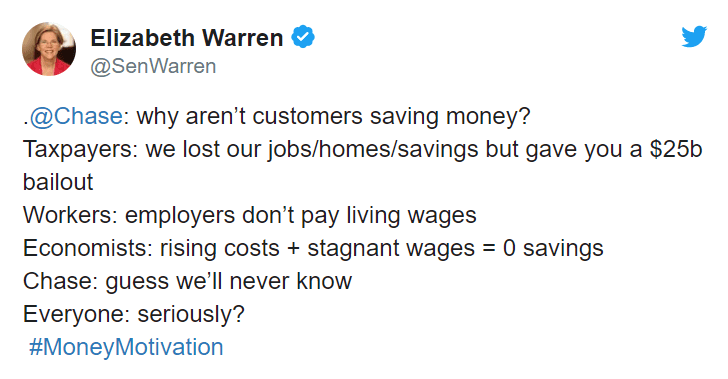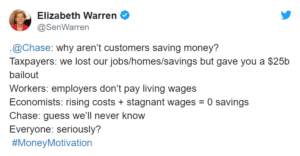 Pizza Hut gets kind of weird with Liam Gallagher
To be honest, we're not sure which is the stranger Tweet here.
Liam Gallagher is known for his rants about his brother and the possibility of Oasis getting back together. But they don't always make a lot of sense. Why Pizza Hut tried to attach themselves to this Tweet is a bit of a mystery.
A great example of a brand not knowing when to stay in their own lane.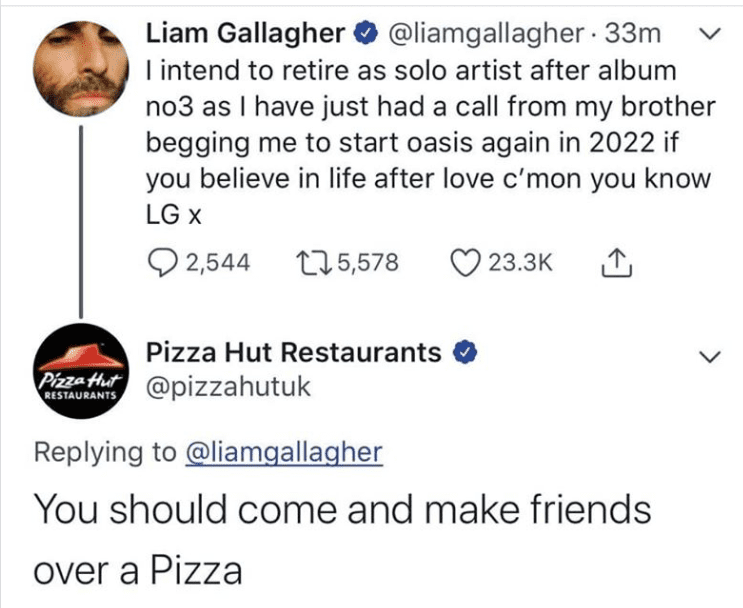 Shatterproof Windows? Maybe not!
The internet had a field day when Elon Musk unveiled the new Tesla Cybertruck. In a demonstration to show how nothing could penetrate the Tesla windows, lead designer Franz Von Holzhausen smashed two of the vehicle's "armor glass" windows onstage with a metal ball.
Watch the video below if you haven't yet had a laugh at how it all went down.
Ledo Pizza American Flag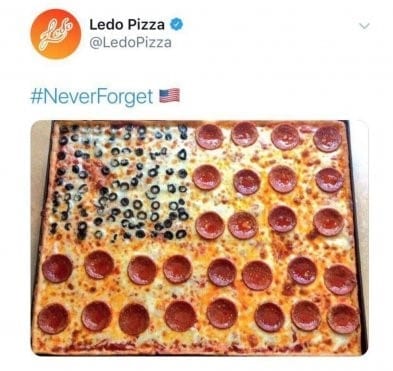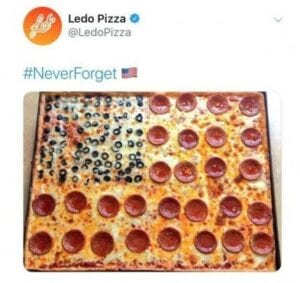 Nearly 20 years after the horrible September 11 attacks, some brand's still aren't sure how to pay their respects.
Ledo Pizza really missed the mark when they posted a Tweet of this pizza to commemorate 9/11. The post was removed pretty quickly but not before screenshots were posted all over Twitter.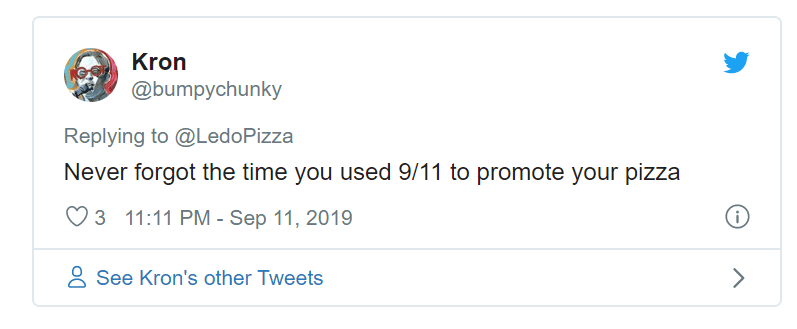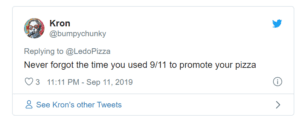 Mercedes Benz goes bang

Fail or epic Tweet? You decide, but either way it's a bold move by Mercedes to mock the 2019 Superbowl after they just paid $324 million to have the stadium called "Mercedes Benz Stadium".
In their defense, the game wasn't the greatest with a final score between the Los Angeles Rams and the New England Patriots being 3 – 13.
Ancestry.com romanticizing slavery?
Ancestry is a leading company for at-home DNA testing. In April 2019, they definitely missed the mark with their controversial ad.
Ancestry's ad suggests a biracial family began from a beautiful love story.
The backlash was swift, and many claimed that Ancestry was ignoring the immoral treatment of black women in the early American south.
Delta Airlines and Coca Cola get a little creepy
Forget dating apps, bars, restaurants or other social events. The best way to meet someone, according to Delta Airlines and Coca Cola is to write your name and number on a napkin and hand it to someone you fancy during your airplane flight.

Yes, you heard that correctly.
Because sitting in a confined space with strangers, with your body aching, babies crying, and a reclined seat pushed against your face is how every great love story begins.
The napkins fine-print is the cherry on top of this fail – "Be a little old school, write down your number and give it to your plane crush. you never know."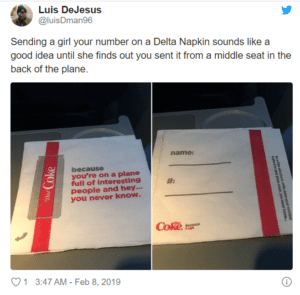 Automation goes wrong…Again
Earlier in 2019, Adidas launched a campaign with the hashtag #DareToCreate to promote a new line of merchandise for Arsenal Football Club.
The campaign created an A.I generated jersey of anyone's Twitter handle who shared the hashtag.
As you can imagine, trolls put an end to this campaign real quick!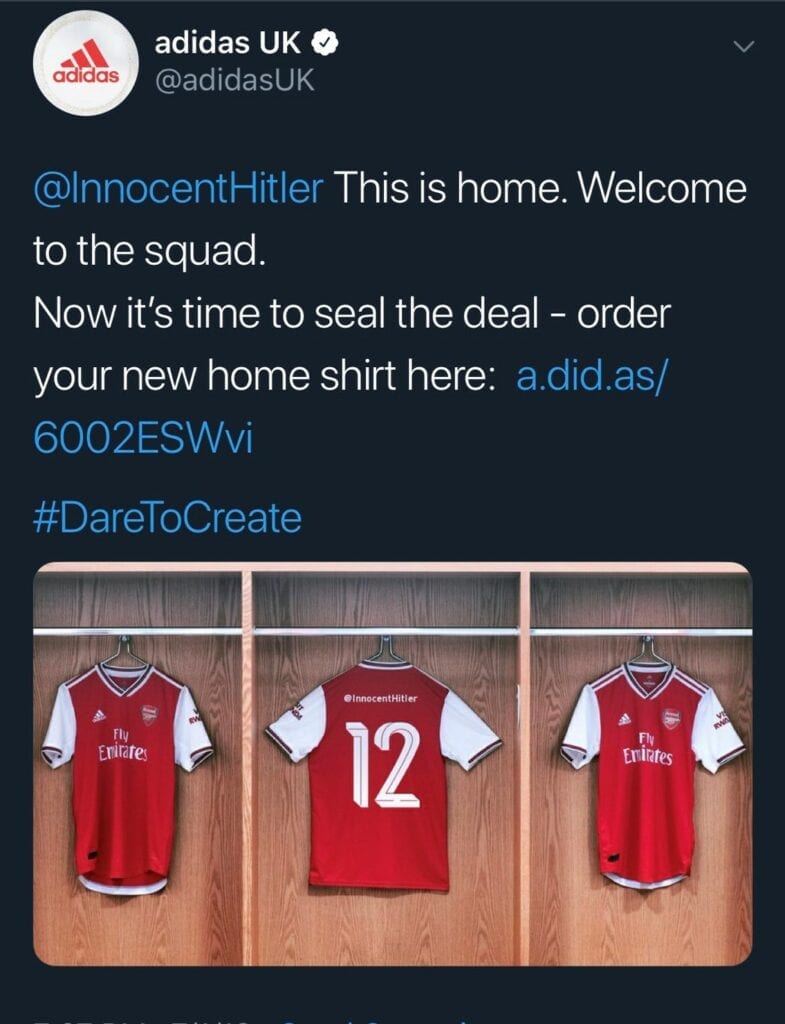 UPS or the Grinch?
Technically, this was at the very end of 2018, but it was too funny not to round out this list of epic social media fails.
Nothing spreads Christmas cheer like telling your customers you're going to shred letters posted to Santa Clause.
That's exactly what The UPS Store did. Let's be honest, it's actually quite hilarious!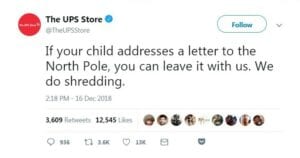 Have we missed anything? What were your favourite social media fails of 2019? We would love to hear from you in the comments below!