Back in 2007, Chris Messina came up with the idea to use hashtags to organise conversations on Twitter.
In October of 2007, one of his friends was tweeting about a wildfire in San Diego. Messina asked his friend to include #sandiegofire with his tweets. It didn't take long for other people to start using the same hashtag and social media was changed forever.
Hashtags would explode in popularity in the coming years.
In 2009 Twitter added an option to search for hashtags. Instagram allowed users to tag their photos when the company launched in 2010, followed by Facebook using hashtags in 2013.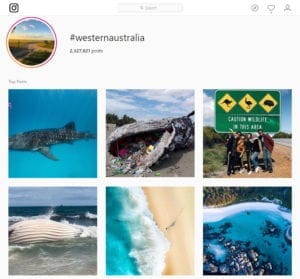 Then in 2017, Instagram made changes to its algorithm that allowed users to follow specific hashtags. Posts and stories that use the followed hashtag are now featured in the newsfeed alongside content users already follow.
When done correctly the inclusion of hashtags into user's feeds allows brands to significantly increase their organic reach.
Using hashtags presents an opportunity for brands to misuse and spam hashtags in the hope to capitalise on trending hashtags. This approach only hurts a brands chance of success on Instagram and will make it much harder for future posts to be seen in hashtag feeds.
Instagram is constantly trying to weed out the spammy and unrelated posts associated with a hashtag. The best way to be featured in hashtag feeds is to create high-quality content-related posts that gather high engagement.
So… Hashtags in the comments or caption?
Not too long ago, users started including hashtags in the comments section. This was a way to keep posts looking clean and uncluttered. They were also being discovered by Instagram's algorithms.
Posting in the comments may make your post appear clean, but does it affect your reach?
Agora Pulse conducted a test to determine what works best – comments or captions?
What did the test look like?
Agora Pulse used three different Instagram accounts.
Account 1 – Business Instagram account with 4200 followers
Account 2 – Personal Instagram account with 6600 followers
Account 3 – Business Instagram account with 2900 followers
The study used 117 posts from the 3 Instagram accounts (13,700 followers combined).
Every post studied contained 30 hashtags.
51 posts used hashtags in the comments
66 posts used hashtags in the original post caption
The results…
The 3 accounts were averaged together to show an overall result of the study.
Hashtags used in a post:
Likes: 60.64
Comments: 2.84
Profile Visits: 2.72
Reach 66
Hashtags used in comments:
Likes: 55.21
Comments: 3.39
Profile Visits: 2.88
Reach: 51
Hashtags in posts received 9.84% more likes and 29.41% more engagement than hashtags in comments. Whereas, hashtags in comments collected 19.37% more comments and 5.88% more profile visits than hashtags in posts. The key takeaway is that when hashtags were used in the original caption the reach was 29.41% higher.
When organic reach is becoming harder and harder to achieve in social media, this result should not be overlooked. Also, it's more time consuming to go back and add hashtags to your comment section once your post is live.
What do you prefer? Hashtags in the comments or captions?