It's no secret that using Instagram hashtags will give you greater engagement than not.
Now is the to get the most out of your brand's Instagram hashtags and increase your audience.
Did you know that that there are 25 million business profiles on Instagram? And, more than 200 million users visit at least one business profile every day!
There is a huge opportunity for brands to increase their engagement rate on Instagram. The social media giant has a 2.2% interaction rate – crushing Facebook at 0.22%.
So, how do you connect with the right users for your business? How can users find your profile?
Here is how to create an effective Instagram hashtag strategy:
Why hashtags are so important for your business?
Fundamentally, using hashtags can increase activity on your profile and the most important one being engagement.
It is the key to success on Instagram as it is the best way to increase visibility and connect with people who may not already be following you.
So how does it work when you use a hashtag on the content you have created, whether it be in a feed post, a story or IGTV video?
Using a specific hashtag allows for your content to show up on searches for your target audience that can lead to them directly onto your profile. Whilst this is not a guarantee, it certainly gives you a better chance for engagement than not using hashtags at all.
Bear in mind that all hashtag searches are organised through an algorithm, your 'Top' posts for that specific hashtags are sorted and determined depending on the type of content that you interact with most frequently.
On the other tab, 'Recent' is sorted by when the content was created with the most recent post at the top of the feed.
As algorithms make up how Instagram works, it is never a guarantee in either circumstances to come up on the searches but the key thing to remember here is that hashtags costs nothing to use but has the potential for high reward. So, take advantage of them and give yourself the opportunity to connect with more people and grow your audience.
Hashtags in the Comments or Captions?
In recent years, Instagram has become much better at letting people in on how the platform works, and the social media giant shows no signs of slowing down.
It appears that Instagram may have gotten a little bit sick and tired of people asking them where they should post their hashtags, and the platform recently lifted the lid on a whole swag of information about how to appear in search, including where to place your hashtags.
This is important, so pay attention!
If you want your posts to appear in search (and you do) you need to make sure you're ticking a few boxes:
Be thoughtful about your handle and profile name

Search results are matched by text. If your handle or name is related to what you do, people are more likely to find you. For example, if you have an account about skateboarding, it might be easier for people to find you if you have "skate" in your handle name.

Include relevant keywords and locations in your bio

Make sure your bio includes keywords about who you are and what your profile is about. For example, if you're a beauty creator, consider adding "makeup" or "beauty" to your bio.

Use relevant keywords and hashtags in captions

For a post to be found in Search, these keywords and hashtags should be in the caption, NOT the comments.
Did you catch that? The keywords and hashtags should be in the caption, NOT the comments. 
Have a look at the post below:
Hashtags in Stories
For Instagram stories, you can choose to add your hashtag within the what you type for the textbox or you can even use the hashtag sticker but with bear in mind that when using the hashtag sticker, you can only add one to your story whereas within a textbox you can add up to 10 hashtags.
More often than not, Instagram only allows for three hashtags to be usable and record for search results.
Whilst we don't want to bombard our stories with hashtags, it's important to remember to still keep them legible.
There have been cases where people have tried to beat the system by attempting to hide the hashtags by minimizing them and changing the colour. However, Instagram has cottoned on and so if the hashtag is disguised, it will not populate in the search.
Choosing the right hashtags
Whilst Instagram gives you a maximum of 30 hashtags to use on your feed posts, we would recommend using around 5 – 10 to make them most effective. So use them wisely.
Make sure to do your research on the relevant hashtags for you and your business. Most importantly, consider your audience, who they are, what they are doing and what they potentially might search. Pick ones that are specific to your industry and subsequently talks to your audience.
A great strategy to use when choosing your hashtags is to remember to not overuse wildly popular hashtags or ones that are too broad as your post will most likely be a case of trying to find a needle in a haystack. Mix and match your hashtags with the following:
3-4 popular hashtags. Whilst we say to not overuse popular hashtags, it doesn't mean rule them out altogether as these hashtags have the potential to give you an influx of engagement from non-followers and increase your ranking on Instagram. The post is usually only visible for a couple of minutes within the searches and will then quickly be archived.
4-6 moderately popular hashtags. These are still highly searched for but the best part is that your content is kept on the search feed for hours to days with the potential to engage with more non-followers.
2-4 niche specific hashtags. These hashtags are targeted towards your industry, so it's important to get these right. Whilst they may not be about your business, they may be something to do with what your audience is looking for.
1-2 branded hashtags. Using branded hashtags can be a way for you to interact and engage with your audience and grow user generated content. When engaging with your audience, consider commenting with your branded hashtags to engage more eye balls too.
Using some popular hashtags can be a great way for your content to perform better with your niche specific hashtags.
The way that it works is that the algorithm will see your content has been engaging your followers but also non-followers and give you a positive ranking. The algorithm will use that positive ranking to then potentially sort your content out as a 'Top' performing post within the niche specific hashtag search.
Hashtags for stories are a completely different kettle of fish. As stories are only up for 24 hours, using broad and popular hashtags can increase your chances of getting found in searches.
Choosing the right hashtags for your IGTV will follow a similar strategy to how you choose your hashtags for your feed posts by having a selection of popular, moderately popular, niche specific and branded hashtags.
Researching Hashtags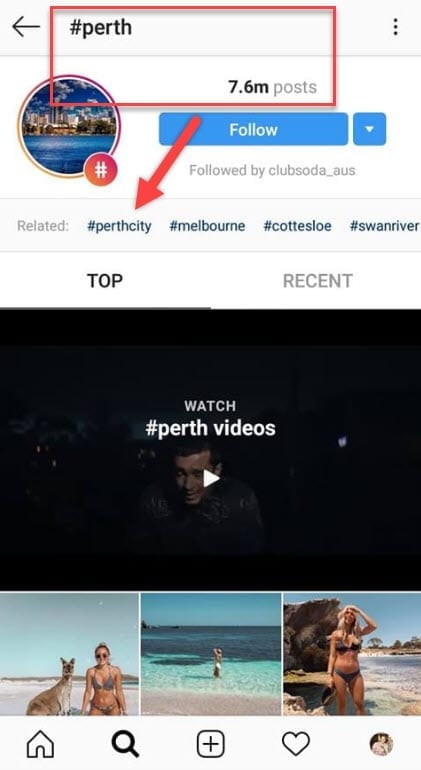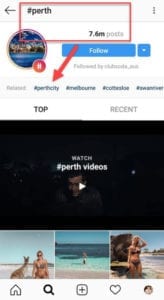 Research your audience and your competitor accounts. Go to the explore section on Instagram and type in the hashtag you intend to use. If you are just starting out on Instagram try not to use the most popular hashtags.
Instead, find a popular hashtag and search through the related hashtags. These hashtags will still be targeted towards your audience but will give your content a better chance of cutting through all the noise.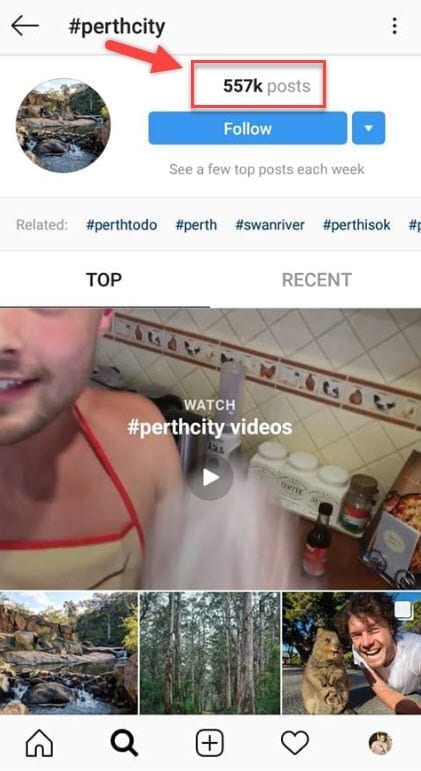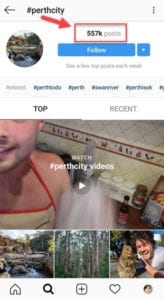 Check out the example below. We searched #Perth, which had more than 7 million posts.
We scrolled through the Related section and found a similar hashtag with fewer posts.
We found #PerthCity which only had approximately 550k posts.
Both of these hashtags would appeal to the same target audience, but #PerthCity would give your content a greater chance of being seen at the top of the feed.
Also, you can try searching Instag – a website that helps you find the best hashtags available.
Why should you be following hashtags on Instagram?
Make following hashtags that are relevant to your business and your target audience part of your strategy because it can keep you up to date with trends that could be beneficial to your business. It is also a great way to research what your audience like and a chance for you to reach out and connect with them too.
Aside from it being beneficial to increase engagement, following hashtags can fill your feed with related posts and even inspire you.
Following hashtags is just 5 easy steps:
Step 1: Click on the Search tab
Step 2: Tap the Search Bar at the top of the screen and click the 'Tags' tab
Step 3: Type in the hashtag you wish to follow
Step 4: Click on the hashtag you searched
Step 5: Click 'Follow'
INSTAGRAM HASHTAG DO'S & Don'ts
It's so important to do your research on the hashtags that you use so you can get the most out of them
DO put hashtags into your bio.
Seventy percent of hashtags are branded, so if you're trying to use a unique hashtag to represent your company or business why not put it in your bio? This is a great way to let people know about your hashtag and encourage them to starting using it.
DO make sure you double-check your customised hashtags.
Hashtags have to be all one word and this can sometimes lead to some awkward and embarrassing PR nightmares. This happened in the case of Blackberry phone manufacturer RIM in 2012, when RIM made the decision to expand, taking to social media to look for new employees. They made the unfortunate mistake of using a hashtag consisting of their name, followed by the word "job", which left the world in stitches and RIM very embarrassed.
DO put hashtags wherever you personally prefer them.
The best place to put your hashtags is a hotly debated topic (we have even written several articles about it). Some people say to put them in the descriptions, others think that's too cluttered and prefer to put them in the comments. Without any official, extensive studies having been conducted on the topic it's hard to definitively say which is the better option. The best thing you can do is to simply use your own judgement, and do whatever feels right for your brand- maybe a bit of experimenting will give you a personal preference!
DON'T use irrelevant hashtags.
Hashtags are the lifeblood of this platform, and you should be using them to bring people to your brand. With this in mind, it is important to be using hashtags that relate to your business. If your brand is about fitness, very few people searching "#unicorns"(1.7 million posts) are going to be drawn in by your content, so stay on brand.
DON'T forget that when it comes to hashtags capitalisation doesn't work.
Hashtags are 100% lower case, so keep this in mind when selecting your customised hastags. If your business has a relatively generic name, such as "The Raw Kitchen", a hashtag like #rawkitchen will likely get lost in a sea of thousands of home cooks, food bloggers and recipe designers using this same hashtag, who have never even heard of your business before. If you find yourself in this predicament, try going back to creating your own unique hashtags, which won't get lost in the clutter.
DON'T constantly reuse a saved block of hashtags.
Coming up with lots of good hashtags is sometimes a hard thing to do. An easy work around for this is saving pre-made blocks of hashtags that you can simply copy and paste into each post. DO NOT ALWAYS DO THIS. While you can get away with it occasionally, if you are constantly using the exact same block for every post, Instagram's software may flag you as a potential spam account. However, if you still want to re-use saved blocks of hashtags, try creating several different blocks and rotate through them with every post.
Here are some other posts we've written about Instagram hashtags:
If you want to know more about Instagram and the algorithm, click here to get all the resources or check out our Instagram Marketing Masterclass.