Is your bio a hazard?
A great Instagram bio is all about making a solid first impression. Try and think of it as a social media business card.
** This post may contain affiliate links. While we do only recommend products that we believe in, let's be honest here – we're in marketing too and everyone loves an affiliate link!
One of your Instagram bio goals should be to convert visitors to your profile into followers. To maximise conversions, your bio should tick a few essential boxes – providing people with all the relevant information they need to know where they are, who you are, and what you have to offer them on the platform.
Let's take a closer look at how to write a great Instagram bio.
What is an Instagram bio?
Before we can jump into how to write a great Instagram bio, it's essential to understand exactly what an Instagram bio is.
To put it simply, your Instagram bio is where you let people know all about yourself or your business.
Your bio appears directly underneath your username, and it includes a description (up to 150 characters, including emojis, hashtags, and other handles) and one URL. You can include more than one link by using a link-in-bio tool. (We're big fans of Sked).
Targeted Keywords
Distinctly different from your username, the name field within your Instagram bio allows you to share keywords that more effectively describe what you do.
Using keywords in your Name Field is an excellent way for businesses looking to be discovered by hyper-focused users looking for something specific.
Just look at what happens when you search for "social media strategists" on Instagram.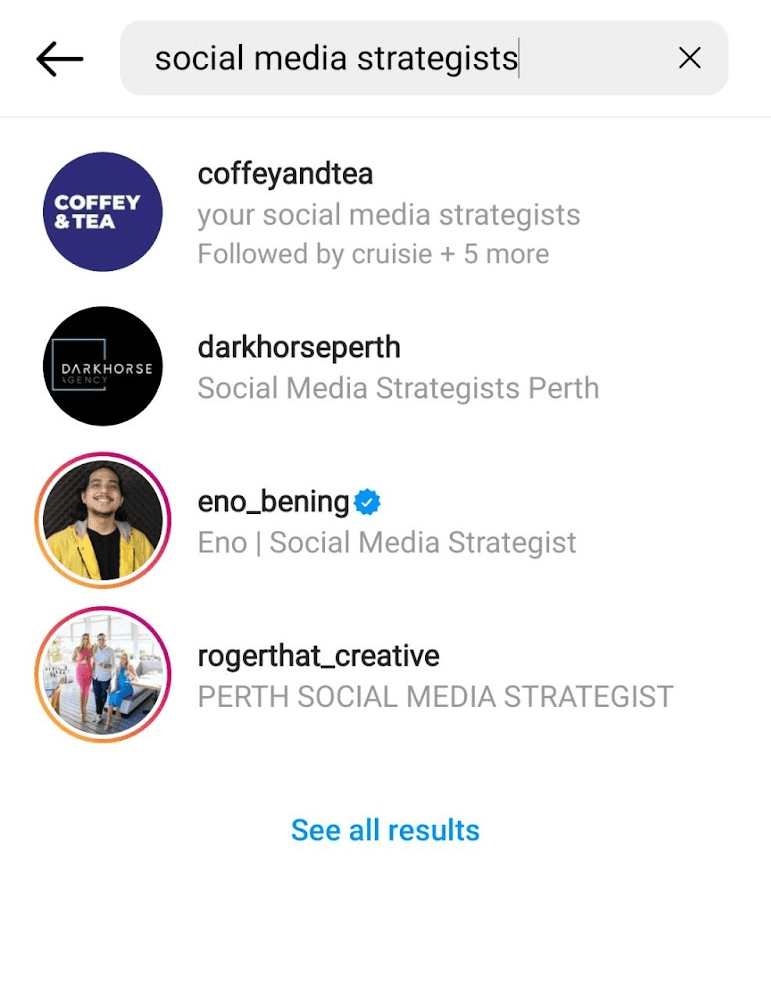 Tag related accounts and brand hashtags
If you're chasing a little bit of synergy between brands or brands and people, you can use your Instagram bio to spotlight your founder's Instagram account, promote sibling brands, and drive traffic to your branded hashtag.
In their Instagram bio, The Iconic accomplishes this well by promoting their other accounts, like @theiconicmen, @theiconicsport, @theiconickids, and @theiconicbeauty.
The tourism Australia Instagram includes two prominent hashtags, #SeeAustralia and #HolidayHereThisYear, making it the first thing new visitors will notice about the account, emphasising community.
Link-in-bio tools
We quickly touched on this earlier, but your Instagram bio is the only place on the platform where you can include a clickable link, so make the most of it with a link-in-bio tool.
You can add a URL to your homepage, but you can also change it more frequently by publishing new goods, new content, new projects, and other things.
Many businesses use a service like Sked Social that takes users to a landing page with shortcuts to featured content and product pages, maximising the single link limit.
Category
From musician/band, hospital, grocery store and advertising, there are thousands of Instagram business categories to choose from. The category sits in the Instagram bio, providing an opportunity to understand what type of business you have, but does not take up any character count! Use it wisely!
Contact info
Like a business card, your Instagram bio should make it easy for people and brands to contact you.
Include contact buttons so your fans can easily phone, email, direct message, or receive directions straight from Instagram without going to another site.
Call to action
Once people have browsed your profile, checked out your content, and maybe even left a few comments, what would you like them to do next?
Including a call to action in your Instagram bio is a simple but essential step in the conversion process of your customer journey.
Take a look at the example from #SMPerth below. It's short, simple, and a little bit cheeky.
Location
You can include your location in your Instagram bio if you run a professional account. This is an excellent move for local businesses, restaurants, and more.
Adding your location is super simple. All you have to do is tap Edit profile > Contact options > Business address.
Profile picture
A picture is worth a thousand words, so if you're a business on Instagram, making your profile image your logo (or a minimal version of your logo) can help keep your business and brand recognisable online.
Important: profile pictures on Instagram are displayed at 110 x 100 pixels. However, Instagram stores image files at 320 x 320 pixels. At a minimum, make sure your profile picture meets those dimensions.
It's also important to note that Instagram profile pictures are displayed as a circle, so you need to make sure that all elements are centred.
Use Emojis
Emojis add a fresh, fun and visual element to what would otherwise be a block of plain text.
Not only do emojis save you valuable character space in a limited area, but they also offer the opportunity to add an emphasis on key points and show some brand personality.
Remember: emojis should always be relevant to your brand – it is important to remember your target audience.
Did you love learning all about Instagram bios? Well, the learning doesn't have to end there! Check out our Instagram resources!