Pinterest hasn't always been high on the social media radar for businesses.
What was once commonly viewed as a DIY tips and tricks website (predominately for women) has grown into a powerful e-commerce channel.
In the last year there has been a 120% growth in male users and it is reported that 1 in 10 Australians are now using Pinterest.
With this sudden growth, Pinterest has become a hotbed for expert social media advice. What's great about social media advice on Pinterest is how topics are categorized into boards, making it easier than ever before to find the information you are looking for.
Because we want you and your business to thrive, we have compiled a list of 10 Pinterest accounts that will make you a better social media marketer.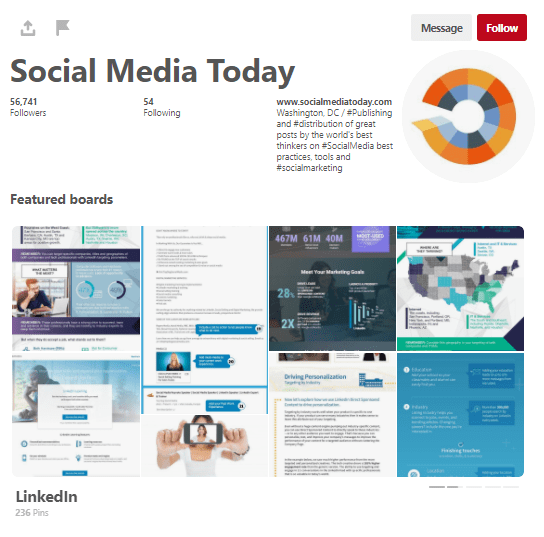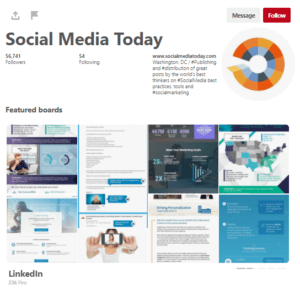 Social Media Today is a leader in the social media industry and you should definitely be following them on Pinterest. They have a staggering 55K+ plus followers, with 30+ boards and 9K pins. They break up boards into categories including social media marketing, Facebook, LinkedIn, Twitter, SEO and content marketing to name a few.
Below are some of their best boards.
Social Media Marketing
The go-to-guide for all things social media. With over 2K pins there is something for every social media manager on this board.
Infographics
Infographics are a great way to engage your audience and content can be easily consumed without reading endless amounts of copy.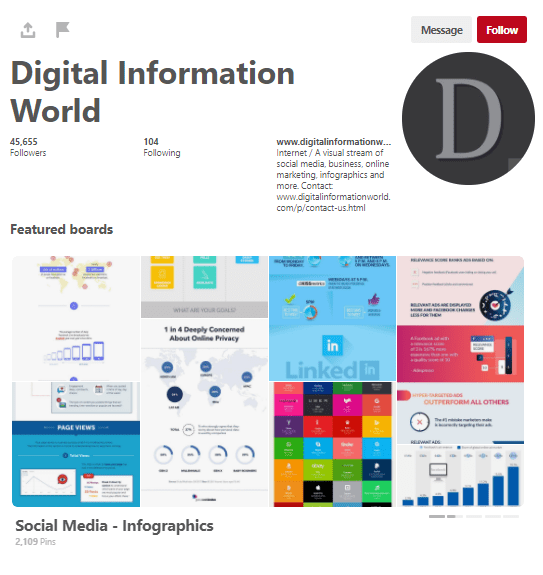 Digital marketing, SEO infographics, web design and marketing tips are just some of the boards you will find on Digital Information World. With over 40K followers, they are one of the leaders for social media tips on Pinterest.
Below are some of their best boards.
Latest Infographics
You will be hard pressed to find a more comprehensive infographic board on Pinterest, with over 16,000 pins on this board alone.
Social media, digital marketing, blogging, content marketing, insights.
A great board with over 9K pins that will help you better understand how to use content to better market your business online.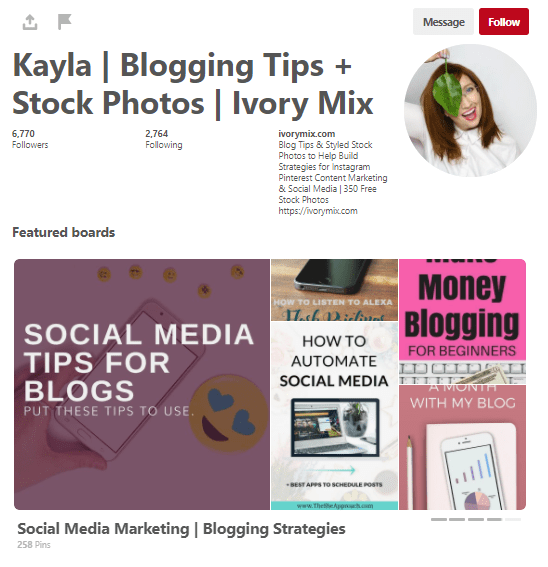 Ivory Mix offers blog tips and stock photos perfect for your next blog. If blogs are a large part of your content strategy be sure to follow Ivory Mix. Their channel is a perfect demonstration how to curate a strong Pinterest style and identity.
Below are some of their best boards.
Free stock photos for bloggers
If you can't seem to find the perfect image for your next blog Ivory Mix has got your back. Check out this board for a list of feminine, chic styled photos for creatives and bloggers.
How to start a blog – tips for beginners
A great resource if you are new to blogging. Ivory Mix covers the basics with an extensive collection of tips and tricks to get your blogs out there.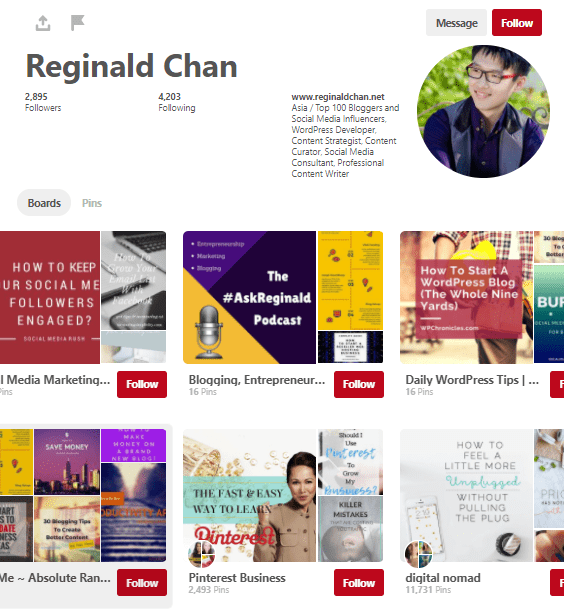 Ask Reginald was recently named a Top 100 Blogger and Social Media Influencer in Asia. Reginald focuses on content marketing and entrepreneurship. His boards are a collection of marketing resources infused with other miscellaneous topics he is interested in such as inspirational quotes and blogging.
Below are some of his best boards.
Content Marketing – School of content
Blogging tips, how to increase traffic to your website, improve your website's search rankings and plenty more can be found in this board.
All about entrepreneurship
This board has over 700 pins with advice on how to build your business. Find information on social media plans, lead generation tactics, WordPress maintenance and loads more.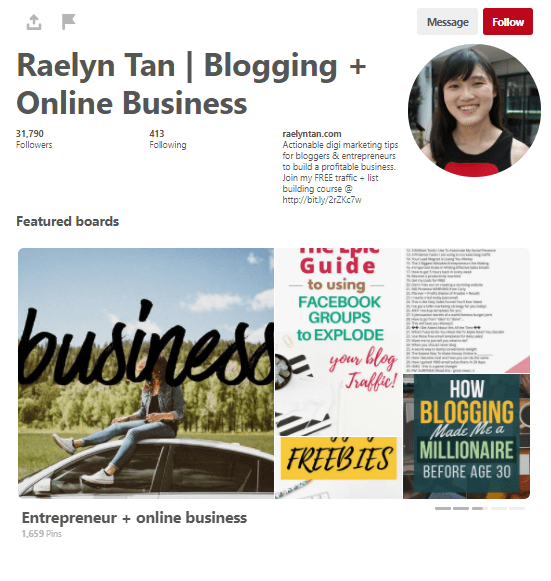 Raelyn Tan focuses on digital marketing tips for bloggers. Learn how to start a blog, build your brand and grow your email list. Raelyn provides information to more than 30K followers and is an expert in social media tips.
Below are some of her best boards.
Email list building
An email list gives you control over your audience that Facebook or Instagram cannot. If Facebook were to revise their policies or something went wrong with your account you lose all that hard work building your fanbase. Follow this board to gain a better understanding about email lists and how to get yours started.
Turbo Blogging and Business group board
The very best tips and tutorials about blogging & online business. Learn how to create catchy headlines, branding mistakes to avoid and blog post ideas are a few of the tips on offer in this extensive board.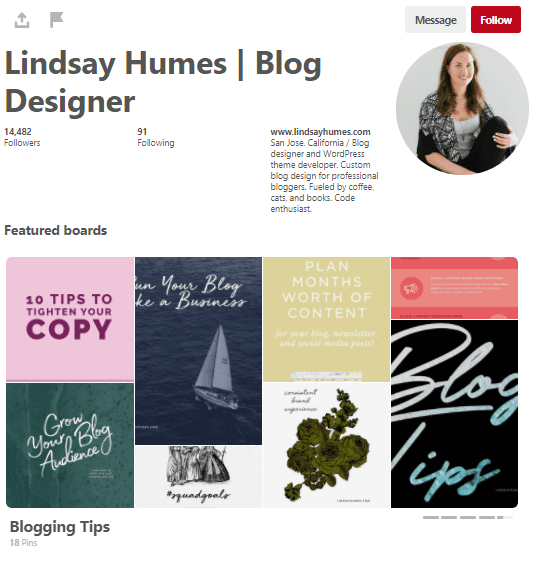 Lindsay Humes has a wide-ranging supply of digital marketing information. If you are a freelancer looking to develop your own website and write blogs be sure to check out her channel. Take note of the way she beautifully brands herself on Pinterest.
Below are some of her best boards.
WordPress tutorials
This board offers resources and advice on WordPress websites and blogs for creative entrepreneurs, business owners, freelancers, bloggers, and content creators. This board includes posts on WordPress dashboard, WordPress tips, how to start a WordPress blog, WordPress development, WordPress websites, WordPress blogs, designing for WordPress and much more.
Freelance resources
How do you respond when a client says you're too expensive? Do you have a 10-point client onboarding checklist? Or what about a business blueprint? This board offers quality resources to help freelancers navigate their business to success.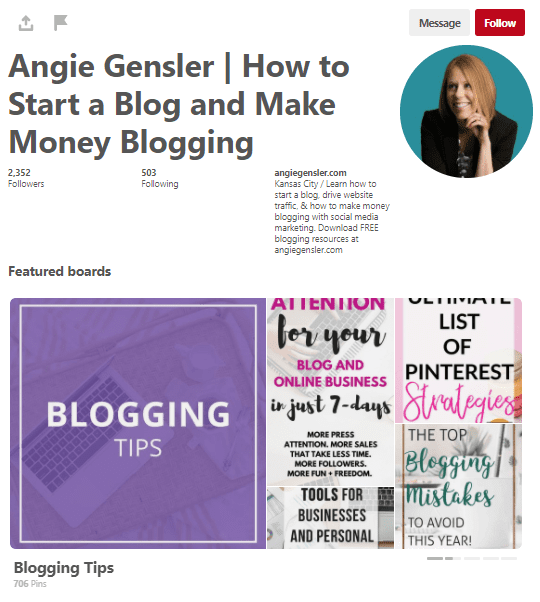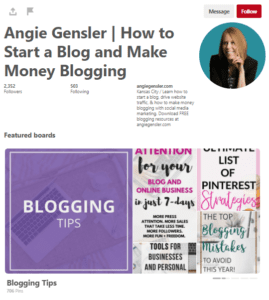 Angie Gensler has branded herself magnificently on Pinterest. She offers social media tips on blogging, Facebook, Instagram, Twitter and Pinterest. Her tips will help you drive website traffic and grow your business.
Below are some of her best boards.
Social media marketing tips
This board is a must see for social media managers. Find resources on content calendars, content ideas, questions you need to be asking to increase engagement and tips on how to create the perfect Instagram post.
Blogging tips
This is a great board for tips and tricks on how you can increase your blog traffic. A must for any blogger looking to grow their brand.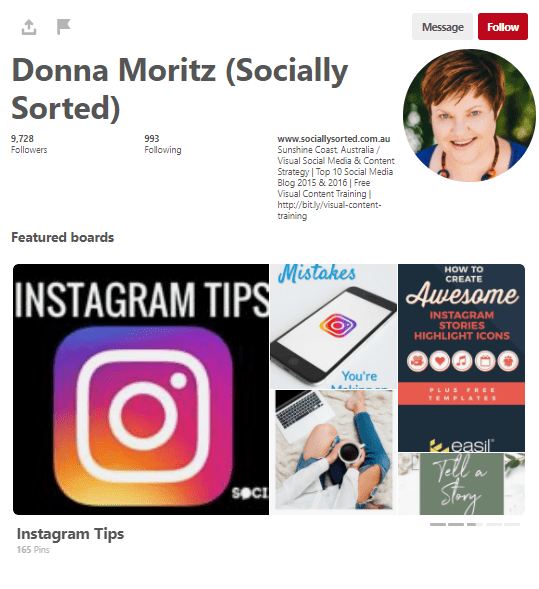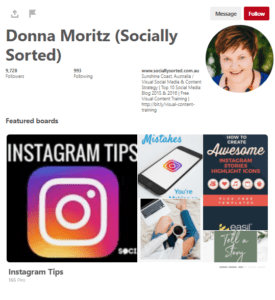 Socially Sorted is a fantastic source for all things social media. Their content focuses on video and images such as short video tips, infographics, Instagram tips and Snapchat tips.
Below are some of their best boards.
Short video tips and social video tools
If video content is part of you social media strategy (which it should be) check out this board. How to make your video clickable, how to turn your article into videos and how to create videos on a budget are just some of the resources you will find here.
Visual content creators
Everything you need to know about visual content can be found here. With more than 5K pins you will be creating beautiful content in no time.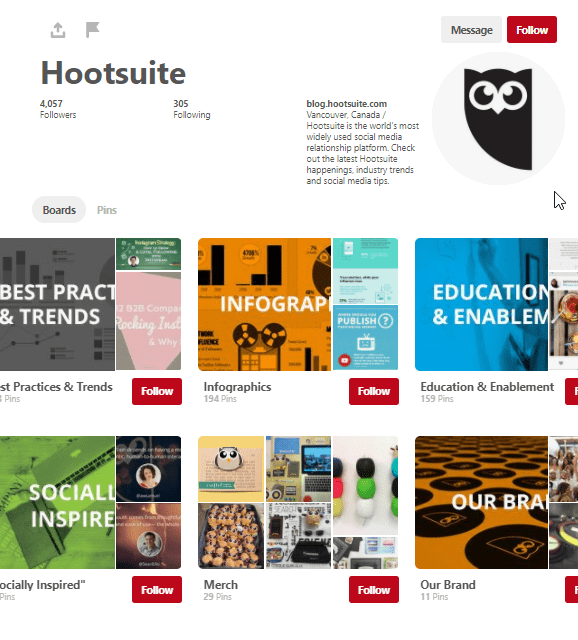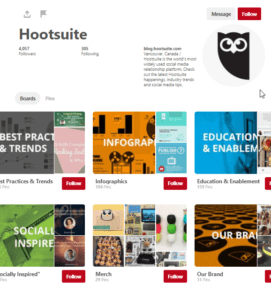 Hootsuite is one of the worlds most widely used social media resources. Although their following on Pinterest is not as popular as it is on other social media platforms, they offer great educational advice on social media and have a great board on 'case studies'.
Below are some of their best boards.
Case Studies
Learn from successful companies about their social media strategies. You will find videos, blogs and other tips explaining what makes a brand develop online.
Education and Enablement
Check out some important training and enablement tips, best practices, activities, and resources from the social media experts at Hootsuite.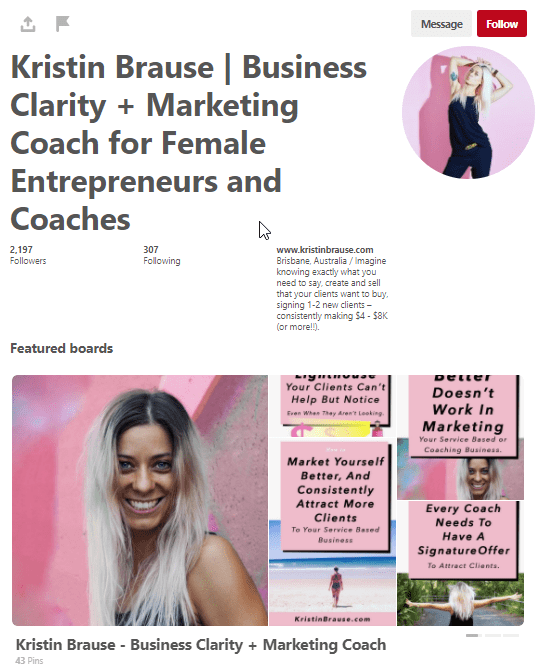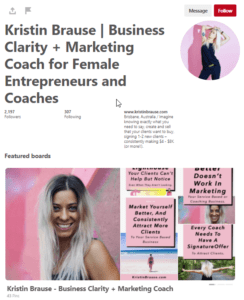 Kristin Brause from Brisbane, Australia offers expert social media advice for female entrepreneurs. She focuses on Instagram for brands and has a strong style across her Pinterest account. Check out her boards if Instagram is what you want to grow.
Below are some of her best boards.
Instagram tips for brands
Want to be a boss on Insta? Well, look no further. Learn all there is to know about Instagram Stories, grid layouts, algorithms, trends and much more.
Instagram group board
A deeper dive into the world of Instagram. Find resources on Instagram hashtags for your niche, how to run an Instagram contest and Instagram ads for beginners.
Do you source social media tips on Pinterest? If so, who have we missed? we would love to hear from you in the comments.