Ready to take your Snapchat game to the next level?
All you need is a little imagination and a touch of determination.
Founded in 2011, Snapchat is a mobile communications app used for messaging, news and content creation.
While its popularity may have slowed down through the years, in the fourth quarter of 2020, Snapchat recorded 238 million daily active users with more than 4 billion snaps created and sent every day.
Snapchat has a very specific demographic; 61% of users are female, 38% of users are male, and the platform can reach 6.3% of the population aged 13 years or more.
However, it is not only for friends and Snapchat influencers but also for the business. Here are some ways you can leverage this platform as marketers.
Snapcode
A Snapcode is a badge that people can scan using their phone, making it possible for you to send and scan Snapcodes that add new friends, unlock Filters and Lenses, link to websites, connect to exclusive content, and more!
Businesses can use a Snapcode digitally, in print (movie posters, advertisements) or in-store, pretty much anywhere you want to advertise the website you have your Snapcode linked.
Think of it as a QR code and let your imagination run wild.
In 2017, Universal Pictures used a Snapcode to promote the feature film "Girl on a Train", unlocking a branded filter.
How to scan a Snapcode
Open Snapchat and point your camera at a Snapcode.
Press and hold on the Snapcode on your screen to scan it.
How to make a Snapcode
Make your own custom Snapcode that links to a website when someone scans it.
Tap ⚙️ in My Profile to open Settings.
Tap 'Snapcodes'.
Tap 'Create Snapcode'.
Type in a URL — the website address that the Snapcode links to.
Add an image (optional).
Our Story
Our Stories are collections of Snapchat content submitted from the snappers worldwide collected and categorised. They capture a place, event, or topic from different perspectives.
For example, if you are at a concert, other users can see it when searching the event story or finding it by location.
If you submit your content to Our Story, they will show up in Stories, Snap Map and possibly third-party platforms such as big screen at a match.
This feature's benefit is that brands do not have to be overly active on Snapchat to be part of the community narrative. Having something important to say during an important cultural event or having a compelling photo can increase brand awareness.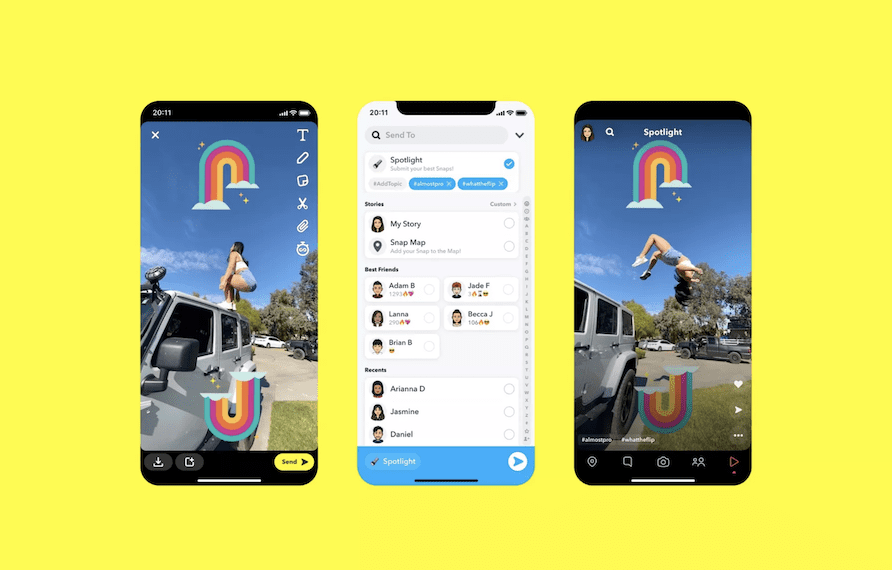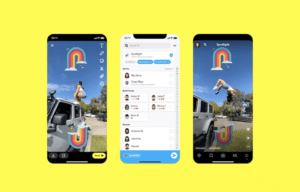 Snapchat Spotlight
Looking remarkably similar to TikTok's "For You" page, Snapchat Spotlight is a place where vertical videos of dancing, memes and skits live.
While it has been heavily hinted at, Snapchat Spotlight isn't yet available for advertisers. We recommend digital advertisers keeping an eye on the growth and popularity of Snapchat Spotlight as it seems poised for these capabilities.
Bitmoji
Bitmoji is your personal, characterised and expressive emoji. It is set up through the Bitmoji app and can be linked to your keyboard but most importantly, to your Snapcode. Your Snapcode works like a QR reader and your Bitmoji personalises your presence on the platform, especially when other followers begin to chat with you on Snapchat. Personality is a big part of this platform, and Bitmoji is your first step to creating that personable presence.
Paperclip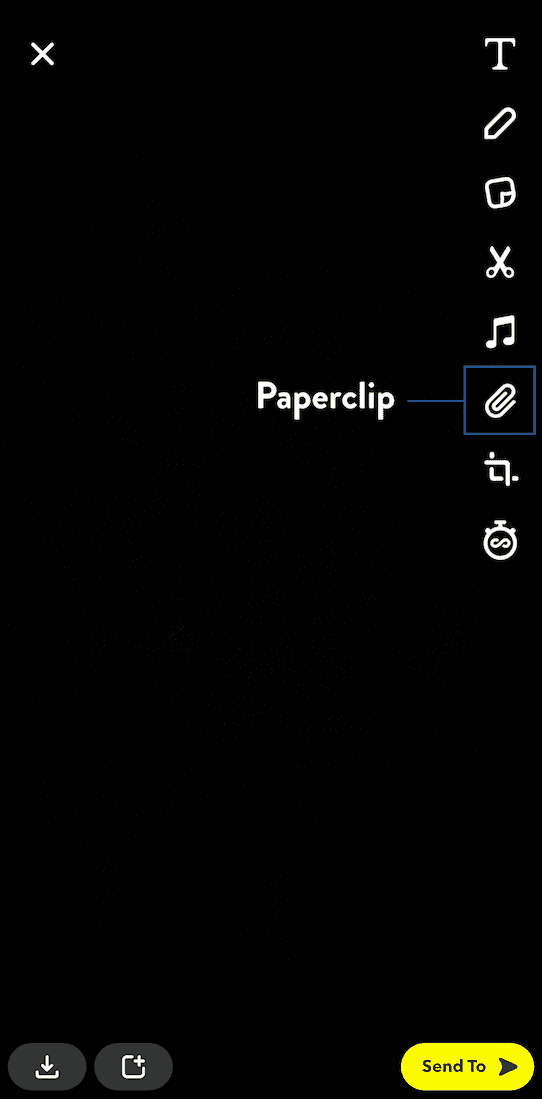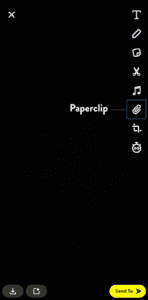 Snapchat's Paperclip feature allows you to add external links (blogs, websites, products, videos, music) to your snaps.
The feature was previously only available for ad campaigns, people with over 10,000 followers and discover content, but now everyone has access to the Paperclip function.
Lenses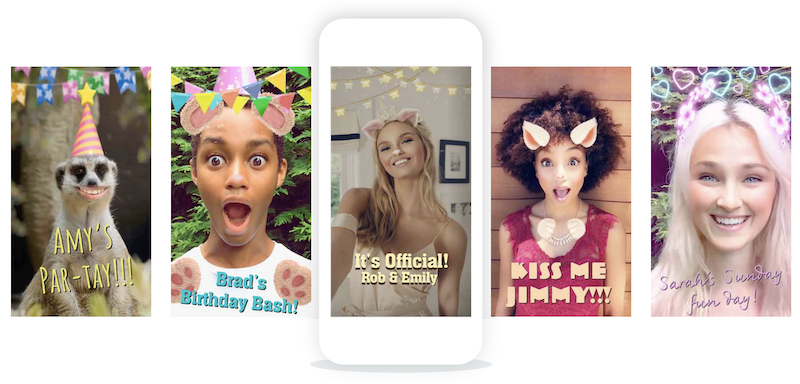 Snapchat Lenses are a way to augment your images by adding 3D effects, objects, characters and transformations.
Create your a Lense at the Lens Studio here.
Filters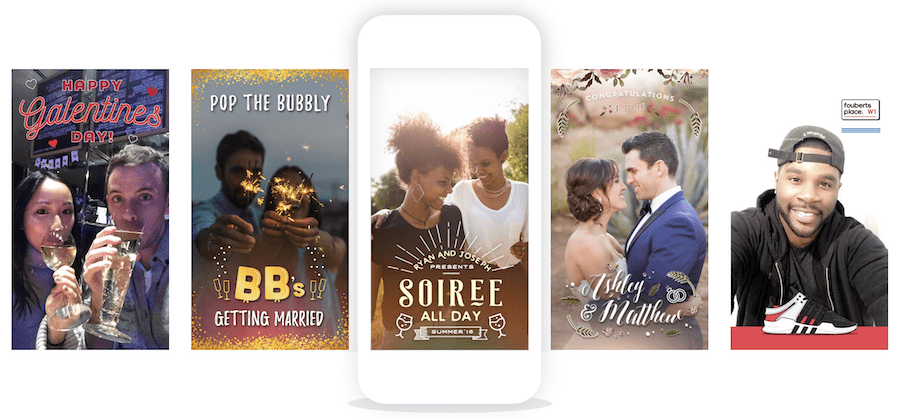 Filters are design overlays that you add on top of your Snapchats.
You are able to create and purchase your own Filters to frame special events such as weddings, birthdays and business milestones.
How to create a Filter
Log into the Create Your Own website with your laptop or desktop computer.
Select 'Create Filter'.
Upload your own design or choose a template, and add text, images, and Bitmoji.
When your Filter looks just right, click 'Next'.
Read more on Filter guidelines here.
Community Filters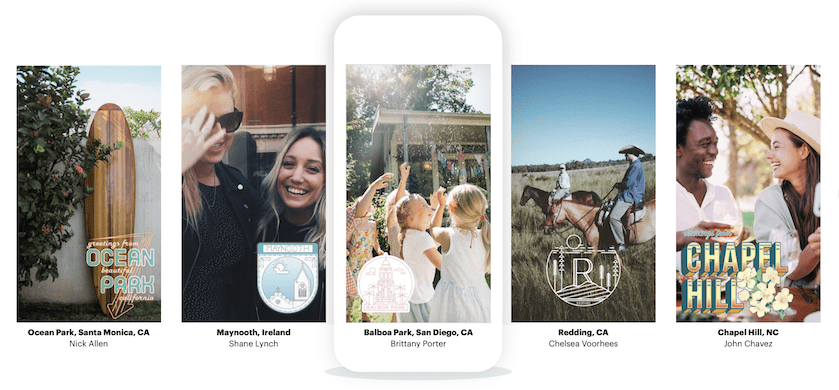 Community Filters are designed to be relevant to a particular area such as a city, town, public place, park or school.
As businesses are not applicable to use Community Filters, they are free to implement but have a longer review process than Geofilters.
How to submit a Community Filter
Go to the Create Your Own website on a computer and select 'Community Filters'.
Choose Geofilter or Moment Filter.
Read the instructions and guidelines.
If you pick Geofilter, choose where you want it to be available or the Moment Filter, which will mean it will be available around the world.
Submit it for approval by Team Snapchat.
Whether these are new tips for you or a quick refresher, there are many fun features to play with on Snapchat.
Get brainstorming and create short and highly engaging content to connect with your audience, mainly Gen Z and younger millennials.