Are you one of the one billion monthly active Instagram users in the world?
If so, we're sure you're aware how powerful the platform is for Instagram marketers.
Did you know that 62% of users say they are more interested in a brand after seeing it in an Instagram Story?
With Instagram, it's important to know the appropriate content that keeps you relevant with your existing followers, while also gaining new followers.
To help you out, we've created 10 crucial Instagram tips for marketers that will help grow your Instagram audience and improve your overall marketing efforts.
Be sure to check out the video version here.
Change your account to a professional account
It's super easy to set up your Instagram account to a business profile.
Just follow the steps below. Having a professional/business account can help you with Instagram analytics tools, called Insights, that provide stats about the impressions and reach of your posts.
You can choose to create:
Creator account: best for public figures, content producers, artists and influemcers.
Business account: best for retailers, local businesses, brands, organisations and service providers.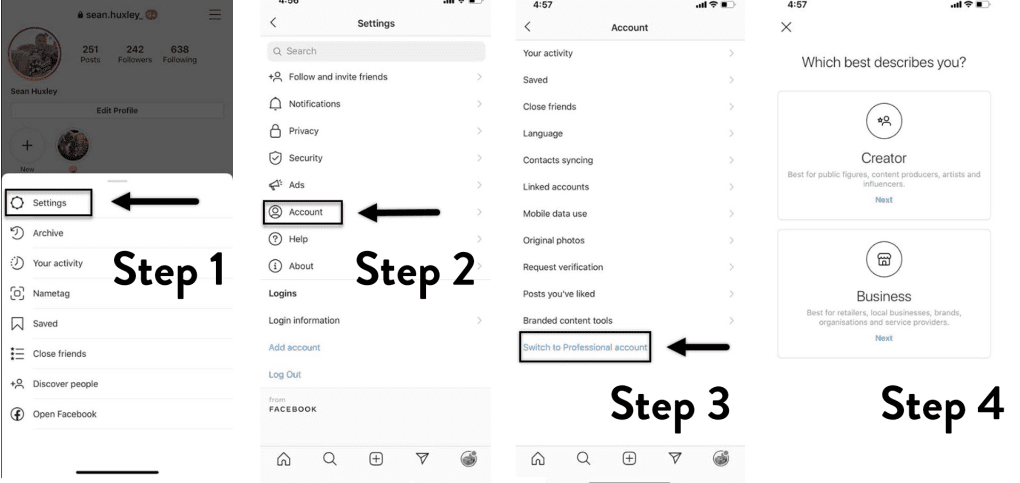 Optimise your profile
Your Instagram accounts needs to instantly get your message across. First impressions count! Make sure you have the below information filled out.
Your name: 30 characters, included in search.
Your username: AKA your handle. Up to 30 characters, included in search.
Your website: A clickable URL you can change as often as you like.
Category: A business feature that tells people what you're all about without using up bio characters.
Contact info: Tell people where to find you.
Call-to-action buttons: Give Instagrammers a way to interact with you directly from your profile page.
Use free insight tools
With Instagram Insights, you can view statistics like impressions, engagement data, and more.
These free tools are great for marketers because you can use them to understand exactly how people are interacting with your content.
Use Instagram Stories!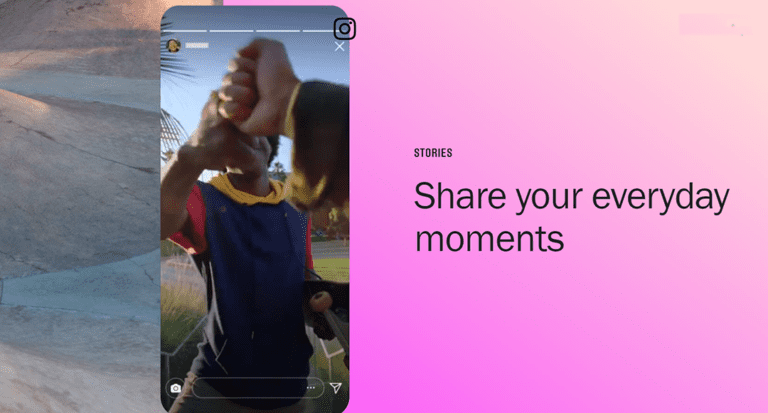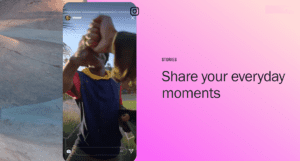 Did you know that Brand Stories have an 85% completion rate? That's huge! Stories are a quick, easy way to share moments and experiences. Use text, music, stickers and GIFs to bring your story to life.
There's heaps of benefits to using Instagram Stories. To begin with, Stories are displayed at the top of follower timelines where users already look daily.
Brands can use stories to capture behind-the-scenes insider posts that may not be as "high-quality" as regular posts.
You also don't need to worry as much about posting content that aligns with the style of your brand or your Instagram page when it comes to Stories.
Stories also lets you tag other accounts, which is ideal if you're working with another brand or influencer.
Use sponsored ads
When creating sponsored ads, use content that is engaging while also appealing to the target demographic you want to promote the ad to.
Make sure you're using Insights to monitor your top performing posts – you can turn these into sponsored ads.
You can promote the best performing posts to potential customers in the form of sponsored ads.
Run multiple posts to different audiences at the same time to boost engagement rates. The different forms of sponsored ads include:
Photo
Video
Carousel/Dynamic Ads
Stories
Stories Canvas
Post at the best times for your brand
You want to post content on a regular basis so that you stay in your followers feed. It's important to know the best time to post so you improve your chances of being seen.
Check out this Sprout Social chart which shows Global Instagram Engagement hotspots.
You can also find when your followers are most active on Instagram with Instagram Insights. Your best days and times to post might be a bit different depending on your specific audience.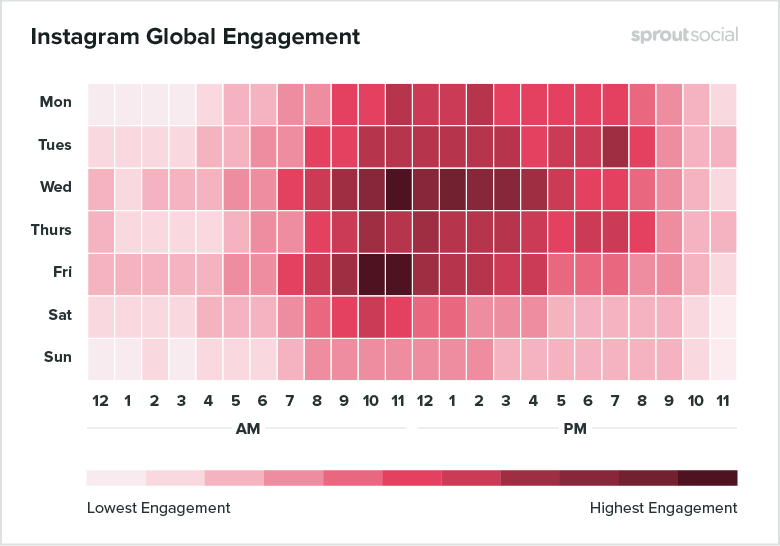 Partner with influencers to reach more people
If you want to reach a larger audience on Instagram, the fastest way to do that is through influencers who have already established an audience with a big following.
79% of brands use Instagram for influencer campaigns, compared to Facebook 46%, YouTube 36% and Twitter 24%.
To get you on the right track, be sure to check out 10 keys to savvy influencer marketing campaigns.
Develop a branded hashtag
Your own branded hashtag is a great way to encourage engagement among your followers.
See how Nike has generated a huge library of UGC with their branded hashtag #justdoit
What have we missed? We would love to hear your Instagram tips for marketers in the comments below!