I called it! Snapchat has started 2018 with a bang and is quickly becoming a platform that is a visual magazine combining all walks of digital; personality, celebrity, social sharing and advertising in one.
And with the new interface, they have one-upped Instagram adopting their style and innovating it to the Snapchat generations.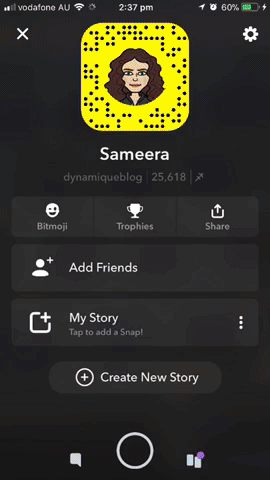 Here's a little on the new upgrades:
Subscribe and unsubscribe feature
You can now subscribe to officially verified Snapchat accounts, Popular Stories, Stories from Magazines and Discover stories that come up as suggestions. The subscription feature is perfect for the upgrades to the Discover section.
Snapchat's 2018 Discover
The Discover section has been on Snapchat since 2017, but with the new interface, it is even more accessible and easier to use. Search a few keywords, and you can access a plethora of users to follow and global stories from publishers.
Tap in Chat 
Just like on Instagram now users Bitmoji's have a blue circle around them when you swipe to the Chat section to indicate when they have uploaded to their story. With a simple tap, you can watch stories and chat.
The Feed
Among people, you are already following you also get access to popular stories, celebrity stories, news platforms and more. You can choose to eliminate those you don't prefer as part of your feed by tapping on the Bitmoji and clicking "See less like this."
What we should be excited about
Facebook and Instagram are platforms that are blatant about advertising, and often it consumes the platforms and users tap through. What Snapchat has done with this new interface is make advertising and paid content a seamless part of the platform just like a magazine.
We have a tonne more coming to the blog talking about Snapchat advertising and the big debate between Instagram and Snap Inc. As for now, I would love to hear what you Snapchat fanatics are thinking of the new 2018 changes, LOVE IT or HATE IT?