Many small businesses and start-ups realise the value of having social media as part of their marketing but find they don't have the resources to effectively manage their accounts.
One alternative is to hire an agency to manage the running of the accounts. But is outsourcing really the best solution?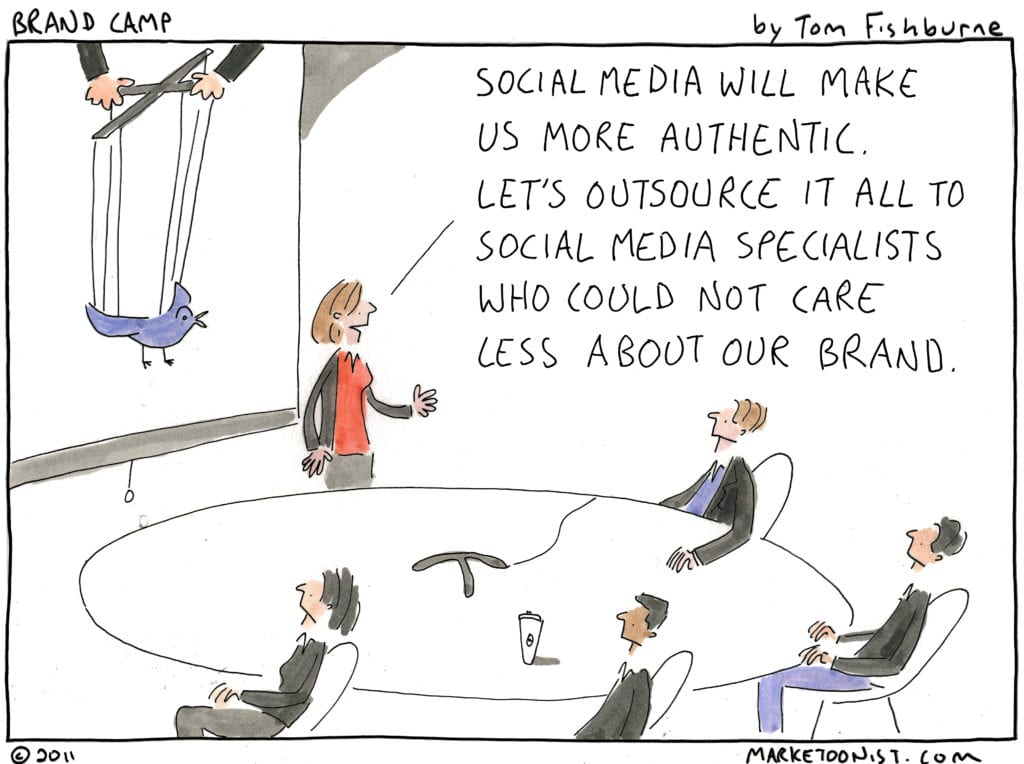 It's not easy when you run a small business, there's simply not enough hours during the working day and social media is a distraction, one you can do without. But on the other hand, how are your competitors managing to post things on Facebook all the time?
There can also be a lack of confidence with using social media platforms, especially when it comes to company/brand pages. 'I added a picture of our menu but I didn't know what hashtags to use so in the end I didn't post it.'
Sound familiar?
Being unsure of how to use social media platforms, combined with a lack of time, can be overwhelming for even the most seasoned business owner and see them rushing for the phone to find someone to take it off their hands.
Outsourcing the management of the company Facebook page, Twitter or Instagram accounts to a specialist at one of the fancy pants agencies that charge a gazillion dollars and guarantee greater engagement and more followers can seem like a great option…but is it really?
Outsourcing can be less authentic
They may claim to be experts but are they really going to care?
How much are these specialists going to know about your brand, are they going to represent you accurately? What do they know about your brand values, your work ethics? These things take time to learn, you may be fortunate enough to snag a social media manager that 'gets' your business and does a brilliant job. But then again, maybe you won't.
Agency specialists tend to work with a number of brands, managing 2 or 3, maybe up to 5 accounts for each brand. Bouncing around from account to account, brand to brand. It can lead to things feeling a little generic.
The eagerness to make social a part of marketing can sometimes blind businesses to the realities of outsourcing. Social media is a place where brands need to be authentic.
Making in-house work for you and your team
If you are running a small business you probably don't have a lot of money to burn so it is probably better to keep the management of your social media in house.
This can be challenging, but you will be far better off in the long run. Educate yourself and get the confidence to do your own posting.
Here are a few ways to educate yourself about social media best practices:
Set aside a small chunk of time each week that is dedicated to your social media, say 2 hours on a Tuesday morning. Use the time to find interesting things to post and then schedule them in to be posted later in the week…yes, schedule! It may feel like cheating but when your time poor it's sometimes the way to go. Then for the remainder of the week, all you have to do is monitor the posts and reply to any comments. This could even be a task for one of the juniors or someone that works at a desk, let's face it they're probably going to be checking their social media every chance they get anyway!
Be strategic
Lastly, be sure to get advice from the experts. You don't need to get someone to manage your accounts but you should approach them to help you to manage them more effectively.
They can help to build a strategy for your social media. Strategy is key to being successful on social, it gives purpose for your posting. Having a strategy with clear goals will allow you to see your return on investment.