Search Engine Optimisation (SEO) can be a very daunting topic for a lot of marketers.
Whether you're a newbie or a seasoned professional, mastering SEO is not an easy feat without the use of some marketing tools.
** This post may contain affiliate links. While we do only recommend products that we believe in, let's be honest here – we're in marketing too and everyone loves an affiliate link!
This is not because SEO is impossible to learn, but because a successful SEO strategy is made up of so many small moving parts. Not to mention, Google's ever-changing algorithm.
We've made a video of tools that marketing newbies will benefit from!
You can check out the full-length post with 6 SEO Tools for Marketing Newbies.
We've included a snippet from the post below:
SEMrush
There are various SEO management platform tools available around the web from the likes of Moz, Ahrefs and more. SEMrush is a popular choice as they have a free version, alongside paid subscriptions.
Through SEMrush you can do keyword research, competitor analysis and track your website as a 'project'. Through your project, you can track keywords, run a site audit and get content ideas. The good thing about SEMrush is that they give you lots of information into why your website may have issues and how to go about fixing them.

Google Analytics
Is a list of SEO tools complete without mentioning Google Analytics? Of course not! Every website should have Google Analytics set up. Without it, you can't track the success of any of the work you're putting into your SEO.
Like SEO, Google Analytics can be a bit daunting as it holds so much data and information about your website. Our advice is to take it one step at a time. The more you start to look and learn about your data, the more you'll be able to hone your SEO strategy.
We'd recommend starting with the Acquisition > All Traffic > Channels report which will show you where your website traffic is coming from. Once you understand this report, then you can delve into the Conversions, Behaviour and Audience reports.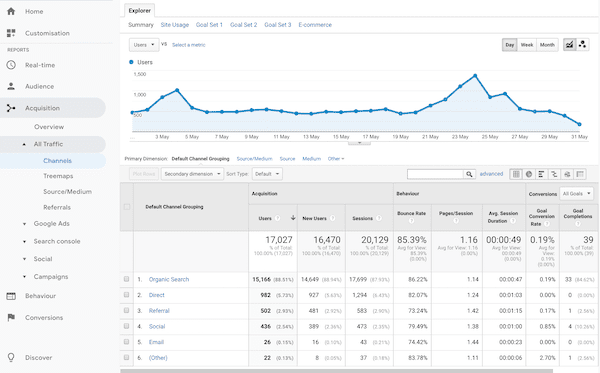 The Google Analytics Academy is a great place to learn more about this essential marketing tool. Plus you can also complete the Google Analytics exam to become certified. Which looks great on your LinkedIn profile!