With 60% of users discovering products on Instagram, it makes sense that you want to increase your own reach on the platform.
But, with such huge competition, it can sometimes be challenging to achieve.
There are some tips and tricks you can use in your marketing strategy to help improve your Instagram reach, such as posting at a particular time or using certain hashtags. But, one of the most effective ways to reach more followers is to run an Instagram competition or giveaway.
This allows you to offer something to your followers in exchange for a like, comment or other requirement.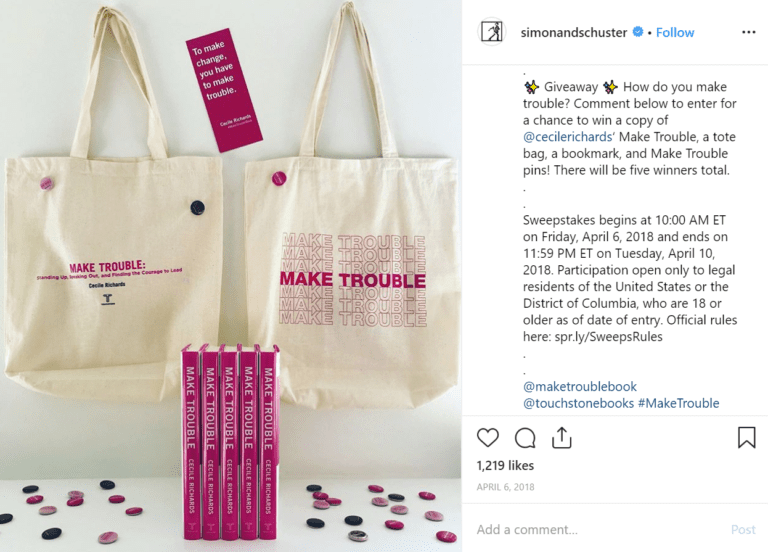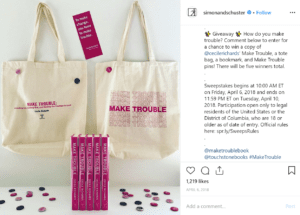 Check out this post from @simonandschuster:
This is a great example of a successful Instagram competition.
First, Simon and Schuster partnered with Cecile Richards, which lets both businesses reach the other brand's audience.
Secondly, Simon and Schuster asked users "how do you make trouble"? This encourages engagement on the giveaway post.
Giveaways can help to develop your brand on Instagram, grow a loyal following, and promote your products or services with a larger audience then you could organically.
Here's how to run your own Instagram competition or giveaway:
1. Choose a prize.
To begin, decide what product or service you want to give away. If you want to raise awareness around one of your products, it's a good idea to give that product away as your prize
If your partnering with a brand, make sure your prize is something that will appeal to both of your audiences.
2. Determine the entry-criteria for your contest.
Decide the entry criteria for your competition. If you want to increase your brand awareness, it's a good idea to ask entrants to like your post and comment a friends name. This lets you increase your reach and find new followers.
If you are hoping to get more website visitors, you can ask your followers to head to your website to find the entry criteria.
For example, there could we a question on your website that entrants have to answer in the Instagram comments section.
If you are partnering with a brand, you can ask your followers to follow the partners Instagram account as part of the entry criteria.
3. Decide on a goal for your Instagram contest.
By determining a specific goal, you're able to tailor your strategy more specifically and keep track of whether or not your giveaway was successful.
By deciding on a particular goal, you can develop your strategy with more detail and have a better chance at determining the success of the competition.
Some goals include:
Increase in website traffic
More followers
Increase in engagement
A increase in sales
4. Consider a brand partnership.
Partnering with a brand lets you reach followers of another brand that are similar to yours.
A successful partnership should help both brands connect with peer brands and partners, while increasing traffic to your Instagram account.
For example, a coffee cup brand may choose to partner with a coffee roaster brand as part of their Instagram competition.
5. Select a campaign hashtag.
Hashtags are king on Instagram! They let you search content and help with your reach on the platform.
When running a competition, try creating a unique hashtag to help generate buzz about your giveaway.
For example, #SMPerthGiveaway or #SMPerthCompetition.
6. Put a time-limit on your contest.
It's important to specify when your competition will close. When the giveaway has ended, it's a good idea to comment "Competition Closed" or "Giveaway Closed".
Having a time-limit helps to create a rush to enter on your post, this can help your post be seen in more followers feeds.
7. Launch and promote your Instagram contest.
Your ready to begin your Instagram competition! To create further reach about your competition, you can post details on your website, Facebook page or other social media channels your brand uses.
Instagram Giveaway Rules
It's important you post a statement like the following, so people know your competition is not linked to Instagram:
"Per Instagram rules, this promotion is in no way sponsored, administered, or associated with Instagram, Inc. By entering, entrants confirm that they are 13+ years of age, release Instagram of responsibility, and agree to Instagram's terms of use."
You can check out the full list of rules for Instagram's promotion guidelines.
Instagram Giveaway Ideas
Struggling with some competition ideas? Below is a list of some common ideas to try:
Like to win: Followers must like your post for a chance to win.
Tag a friend to win: Entrants must tag someone in the comment section to win.
Like and share to win: Ask your entrants to like and share the post to their own account.
Follow to win: People must follow your account to enter the competition. This helps to grow your followers.
Picture contest: Ask users to upload a photo of themselves using your product or service. You can also ask entrants to include your brands hashtag.
Caption this: You can post a photo and ask your followers to caption it.
Have you ever run an Instagram competition? How did you go? Any tips you wish to share? We would love to hear from you in the comment below!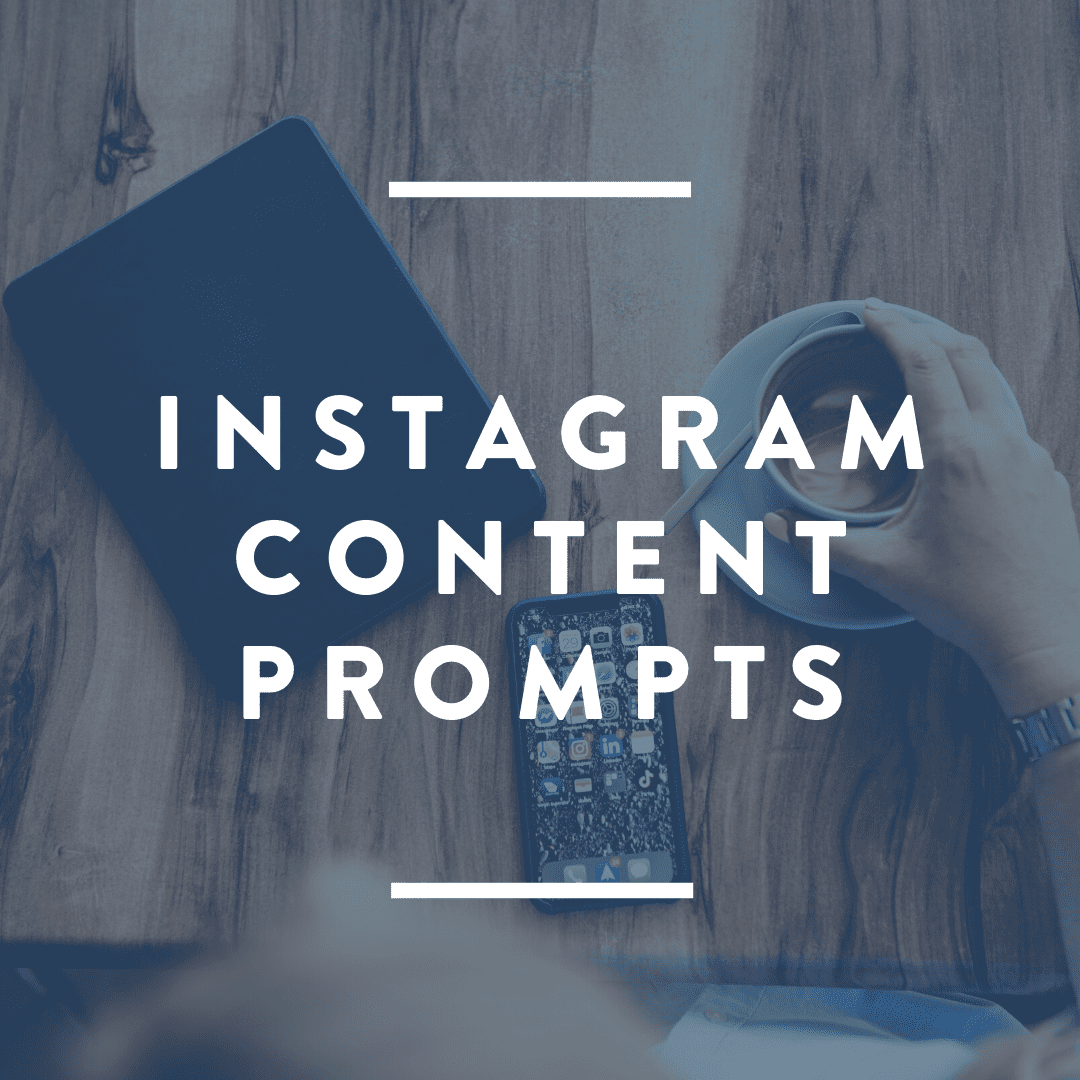 Instagram Content Prompts
Stuck for your next Instagram post idea? We've done the work for you.
Instagram is a content-hungry platform. And it's pretty easy to feel like you're all out of ideas for your next Instagram post. But we're here to tell you that it's not all doom and gloom.
Download our Instagram Content Prompts and you'll have 45 epic ideas to send you on your way.
IMPORTANT: The link to download your file will be sent directly to the email address provided at checkout.
If you do not receive it, please check your spam. If you have any issues please email us at hello@smperth.com