It doesn't always come easy when trying to write epic Instagram captions.
Maybe your creative juices aren't flowing that day or you're not entirely sure why you are even posting.
Well, to get you started, one of the best tips out there is to know what it is you want to achieve when you are posting content; whether it is to inspire, to share information or to brighten someone's day, knowing your purpose can really help in constructing good Instagram captions to increase engagement.
Instagram is predominantly focussed around beautiful photos and compelling videos, so why is it important to have a good Instagram caption to go with it?
Well, we all know too well about the scroll. Having a captivating photo or video can certainly help to stop the scroll but what is even more important in the world of Instagram is – engagement. That is why having a good Instagram caption is equally as important. A good Instagram caption provides context, has a personality and inspires followers to take action.
We have put together a guide with some tips to consider to help you create awesome Instagram captions:
1. Write a killer first line
Capture the attention of your audience right away with your opening line that will then entice them to read more or spend longer on the post. Front-load all the important stuff.
Your first line should be able to create curiosity with something punchy and most importantly, visible without having to click for "more". Something to capture their attention and trigger an emotional response that would peak their interest to read more and further engage with your post.
2. Add a call-to-action to your caption
Right, we all know how important engagement is because it has the power to increase awareness, build your community or even to sell a product. Adding a call-to-action in your post is a powerful tool to invite your audience to engage and thus viewing the post for longer or it inspires them to further explore your website, your online store and also to sign up to your newsletter.
Depending on what you are looking to achieve, your call-to-action can be as simple as adding a question to encourage comments on your post. This can not only build your community but it can do wonders for the algorithm and lead to added exposure opportunities for your post and ultimately your page. Encourage your audience to tag a friend, share their opinion or even run a competition – all these examples of call-to-action results in viewers to do more than just 'like' the post.
Diverting traffic to your website can be as simple as adding the link in your bio or even to visit a specific URL and referring to it in your post.
You can also make your call-to-action stand out with some custom fonts and eye catching emojis. To add a custom font you use a tool, like IGfonts.io where it can convert your text to a custom font and all you have to do is copy and paste it into your caption.
3. Use meaningful hashtags
Hashtags are a great way to gain more visibility and increase followers. They allow you to connect with a specific community, a community that has an interest in your content and so can create long-term relationships.
Whilst Instagram gives you the possibility to use up to 30 hashtags, overloading your post with hashtags can also have a detrimental effect to the algorithm, so choose wisely.
Do your research on which hashtags have an engaging community behind them and are relatable to your audience at the same time. Being discoverable to gain new followers can be as simple as having the right hashtags because many people search hashtags to find inspiration so allow yourself to be presented in front of them.
4. Be consistent with your expertise
Having focal themes and being consistent with them throughout your content can educate your audience that you are a reliable source to seek out certain information. Being consistent with it shows that you know what you are talking about and give your account a stronger personality.
You don't necessarily just have to only have one theme as that can sometimes limit the number of followers you could potentially connect with. So, have a think about what the purpose of your account is, what are your values and what do you want to share with your audience.
Many choose around 2-3 themes to write about consistently that reflect the brand and it's values.
@ALLBIRDS are a great example that keeps their themes consistent throughout their visual content and their written content. The content reflects their brand in its entirety and is centred around their products, nature and creativity.
5. Make sure you have a consistent brand voice
Staying on brand is vital to being able to connect with the right audience. Your captions should be able to form part of the brand voice and mirror the personality of your brand.
It's important to be consistent with all the content that you put out as it certainly portrays a strong brand that people would want to connect with.
6. Add line breaks for longer captions
Keep it clean. Just like posting aesthetically pleasing images, the aesthetic of your captions are equally as important and this is to not overwhelm or stress out your audience. There is so much content out there and when you are trying to beat the scroll, having one large paragraph makes it scary for people to stay and read the entire caption. So, make it easy for your audience to digest.
If you have quite a bit of information that you would like to get across to your audience, then format the Instagram caption so it is digestible and adding line breaks can help with that.
Final Tip
It's definitely worthwhile to make a plan and write several drafts first and maybe even read it out loud to hear if it is consistent with your brand voice. If those creative juices are flowing, set some time aside and write your captions in batches, that way you can strategize the consistency of your themes too.
Captions are not only applicable to add to your posts but adding a caption to your Instagram stories is another way to capture your viewers' attention. You can then also direct them to a post or still be able to get a message across as many people watch stories without sound if it is a video.
Don't let writing a good Instagram caption be an afterthought, it could be the defining thing that increases your following or triggers a purchase. It can sometimes seem a little daunting but with practise comes perfection!
Anything you'd like to add about writing the perfect Instagram captions? We'd love to hear your thoughts in the comments or check out our Guide to Creating Epic Captions 👇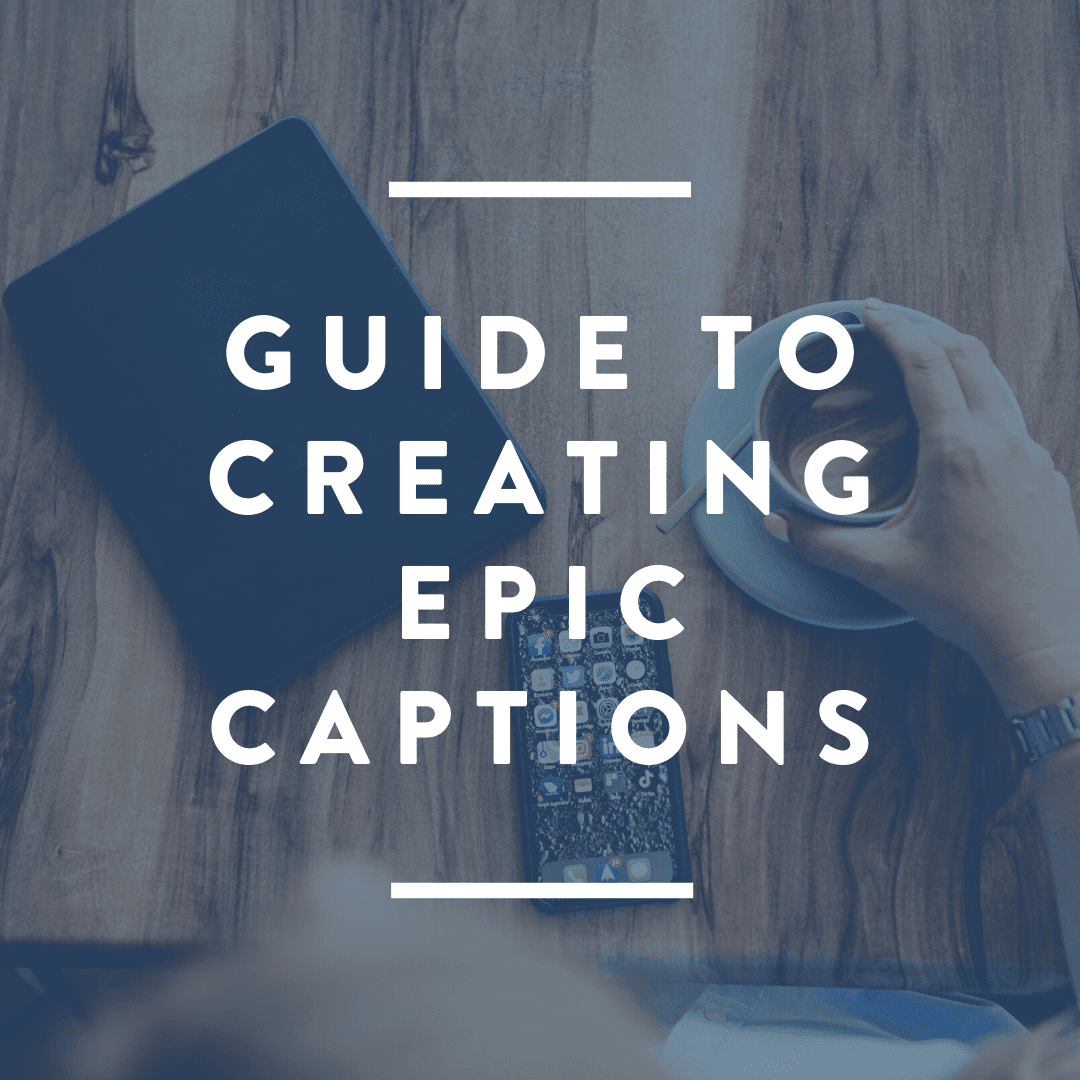 Create Epic Captions
A great social media caption can make or break your content. If you want people to start engaging with your brand online, pay attention to your captions.
Captions may feel like a bit of an afterthought, but they're actually incredibly useful for adding context, driving sales, and engaging with your audience.
IMPORTANT: The link to download your file will be sent directly to the email address provided at checkout. If you do not receive it, please check your spam. If you have any issues please email us at hello@smperth.com