The Sensis Social Media Report has got a whole lot brighter in 2018 with a rebrand to the 'Yellow Social Media Report' as well as moving to an online methodology.
But don't worry social media nerds, it's still got all those delicious stats we crave. It just looks more like a phone book this year.
The report is 48 pages long, so we've decided to do the hard yards for you and pick out the key social media takeaways for 2018 and some specific Western Australia stats.
60% of Australians use the internet more than five times a day and we own an average of 3.5 internet-enabled devices – James Ciuffetelli, Executive General Manager Yellow

Firstly, the housekeeping:
Before we delve into all the juicy stats, let's get some housekeeping out of the way.
In 2017, 800 Australian consumers were sampled via telephone compared to an online methodology conducted of 1,516 Australians in 2018
The sample set is a pretty even split of males and females alongside across age brackets
Out of the 1,516 Australians, 183 were from Western Australia
When we say 'social media' the report refers to the following networks: Facebook, Google+, LinkedIn, Twitter and Instagram and 'online blogs and online rating and review mechanisms' as stated in the executive summary
Now the housekeeping is out of the way, get comfy, grab a wine or beer (or coffee if it's a tad too early for that), and let's get stuck into part one of the report – The Consumers.
The mobile era continues
Firstly, take a moment to think about how many internet-enabled devices you have. We don't know about you, but just in the room we're currently in, there's 5. Based on the report, online consumers in Australia own 3.5 internet enabled devices.
No surprise here, but smartphones are the leading device used by 9 out of 10 adults. Which just goes to show, mobile devices need to be at the forefront of social media and online strategies in 2018 and beyond.
Alongside smartphones, 76% of consumers have laptops, 59% tablets and 52% desktops. While tablets are used more by the lady-folk (63% compared to 56% for males), desktops are more popular with the men-folk (60% compared to 45% for females).
It's also worth noting 4 out of 10 households have an internet-enabled TV and 1 in 5 consumers have a wearable device like an iWatch or Fitbit.
74% of consumers access social media via a smartphone
Ladies love social media
88% of Australian consumers use social media websites with 62% doing so daily. Ladies are more frequent users at 41% compared to the dudes at 26% in Australia. This year's findings seem to be fairly in line with the 2017 results.
Western Australia falls roughly in the middle with 29% of consumers accessing social media 5+ times a day and 29% of consumers 1-4 times per day.

Time of day and location
Like the results from 2017, the most popular times to use social media are first thing in the morning and in the evening. In fact, 6 in 10 users access social media during these times of the day. Evening use is slightly more popular.
Following this is around lunch time and breaks with 4 in 10 users keen on a bit of social media at smoko.
Accessing social media before bed is more popular (31%) than when commuting (22%) or when working (14%). It's good to see most of us Aussie's keep on track at work 😉
In Western Australia, 60% of users prefer to get their social media fix in the evening, followed by 53% first thing in the morning and 34% on breaks.
We access social media the most from home (94%) followed by at work (35%) and then on public transport (32%).
20% of social media use in the home is conducted on the dunny by Australians.
What I love about the above quote is that out of all the states, WA has the lowest percentage of 'social media toilet use'. What does that say about our toilet humour we wonder?
In line with the other states, usage in the living room followed by the bedroom are the most popular:

Facebook Remains King
If you are wondering if Facie has been knocked off its perch, nope. Zuckerberg's leading social network remains top. Here's a quick rundown of the stats:
Approximately 90% of consumers use Facebook across age groups and genders
YouTube (53%), Instagram (39%) and Snapchat (23%) chase after Facebook
Males prefer YouTube, Twitter and LinkedIn over females
While Pinterest is more popular with females
For Western Australians, like the national consensus, Facebook is king with 94% of consumers giving it a thumbs up. Following Facebook:
YouTube (44%)
Instagram (23%)
LinkedIn (19%)
Pinterest (18%)
Twitter (16%)
Snapchat (14%)
With the recent launch of Instagram's IGTV, it'll be interesting to see what the stats bring in 2019.
Facebook Live is increasing its fan base despite WA's reluctance
In the 2017 social media report, 25% of those surveyed watch Facebook Live videos during or just after being published. While in 2018, we've upped the stat to 28% in Australia.
Under 40s are more likely to watch Facebook Live videos alongside using story functions. In fact, 44% have used story functions in Australia.
Despite that, WA consumers are the slowest to adopt watching live content across the states at 20% with Victorian's being the leading adopters at 36%. This is also the case for Facebook stories with 20% of Western Australians utilising this function.
For Instagram stories, WA sits at 8% compared to SA at 7% and VIC again leading the pack at 25%.
And Facebook for the trifecta
88% of social media users claim to use messaging apps
Facebook is the lead-runner with 79% followed by Facebook's WhatsApp with 34%. Viber and any others are fairly off the grid.
Movies/TV Shows, Holidays & Entertainment
In 2017 16% of survey respondents used social media to research products and services, in 2018 this rose to 23%.
When it comes to what we like to look at on social media, movies/tv shows are the top runner (66%), this is followed by holidays/travel/accommodation (65%), entertainment (63%) and clothes/fashion (60%).
As expected, the ladies lookup clothing and fashion alongside cosmetics and beauty items more than dudes. And funnily enough, the dudes prefer to lookup computer hardware and software. Go figure.
We are loving brands
Interestingly the top reason in Australia to use social media is to catch up with family and friends (85%) followed by to share photographs or videos (46%). Yet 4 out of 10 Australians are also following businesses or brands via social media. In 2017, only 1 in 4 consumers followed brands.
Women follow brands/businesses much more than men, 52% vs. 35% and these stats for both genders decrease with age.
WA is in the lower bracket for following brands at 29% alongside SA at 27% and NSW's sits at 47%. The main reason for Western Australians and Aussies in general to follow a business/brand is for discounts and giveaways followed by product information.
Instagram is a more popular platform for following brands/businesses at 44% and Facebook at 39% in Australia.
Brand interaction is key
Stats are consistent across 2017-18 that more than 50% of social media users say they are more trusting of a brand if they interact positively with their audience, regularly update their social media channels and post engaging and relevant content.
The report admits "polarised views exist about whether a large number of social media followers for a brand makes people more likely to trust it".
And the most common reasons to unfollow a brand is:
Irrelevant or unappealing content (53%)
Too much content (44%)
Too many ads (36%)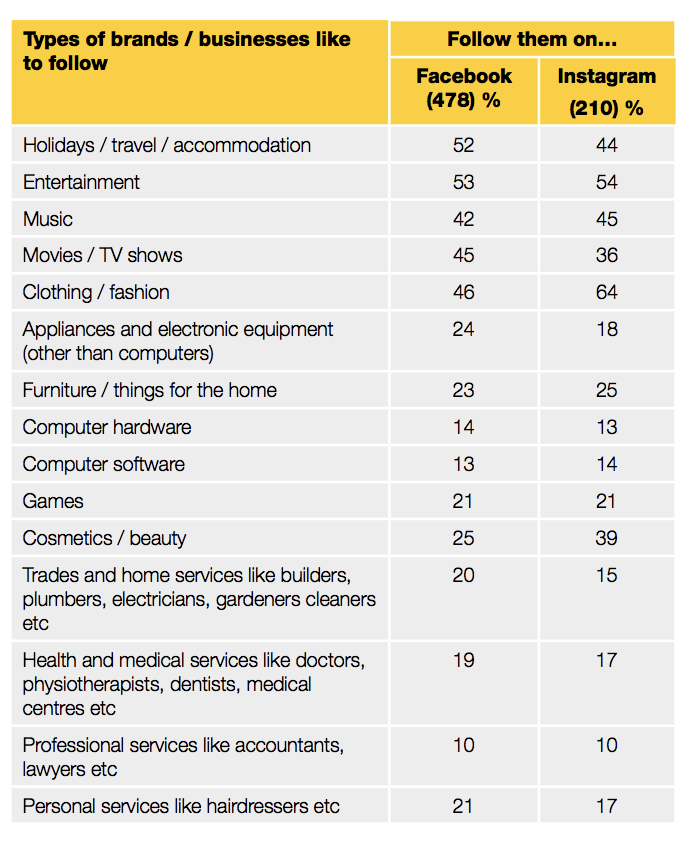 More and more online ratings
In 2018, social media users are over twice as likely to provide an online rating (22% in 2017 compared to 45% in 2018). Of those who leave online ratings, it's actually pretty consistent across gender, age group and across the country.
To Conclude
Naturally, this year's report has had a few major updates. Re-brand aside, changing to an online methodology means the comparison of past results needs to be taken into perspective. Moving forward, however, the Yellow Social Media report should offer us greater analysis and more localised and demographic comparisons.
Going off this year's stats, it's safe to say, Facebook still dominates, as do mobile devices. If you're a business and not on social media, it might be time to re-think your marketing strategies for this financial year.
You can find the full Yellow Social Media Report 2018: Part One here.
TL;DR? Check out the video here.